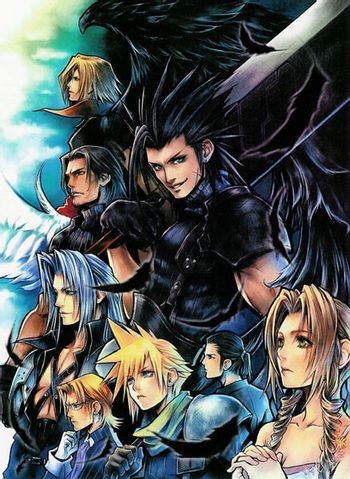 Crisis Core: Final Fantasy VII is an entry in the thirst-quenchingly popular Final Fantasy series, and a direct prequel to Final Fantasy VII. It is part of the Compilation of Final Fantasy VII.
Crisis Core follows Zack Fair, a character who had a minor but significant role in the original game, in the events leading up to the introduction to Final Fantasy VII. It also expands on the backstory of fan favorite Sephiroth. Many characters from the original game, such as Cloud, Aerith, and Sephiroth, play roles of various importance in the story.
Although the game is still an RPG, it contains more action elements in combat than its predecessor, and battles are faster-paced. The Materia system returns, if slightly altered.
Crisis Core was widely praised as one of the best entries in the Compilation. Critics and fans enjoyed the story, direction, and gameplay, though they were turned off by the tedium of the 300 practically identical optional missions and the DMW System.
A remake of the game (or, according to the official sources, a remaster) was announced on June 16, 2022. Entitled Crisis Core -Final Fantasy VII- Reunion, it is planned to be released late 2022 for the PC, PlayStation 4, PlayStation 5, Xbox One, Xbox Series X|S, and Nintendo Switch.
---
This game contains examples of:
---