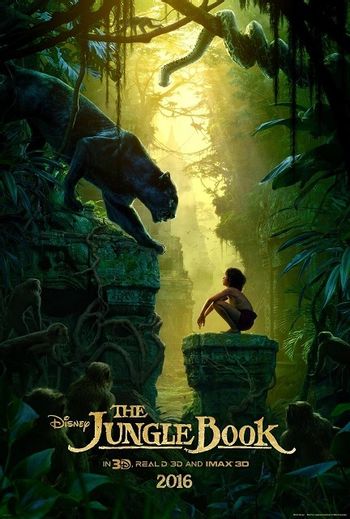 This is the law of the jungle, as old and as true as the sky.
The wolf that keeps it may prosper, and the wolf that breaks it will die.
Like the creeper that girdles the tree trunk, the law runneth over and back.
For the strength of the pack is the wolf, and the strength of the wolf is the pack.
— The Law of the Jungle (preamble)
The Jungle Book is Disney's 2016 CGI Adaptation and remake of their animated adaptation of Rudyard Kipling's original story, directed by Jon Favreau, and following the recent success of Disney's live-action remakes. It is the first CGI adaptation of The Jungle Book made by Disney.
While Mowgli is portrayed by a human actor, the rest of the film is portrayed almost entirely through computer animation, with extensive motion capture and highly photorealistic animation to create the Indian jungle and its inhabitants.
Not to be confused with Warner Bros.' Mowgli, directed by Andy Serkis, which was delayed to 2018 in response to the release of this movie (in spite of being announced first). Nor should it be confused with Disney's earlier live-action Rudyard Kipling's The Jungle Book, released back in 1994.
Its cast includes:
Richard M. Sherman, the surviving Sherman brother, wrote updates to the songs for the film.
The first teaser can be seen here
. The official trailer can be seen here
.
Plans for a sequel are being discussed, with Jon Favreau potentially returning to direct.
---
The Jungle Book provides examples of:
open/close all folders
Tropes A to F
Tropes G to L
Tropes M to R
Tropes S to Z
---