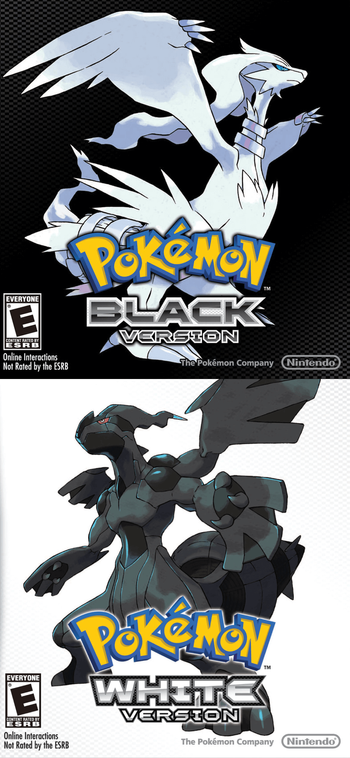 "What are the true motives of Team Plasma and the mysterious N? What is the secret of the Legendary Pokémon? Adventure across the Unova region and discover all-new Pokémon!"
— Blurb on the back of the boxes of Pokémon Black and White Versions
Pokémon Black and White are the first half of the fifth generation of Pokémon, made for the Nintendo DS. The games were released on September 18, 2010 in Japan; March 4, 2011 in Europe; March 6, 2011 in the U.S.; and March 10, 2011 in Australia and New Zealand.
In this installment, Game Freak shakes up a number of series traditions: the player characters are older, the resident Professor (Juniper) is a woman, Pokémon Centers and Pokémon Marts have been merged into one building, there are no Generation I-IV Pokémon in the regional Pokédex, TMs can be used an infinite amount of times, there's no Game Corner or Safari Zone present, and the new Unova region isn't based on a region of Japan but on New York City (and a little New Jersey as well, with the sequels adding more New Jersey).
Unlike the previous Nintendo DS installments, Black and White support the more-secure-than-WEP WPA encryption, as well as the revised WPA2 encryption, when playing online; this requires a DSi, DSi XL, or 3DS, however, as the original DS and DS Lite do not have hardware support for WPA.
In another shake-up, these games were also the first to not receive an Updated Re-release (à la Yellow from Generation I, Crystal from Generation II, Emerald from Generation III and Platinum from Generation IV), instead receiving direct sequels in Pokémon Black 2 and White 2 in 2012.
The Iwata Asks interview for the games can be read here
.
Not to Be Confused with Red and Blue, which were in black and white since they were for the original Game Boy. Also not to be confused with the simulation game Black & White. The English dub of the Animated Adaptation known as Pocket Monsters: Best Wishes in Japan also shares the same name as these games.
There was also an online Japanese release of Pokémon Battle Chess: BW Version, a "chess and Shōgi"-hybrid board game themed after Pokémon Black and White, available here
(online gameplay instruction manual
; supplementary information
.
Information about Pokémon Black 2 and White 2 goes on that page.
---
Tropes used in Black and White:
open/close all folders
Tropes #-B
Tropes C-E
Tropes F-H
Tropes I-K
Tropes L-N
Tropes O-Q
Tropes R-T
Tropes U-W
Tropes X-Z
---