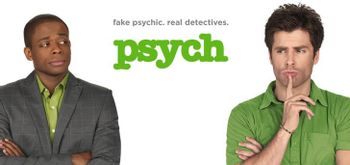 Gus:
You named your fake detective agency "Psych"? As in "gotcha"? Why didn't you just call it "Hey, we're fooling you and the police department; hope we don't make a mistake and somebody dies because of it"?
Shawn:
First of all, Gus, that name is entirely too long; it would never fit on the window. And secondly, the best way you convince people you're
not
lying to them is to tell them you are!
Shawn Spencer was drilled from childhood by his father, a police officer, to have a strict attention to detail and other detective skills. As a result, Shawn effectively possesses a Photographic Memory and the ability to observe and put together clues too subtle for the average person to pick up.
Unfortunately (and at least partly a result of the training), as an adult Shawn is equal parts prankster and slacker with no real desire to apply himself in any normal occupation. So, he employs his skills to identify criminals and their methods in the news and calls crime tip lines for the reward. This backfires on him when he is arrested as an accomplice. The police are suspicious of how good his tips are, believing that he must have been involved with the crimes.
To avoid jail time and continue his lucrative-but-lazy crimebusting, Shawn tells the police he's a psychic. After a demonstration on several of the officers in the Santa Barbara Police Department, he is allowed on a case. After solving it, he opens up a detective agency and, to the perturbation of certain members of the Santa Barbara Police Department, Shawn and his best friend Burton "Gus" Guster help the police solve crimes assigned to them by Chief Karen Vick.
The two frequently collaborate with the real detectives Carlton "Lassie" Lassiter and Juliet "Jules" O'Hara. Lassiter finds Shawn unbearably annoying, though he eventually grows to respect him, while Juliet is more civil to them, and eventually becomes Shawn's Love Interest. Shawn's retired father Henry usually makes at least one appearance an episode, sometimes just in the Flashback opening. Being that Henry taught him his skills, he is one of the few in on the con.
As one could easily guess from just a passing glance at this page, Psych is a show that doesn't take itself too seriously. Shawn and Gus frequently talk about their childhood, which includes numerous references to The '80s and (increasingly) The '90s. With Shawn attempting to appear as a psychic whenever giving The Summation, he ends up doing comically-inappropriate things when identifying a killer.
The show originally ran on USA Network from 2006 to 2014. Continued fan interest has led to Psych being revived as a series of TV movies. There is no set release schedule, however, as each is produced whenever the cast can spare the time. The first movie, a Christmas Special simply entitled Psych the Movie, aired in December 2017. A second movie, Psych 2: Lassie Come Home premiered in July 2020 on Peacock. A third, This is Gus, was released in November 2021.
Not to be confused with The Mentalist on CBS, a show with a similar premise that has been the frequent target of Take Thats and lampshading within the series.
---
Psych provides examples of:
open/close all folders
Tropes A to H
Abusive Parents: Although it's made very clear throughout the series that Henry loves Shawn dearly, some of the flashbacks (or real-time references to Shawn's past) are rather worrying. For instance, Henry taught young Shawn how to escape a locked car trunk... by locking him in a car trunknote . Adult Shawn is also upset by the fact that, when he was eight, Henry hid Shawn's Easter eggs by burying them five feet underground. Henry claims that he left loose dirt to indicate a fresh dig to make it easier. Shawn points out that this fresh dig was hidden under a camouflage tarp covered with bricks and broken glass. On a more amusing note, there's still two he hasn't found. Shawn is also visibly surprised whenever Henry shows even small amounts of affection, even claiming Henry hadn't said "I love you" in to him years.

Henry: I'm sorry you think that I messed up your whole youth. I'm sorry you think that I screwed up your life. Get over it.

Accident, Not Murder: In "Any Given Friday Night", the victim of the week is a football player who was apparently killed by Russian gangsters to whom he owed money, based on the fact that he received a threatening text on the day he died. Except that when Shawn and Gus investigate, they realize that the football player was already dead when the text was sent. Closer investigation reveals that he'd died in an ATV accident. Three of his teammates had been there, and they staged the supposed murder into cover up the fact that their off-roading jaunt was in violation of the morality clause in their contracts.
Actor Allusion: Has its own page.
Aesop Amnesia:

In one episode, Juliet learns that she can dress nicely and look like a beautiful woman without compromising her competence as a detective. After which she immediately goes back to wearing the same pantsuits she's been wearing all series.
"Does not ever learn a lesson" is basically Shawn's quintessential personality trait, though he actually does go through Character Development as the show goes on.

Affably Evil:

Pablo Nuñez from "No Country For Two Old Men" is the ruthless leader of a Mexican crime syndicate whom Juliet's stepfather Lloyd owes money too. However, Pablo is a pretty reasonable guy and was willing to forgive Lloyd's debt to him when Lloyd found a pair of cufflinks that belonged to Pablo's father and Pablo is even grateful enough to invite them to a party. The only reason he even tries to kill Lloyd and Henry later on is because Lloyd stole some US Mint plates from him.
Psych: The Movie has two examples:
El Proveedor, a local fence. He crosses paths with Shawn when the former comes looking for the engagement ring that was stolen in the series finale. When Shawn's "premonitions" end up coming true for El Proveedor, he is so grateful that

not only does he track down the engagement ring, he officiates Shawn and Juliet's wedding.

Allison Crowley's

nameless henchman who is dubbed the "Black Gentleman Ninja" by Shawn and Gus. He is friendly and polite before attacking Shawn and even after being arrested and captured

congratulates Shawn and Juliet on being married.

Affectionate Parody: The series has its own page.
Always Someone Better: Subverted eventually. Various characters try to match wits with Shawn either through Criminal Mind Games, The Perfect Crime or a rival investigator (one time a rival psychic detective who was on to his Hyper-Awareness scam). None have proven to be better than him, although he has had set-backs along the way. Even Henry, who trained him on how to do this, doesn't have quite the same talent. In the final season, with

Juliet going with the Chief to San Francisco

, the department ends up with new head detective Besty Brannigan. While just as quirky as Shawn (she has a peppy and light-hearted attitude and enjoys knitting and other activities, making things for her nephew), she is also just as smart as he is while also being as ruthless as Lassiter, even sharing the same type of gun. We never actually see how she works (though its hinted to be somewhat like Lassiter), but in the penultimate episode, we see her manage to nab the criminal before Shawn (albeit, Shawn was hindered with Gus suffering nightmares at the time.) Nonetheless, it's clear that they come to the exact same conclusions, but with her being an actual police officer, she can move through the evidence and identify suspects without Shawn having to do his shtick.
Ambiguously Bi:

Shawn makes the occasional comment that hints at being bi, like when he says he and Gus wouldn't work as a couple not because they're straight, but because Gus is too good for him.
Lassiter and the Coroner Woody in "Late Night Gus" was played for laughs.

Anachronic Order: Episodes begin with a flashback to Shawn's youth, wherein he's being trained by his father (or his grandfather is trying to help Shawn out from under the strict Henry's rules).
Bullying a Dragon: Shawn really loves antagonizing people that are clearly capable of inflicting physical harm upon him and would be all but to eager to do so.
Bunny-Ears Lawyer:
But for Me, It Was Tuesday: Subverted. It was actually Thursday.

Shawn and Gus accidentally tamper with a crime scene and everything spirals rapidly out of control. Juliet lampshades it and they say this trope pretty much word for word. Except it's Thursday.
Tropes I to P
Tropes Q to Z
Race Against the Clock: The SBPD often gives Shawn a deadline to solve the crime or get out of the way so that the real police can investigate.

In the third season finale, the killer gives Shawn a time limit to save the victim,

his mother.

In the movie,

the villain rigs Alcatraz to blow...not that it stops Shawn and Gus from their usual banter.

Real Life Writes the Plot:

Chief Vick's pregnancy in the first season became part of the plot due to Kirsten Nelson's pregnancy.
For several episodes in season 2, Lassiter had his arm in a sling. The reason for this was never revealed, but was implied to be something embarrassing. It was actually caused by Timothy Omundson's real-life injury.
Lassiter only gets a single scene in the first movie as a result of Timothy Omundson suffering a mild stroke. This is written into the second film, as Lassiter undergoes a mild stroke as well.

Red Herring: Happens every so often, with Shawn (happily) and Gus (reluctantly) having to exonerate them.

A common occurrence in Psych is that they start focusing on a particular suspect, only to find him/her dead by the time they go out to catch him/her.
A notable example is in the Season 4 finale:

Mr. Yin wears ankle weights to make Shawn believe Mary is the killer.
Reference Overdosed: The show's gimmick is all the 1980s and 1990s pop culture jokes. See ShoutOut.Psych.
Refuge in Audacity: Pretty much anything Shawn ever says or does, but calling your phony psychic detective agency that you're using to get yourself out of trouble with the cops "Psych" is certainly up there in the "requires large cojones" department.
Drake (played by Mekhi Phifer), the sudden fifth member of Gus' old a capella quartet, Gus' sister (who's never mentioned before, not even in the previous Christmas episode when both of Gus' parents

are falsely accused of murdering a neighbor

), and Gus' ex-wife.
In "Lassie Did A Bad, Bad Thing," several SBPD detectives who apparently work in the same building (notably Drimmer and Ocampa) are seen for the first time even though Lassiter, O'Hara, and Vick act like they all have an extensive history with them.
Subverted with Lassiter's friend Stumpy.

Lassiter tries to convince everyone that he and Stumpy have been pals forever, but they actually lost touch in high school. Lassiter was just embarrassed at his lack of guy friends.
Shawn and Gus use a disguise from last season in a season 8 episode to sneak into the police station; they are immediately detained because cops aren't as lax as the security at a gun club. Plus, they were both wearing half of a fake beard.
---