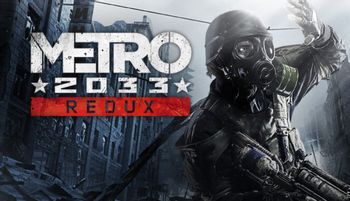 "Life was never easy in the tunnels, but it was our home. There was comfort in its routines, in seeing the same people day after day. But since the mutant attacks had escalated, fear ruled the station. I had just turned twenty...and could never had imagined what would follow on the morning that my stepfather's friend, Hunter, arrived at the barricade..."
—Artyom
Metro 2033 is a First-Person Shooter with Survival Horror elements based on the novel of the same name, made by Ukrainian developer 4A Games and released in 2010 for the Xbox 360 and Steam. Set in Moscow twenty years after a devastating nuclear war, much of the action takes place Beneath the Earth, as humanity now shuns the surface wasteland in favor of living in the remains of the Moscow Metro system. The story features the 20-year-old Artyom, who embarks on a journey to solicit help from the Rangers before his home station is overrun by the mysterious and unstoppable "Dark Ones".
Along the way, Artyom faces danger from not only the Dark Ones, but also the "normal" mutated wildlife that prowl the tunnels, unpredictable and deadly electrical anomalies, the hostile environment of the surface and, of course, unfriendly humans (from bandits to militant Soviets and resurgent Nazis). Oh, and there are ghosts. You see the silhouettes and hear the screams of people who aren't there.
The world is bleak and resources are scarce; weapons are mostly cobbled together and the trading currency of choice is pre-war military-grade bullets, giving intrepid Disaster Scavengers (and the player) a choice between taking on threats with substandard ammo or literally shooting money.
A sequel to the game called Metro: Last Light was released in 2013. An Updated Re-release/Videogame Remake, Metro Redux, was released in 2014, which remade 2033 with Last Light's version of the 4A engine, as well as bundling it with Last Light.
The third game in the series, Metro Exodus, was announced at the E3 2017, and released on February 15, 2019 on PC, Xbox One, and PS4.
---
The game features the following tropes:
open/close all folders
A-M
N-Y
Unbreakable Weapons: Surprisingly enough, all the weapons in the game, both the ones jury-rigged in the Metro and the over-twenty-years-old mil-spec ones left around in extremely hostile conditions, are 100% reliable, even when firing the undeniably dirty ammunition the Metro produces and the Idle Animations showing that they are rather fragile indeedexamples . The worst thing that can happen is the Bastard overheating, and even for that, you have to really abuse it in a way no sane player would ever dohow? .
Unbroken First-Person Perspective: The original release had occasional third-person cutscenes, but the Updated Re-release Redux revised this to use a consistent first-person perspective, in keeping with Metro: Last Light.
Unexpected Gameplay Change: The Ranger difficulty nominally turns the game from First-Person Shooter to First Person Stealth-Based Game.
Unexpectedly Realistic Gameplay:

Pleased with how your shotgun is destroying mutants, but perplexed why it takes so many hits to kill soldiers? Buckshot has pathetic performance against military body armor, and the developers put actual armor attachments on many of the soldiers that must be shot off before actual damage can be incurred in the areas they cover.
Wonder why Military Grade Rounds are so vastly superior to dirty rounds? Much of ballistic behavior depends upon powder selection and bullet construction. Even the cartridge can affect the performance of a firearm. Now consider that the Metro has been scavenging and reloading its cartridges for the last two decades.
Hip firing leading to lots of misses? Guns have sights on them for a reason!
You may able to slaughter dozens of mutants by acting like Rambo, but trying to do the same to human enemies and they will kill you in seconds. Heck, even regular bandits will pose a problem to you.

Universal Ammunition: Most weapons seem to be chambered to accommodate ammunition based on the 5.45x39mm design. Justified in that most of the common weapons were built after the apocalypse and specifically designed to use a single kind of ammunition.
The Undead: According to Khan, the world got blown up so good that Heaven, Hell and Purgatory were atomized as well. When someone bites it, they haunt that stretch of tunnel forever. There's one tunnel that's so haunted that even the mutants and rats are too scared to go there; Khan comments "This tunnel must re-live its past. And those unfortunate enough to walk here at such a moment, usually join that past." There's one very creepy scene where Khan chants at a bunch of ghosts so that they let you through.
Underground Monkey: It's not really noticeable, but there are only five main types of monsters in the game: Nosalies, Watchers, Librarians, Demons and Amoebas. Even fewer in the book, as most of the monsters are only mentioned in ghost stories and are never actually encountered by Artyom.

Three of the monsters in-game have subspecies. Nosalises have the black (stronger than usual), winged (more agile and has a special attack) and armoured (fast and very hard to kill; unused in Redux) varieties; Watchers have Lurkers (weaker, but faster, smaller and more annoying); Librarians can be found in a black (stronger and more aggressive) variety. They tend to have a distinctive look to them however, so it isn't all that bad.

Unintentionally Unwinnable: It's possible to put yourself in a bad situation where the next chapter has you going through the surface of Moscow and you simply don't have enough filter time on your gas mask to survive. A pretty hard and unforgiving way to learn the need to manage your supplies more carefully. Fortunately, if you catch yourself running short, you can extend the life of your filters by repeatedly taking your gas mask off, breathing in the air until you start choking, and reequipping the mask before the toxic air kills you. This would of course be Too Dumb to Live in real life, but the game engine doesn't stack poison damage between exposures.
Unstable Equilibrium: There's a very good reason why you should save every MGR that you collect instead of using them to buy stuff or to get out of a pinch in the original version: You have the options of buying an

Armor Upgrade (100 MGRs) and a Kalash 2012

at Polis. Both choices are expensive but worthwhile investments.
Unusually Uninteresting Sight: It's rare to see anything that isn't ruined, creepy, or defunct. D6 is the only area that really stands out, simply because it is an empty installation without bodies or skeletons scattered around.

Upper levels are clean and devoid of corpses (Plenty of blood trails and piles of spent casings though). Lower levels - not so much.
There is a skeleton in the reactor room lying right under the trestle ladder leading to a sparkling fusebox with the pliers still attached to the cover. Guess what happens when Artyom touches it?

Unspecified Apocalypse: What caused the war of 2013? All we know is that it was caused from tens of thousands of nukes launched, initially between two middle-eastern countries. To the residents of the Metro though, figuring out the facts hardly matter.
Updated Re Release: Metro 2033 Redux was released for the PC, Xbox One, and Playstation 4 in August 2014. It's basically Metro 2033 redone using the significantly more advanced Metro Last Light engine and assets. One of the toted features is the ability to play in either the classic Metro 2033 play-style, or the more refined play-style of Last Light.

Metro 2033 Redux allows the player to choose between "Survival" and "Spartan" modes, aside from the original difficulty levels. Survival Mode plays just like the original Metro 2033 but in the Last Light engine, creating a perfect mix of the original's survival horror atmosphere where every resource is precious and the Last Light's more refined first-person stealth and shooter elements (such as stealth kills and knock-outs). Spartan Mode makes the gameplay almost exactly like Last Light, with plentiful resources and very relaxed stealth. Aside from those two fundamental changes, many other things in the game also were overhauled in the transition into the Last Light engine:

The HUD and UI now mirror Last Light, looking more modern and altering the way the player interacts with their equipment with the L1/LB/Tab key/buttons functioning as a modifier input that changes the D-Pad/WASD keys and the Face buttons/mouse movements functions to that of menu functions like turning on and off the flashlight, changing gas mask filters, etc. Also, interacting with merchants is very different as well, with a new customization feature added to each of the weapons allowing you to attach specific parts to each one rather than trying to find a gun that just has all the parts you want on it. To help avert the A-Team Firing example listed on the YMMV page, the devs also added hit markers to the Normal and Hardcore difficulties on Spartan mode to let players know when they were actually hitting enemies.
The gas mask and filter system have been updated to be much simpler. When you pick up filters, it adds time to your overall breathing time just like before but now seconds are included in the HUD element for filters, making it much more obvious that the number is how long you have to breathe total rather than your amount of filters. Also, the watch changes depending on whether you're playing on Survival or Spartan. Survival gets the traditional watch and Spartan gets the Last Light watch, which is a digital watch that times you when you have your gas mask on.
On the topic of the watch, the light system also has been simplified. Instead of three lights on the watch telling you if you're fully exposed, semi-dark, or in total darkness; there's now just one light that lights up when enemies can see you and that stays off when they can't.
Some of the weapons in the original release have been swapped out with their equivalents from the sequel, such as the Volt Driver being replaced with the somewhat-nerfed, not so much of a Disk One Nuke Hellbreath.
4A Games also expanded upon the collectibles in the game. They added keys and safes containing lots of extra resources to the game that are very useful if sought out, especially in Survival Mode, along with notes hidden around the levels that expand upon Artyom's thoughts and reflections. Inline with that, each of the pre-level loading screens and their monologues have been redone with updated dialogue that more closely resembles the original Russian.
All of the games models have been replaced with those from Last Light, so characters that just shared models in the original release now have unique models. For example, Miller◊ looked very similar to Khan in the original release, whereas now he has the updated model◊ used in Last Light that makes him look more like Quaritch from Avatar. This also helps to avert the You ALL Look Familiar example listed below. However, it's important to note that it wasn't just the characters that were remodeled; all the mutants were also remodeled as well. Compare an original Nosalis◊ to the updated model◊ used in Last Light. Also, mutants that didn't make their debut until Last Light have also been implemented into 2033, such as the spiderbugs replacing the plated nosalises in the Dungeon level.
Some events, set pieces, or map layouts have been altered or shifted, occasionally even deleted. In the original 2033 Bourbon would kill the first bandit you saw with a throwing knife (his tutorial on how to kill people silently). Since you can take people out from behind with a melee attack now, that bit never happens. When searching for D6 in the original, the skeleton that Ulman suggests keeping as a memento has two heads; in Redux it is a regular half-decayed skeleton.

Urban Warfare: All your fights and encounters with hostile humans.
The Unfought: Unlike the original 2033, where you confront it at the end of the level it appears in, the Nazi Panzer you encounter in Redux chooses not to chase after you and Pavel, opting simply to fire at them briefly.
Vader Breath: You breathe very loudly while wearing your gas mask, and more so as the filter gets worn out.
Videogame Cruelty Potential: Plenty, but what alot of people miss is that you can even stealth through the outside levels in most cases. Meaning all those mutants you wasted precious ammunition on did not need to die. The game hammers this home with scenes where the watchers in the Dead City level will look at you, but disregard you, uninterested. In the same level, you can explore a ruined building only to hear roaring from a corner. When you look up, it´s a Watcher with two Lurker "Cubs" angrily roaring at you for intruding on their home. You can walk out...or you can waste them indiscriminately.
Videogame Flamethrowers Suck: Averted; late in the game, Artyom can get his hands on a flamethrower that will kill the mutants with merely a single burst of fire. This is compensated by fuel being a bit rare, however.
Villain Has a Point: A Nazi soldier at the Black Station rationalizes atrocities committed by his faction as an acceptable evil that will eventually lead to prosperity of the whole Metro. Nazi controlled stations are some of the safest, wealthiest and prosperous ones in the Metro, but are facing impending doom due to aging population. Nazis face extinction without expansion, Metro faces extinction without a unified government and law.
Voice with an Internet Connection: Vladimir and Ulman in D6.
Wall of Weapons: Gun shops have their inventory tacked on for everyone to see. Sparta, the Rangers' base

on the surface

has a literal wall covered with weapons.
Was Once a Man: It is hinted that Dark Ones and Librarians are mutated humans.
Weaksauce Weakness: The Boss in Mook Clothing super tough Nosalises with the glowing eyes in the cave can be briefly stunned and made vulnerable to attack just by shining your flashlight on them, giving you a few seconds to attack them.

The spiderbugs that replace them in Redux are weak to pretty much the same thing as the plated nosalises, except that light actually hurts (and even kills) them rather than simply stunning them.

Wham Line:

The last line of dialogue before the ending cutscene

The Dark One: "We want peace."

Wisdom from the Gutter: Bourbon is shady as hell and apparently deals with every crooked person in the Metro, but the advice he gives to Arytom about how to deal with mutants and the surface is perfectly valid and serves Artyom during the whole game
You ALL Look Familiar: There's a dozen or so faces for the men, and the majority of the Rangers you meet along the plot all share the exact same face. Redux averts this thanks to using the models from Last Light
You Have GOT to Be Kidding Me!: Several times throughout the story.
---