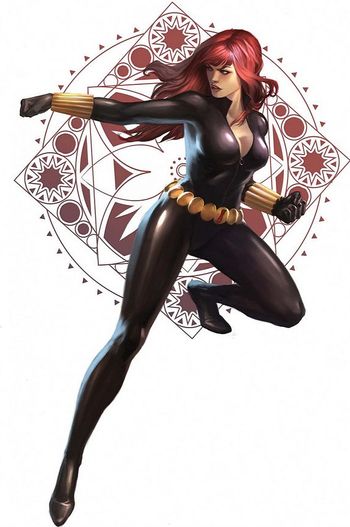 Black Widow (Natalia Romanova, aka Natasha Romanov) is a Marvel Comics Super Heroine. Introduced in The Silver Age of Comic Books in the pages of the Anthology Comic Tales of Suspense #52 (April 1964), she has been a fixture in the Marvel universe ever since, graduating from a Bronze Age socially conscious solo feature and a co-lead in Daredevil and the Black Widow to The Leader of the Champions, and even The Avengers for a time.
Natasha began her career as a Femme Fatale Spy in the service of the Soviet Union, sent to seduce famed American industrialist Tony Stark, to which end she also manipulated the young Hawkeye. Hawkeye eventually joined the side of good, and eventually Natasha followed as well, beginning a long career as a Super Hero in the United States of America. She has no particularly enhanced physical abilities beyond suppressed aging, relying instead on being an all-around awesome spy and martial artist.
Bring her up in comics fandom and inevitably one of the first things to be mentioned is her numerous Love Interests. Apart from the aforementioned Hawkeye, she has also, over the years, been romantically linked to Daredevil (even getting billed alongside him on the title for a while), Hercules (while they were on the Champions), and Bucky Barnes.
Black Widow has appeared quite often in other media, most notably in the Marvel Cinematic Universe, as portrayed by Scarlett Johansson. First introduced in 2010's Iron Man 2, she's since become a major recurring player within the franchise, appearing in a total of seven films to date. As a result of her popularity among audiences, in January 2018, Jac Schaeffer (Olaf's Frozen Adventure, TiMER) was tapped to write a film featuring the character, and in July, Cate Shortland was announced as the director. It started to film in May 2019. In July 2019, the film's release date was announced as May 1, 2020, as the first film in Phase 4 of the MCU. However, it was later delayed to November 2020 in response to the coronavirus pandemic, and then delayed again to July 9, 2021.
Anime
Comics
Amazing Adventures Vol. 2 (1970)
Daredevil & the Black Widow (1972)
Champions (1975)
Black Widow Vol. 1 (1999)
Black Widow Vol. 2 (2001)
Black Widow Vol. 3 (2004)
Black Widow: The Things They Say About Her (2005)
Black Widow and the Marvel Girls (2010)
Black Widow: Deadly Origin (2010)
Black Widow Vol. 4 (2010)
Black Widow Vol. 5 (2014)
Black Widow Vol. 6 (2016)
Black Widow Vol. 7 (2019)
Black Widow Vol. 8 (2020)
Film
Video Games
Western Animation
---
She provides examples of:
---