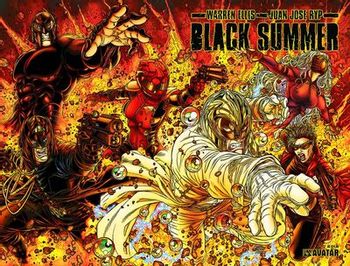 Black Summer is an eight-issue (#0-#7, May, 2007-July, 2008) comic miniseries written by Warren Ellis & drawn by Juan Jose Ryp, and published by Avatar Press. On July 3, 2006, the president of the United States is assassinated by John Horus, the most powerful member of a superhero group called The Seven Guns. After claiming that the president and his advisers had all been criminals, and that they were just being brought to justice, John Horus then orders the nation to go about re-electing new leaders, while making it clear that he won't tolerate anyone coming after him.
This sets off a chain of events that makes the government start hunting down the remaining members of The Seven Guns, including Tom Noir, one of the original Guns who disappeared after another member and lover, Laura, was killed in a bombing. Making matters worse is that one of the people hunting them is Frank Blacksmith, an unofficial "eighth" member of the team who had been thought dead. With the whole U.S. military after them, Tom and the other Guns must figure out how to survive, and what to do about John Horus.
Unrelated to the 2019 Netflix spin-off from Syfy Z Nation.
Tropes present in this work:
An Aesop: No matter how much you may hate your government, assassination is a shallow and ultimately pointless political tool that will create more problems than it solves...even assuming that it solves any problems at all.
Anti-Hero: The Guns are of the Pragmatic Hero and Unscrupulous Hero variety.
Armor-Piercing Attack: The Guns' guns shoot incredibly powerful bullets. When Tom gets his in his flashback, it's said to be capable of shooting through a tank.
Villain Has a Point: The general tasked with killing the Guns admits this In-Universe; he agrees with Horus' condemnation of the wars in the Middle East, that the POTUS Horus assassinated was a criminal, and that the actions taken against the Guns are just as lacking in planning and foresight as those wars. He even points out that it's hypocritical for military personnel to condemn enforcing one's will through force of arms, as that's as good a definition as any for the basic purpose of a military. He also states (very politely, mind you) to Horus' face that Cutting the Knot-style actions like assassinating the leader of a global superpower is something that requires planning and foresight, subtly implying that Horus has not done so.
Well-Intentioned Extremist: John Horus. Frank Blacksmith too; too bad both extremists are at odds.
What Measure Is a Mook?: Lampshaded by Kathryn Artemis when she mused about how much easier it was to simply kill any police officer or security guard wearing riot helmets and write them off as "faceless guys" instead of killing people she actually knows.
What Were You Thinking?: John gets this from a number of people because of what he did, but none more explicitly than Tom at the end:

Tom Noir: You could not think of a smarter way to change how this country does business than just killing the villain? You can watch the world like God and build palaces out of mud with those damned eyes of yours and that was the smartest idea you had? You fucking sicken me.

Women Are Wiser: The living female members of the Guns (Zoe, Kathryn, Angela) do manage to avoid having their Berserk Buttons pushed compared to the men— and it's the very-willing-to-kill Kathryn Artemis (just read her flashback in issue 6) who says "We also have a responsibility to this city, and we haven't done right by that. We've been crazy for too long, girls." This may be why they all survive. (It's hinted in flashbacks that Laura Torch may have also been the most grounded member of the entire Seven.)

Kathryn Artemis: Dominic wanted to be big, Tom wanted to know everything, and (John Horus) wanted everyone to be good. Me, Angel and Zoe really just wanted to help people.

Wretched Hive: The city where the Seven Guns got their start was an incredibly corrupt near-police-state before they cleaned it up.
X-Ray Vision: Tom has this, though instead of actual x-rays, it "provides real-time sonar imaging on a sliding level. You'll be able to see directly into any target with surgical precision: outer layers of clothing, weapons, devices, internal organs, bones." When he's using it to look at a super-mook's nervous system, it resembles Vein-o-Vision.
You're Insane!: Said by

John Horus

, when called out on their stupidity by

Kathy Artemis

.
---