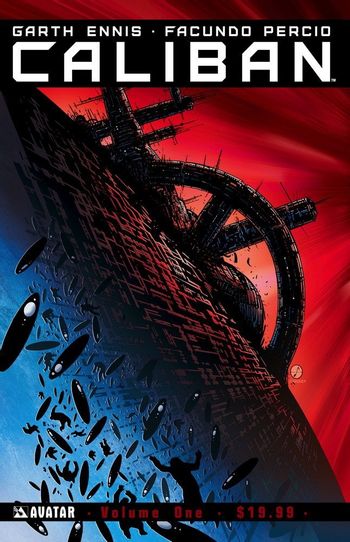 "Oh, the horror and terror and clawing insanity of knowing you're alone: You can run...but eventually you'll blunder into me. No warm bodies to reach out to...your own voice, begging you to quit the fight...I'm one of the things from out in the dark"
— "Karien", to Nomi
Caliban is a seven-issue comic book series from Avatar Press, written by Garth Ennis with art by Facundo Percio.
A few generations into the future, humanity has invented ships that allow them to explore the universe via hyperspace, although they have yet to find another accessible, habitable planet or any other forms of sentient life. What they have found is an unimaginable bounty of resources, which are shipped back to Earth.
The Caliban is a mining exploration vessel, on a mission to deliver a group of miners in sleep pods to a distant settlement. It suddenly runs into the impossible when it physically hits another ship floating in hyperspace. When they drop back into real space, the two ships end up fused together, which kills the miners and most of the ship's crew. Exploring the other ship soon reveals that it's actual living proof of alien life in the universe, and it isn't empty.
---
This comic has examples of: