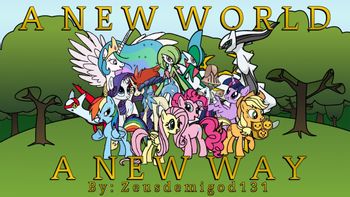 Arceus has been imprisoned for many millennia, and in that time he has watched his world fall apart. But once he is finally freed from his prison he decides that to protect his Pokemon, and his family, that he will move the Pokemon, and a few select 'humans' to a world where they might live in peace, Equestria. However, not everyone on this new world shares his view of peace and the very presence of the Pokemon upsests some of the citizens of the world, even some of the ones he brought with aren't too happy with the situation. But a god's will is a strong thing and without his willingness the Pokemon and the citizens of Equestria are going to have to learn to get along, or at least tolerate each other. And there's a slight problem with some of the humans too, well, former humans that is.
A New World, A New Way is a Crossover fanfic between Pokémon and My Little Pony: Friendship Is Magic written by Zeusdemigod131
. The story is set in an Alternate Universe of Pokemon (the writer himself admits that the Pokemon world here is a hodge podge of the anime, games, and mangas), and takes place somewhere after the beginning of Season four of Friendship is Magic.
The author has also allowed other authors to write side stories for A New World, A New Way, many of which have since crossed over with the main story. As of May 3rd 2015, the "Primary Canon" includes:
A few stories considered "Sub-Canon" (due to not having crossed over with any of the above yet) include:
A New World, A New Way Book One has been completed. Book Two is now in progress, on the same story linked above.
---
Tropes found in this work:
open/close all folders
A New World, A New Way
A Brave New World
All for Nothing: Seth sees his seven years of activism for the cause of human-Pokemon relationships as having been rendered pointless by Arceus's actions. While he has a point, it doesn't seem to occur to him at first how the humans actually in relationships with Pokemon feel about their situation (ie, being relocated with their partners to a world where they can't be legally prosecuted for it) - when Apple Fritter tells him him there are no laws in Equestria against interspecies marriage, the narration says, "That wasn't the answer Seth was hoping to hear." He cools down on the issue after talking with Arceus and meeting with Gene and Belle.
Swarm
Pokèmon, A Whole New Frontier
The City is Always Bustling On the Other Side
A New World - A New Game
A New World, Burning An Old Way
Like Night And Day
Absolute Xenophobe: People from the town where the first act takes place are so afraid of the outside world that they casually calls someone who dared venture outside a 'witch'.
Bodyguard Crush: Tenebre's feelings toward Neige while he was the one protecting her from her father.
Bond Villain Stupidity: The team of trappers were surrounding Tenebre when he woke up, but they either got beaten up or ran away.
Brainwashed: Even if it's for a small amount of time, Crazy Nail still gets mind controlled by Neige.
Carnival of Killers: Even if they aren't assassins, the trappers were sent by a villain to kill animals / creatures with fur for money. That includes the main characters.
Curb-Stomp Battle: A group of normal ponies is fighting a cat with control over shadows and incredible agility. What could go wrong?
Curb-Stomp Cushion: In the end, the trappers actually managed to put Tenebre to sleep by accident (or sheer luck).
Dark and Troubled Past: Neige, even being such a nice girl, is still injured by her dark past with her father.
Darkerand Edgier: The sad reality that hides behind everyday's life is that people make Pokemon fight in rings for money or rapes them until they get enough.
Death World: In the bonus chapter, we get to see the aftermath of Earth after Arceus' plan. It wasn't pretty.
Disproportionate Retribution: So, you've ran away from me. Let me destroy your protector's living room then.
Hypnotic Eyes: Neige had to force Crazy Nail to look at her in the eyes to control him.
Indy Ploy: The Espeon was going to get kidnapped if Tenebre didn't do something. There is no time to make a plan when you jump in the action.
Interspecies Romance: Also known in the fic as 'Pokephilia'. Is often considered taboo by humans, but Tenebre still has feeling for his trainer.
Let's Get Out of Here: 'Mr. Sicko' ran away after half of his team was wiped out by Tenebre.
New Super Power: Neige now has to deal with the fact that she has psychic powers that can easily go out of control.
Not Himself: The way Neige acts when Tenebre gets hit by Crazy Nail.
Shipper on Deck: Brave keeps trying to make Tenebre ask his master out, even if those kind of relationships are taboo.
Underestimating Badassery: The goons' boss thinks that he only needs one of them to fight the cat that destroyed the rest of their team. Genius!
Unstoppable Rage: Tenebre said that he hates fighting, but to save his kin, however...
Violence Is the Only Option: Refer to Unstoppable Rage.
A New World, An Unusual Inferno
A New World, A New Conflict
A New World, A New Ranger
A New World, A New Mind
A New World, A New Stage
New World, New Bonds
A New World, A New Dawn
---