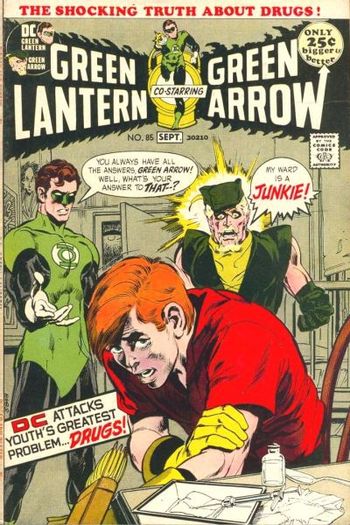 "We'd be watching
Saved by the Bell
, we'd be having a great old time. And then suddenly, a character we had not seen before would show up with some weed, and the episode would stop cold in its tracks!"
—
John Mulaney
during a segment on marijuana,
The Comeback Kid
Tonight, on a very special article of TV Tropes ...
An episode, often in a sitcom, in which the lead confronts some highly emotional or forbidden issue from everyday life. Drug abuse, eating disorders, and worse... TEENAGERS HAVING SEX! At the end of the episode, the protagonist is Enlightened, and the guest character with the Very Special Problem is never seen or heard from again. Often there is an 800 number to call, should you (or someone you love) actually have the Very Special Problem. Another key criterion is that side-effects, complications, or failure-rates of the official government-mandated Very Special Solution the episode promotes are never mentioned. If the problem involves children in some way (and it almost invariably will), then it may also be promoted as something that "No Parent Should Miss". These often come about when networks or writers are bucking for awards, or may be caused by Writer on Board.
The tone will typically be much, much more serious than other installments of the series, although with sitcoms, there may still be a comedic subplot or occasional moments where the Laugh Track is needed. If Status Quo Is God is in effect, there is only a small chance of breaking with this practice, but that's the reason for the common tactic of introducing a new guest character who isn't protected by this consideration, and can therefore have anything bad or good happen to him without changing the status quo.
Or, in other words: O.O.C. Is Serious Business for television shows.
These episodes were far more common in the 1980s, fueled by then-United States president Ronald Reagan's crackdown on drug use in America. They've largely fallen out of favor since then for most shows, due in part to the increasing number of shows, particularly dramas, where issues such as drug/alcohol abuse, violence, sex and death are dealt with on an almost weekly basis, and then you have the Dramedy genre that regularly mixes comedy with serious issues.
There's a certain variety of shows where essentially every episode has a special message, such as Touched by an Angel, Joan of Arcadia, etc. However, it's not by any means a Dead Horse Trope yet due to Police Procedurals (i.e. Police Stop!, Police, Camera, Action!, Road Wars) and law enforcement dramas like Criminal Minds and Medium. Medical dramas will also do these, but for ethical not medical issues.
It is also a very ripe target for parody; these days, parodies are probably as common as seeing this trope played straight. May also be vulnerable to Détournement.
Compare Public Service Announcement. Too Smart for Strangers (about the danger of child abduction), Drugs Are Bad (about Just Saying No to them), and Anti-Alcohol Aesop (drinking is bad for you) are two specific kinds of Very Special Episodes that reached their zenith in the 1980s. Descent into Addiction is a special case of the latter trope, in which the episode is all about a character's gradual slide into addictive behaviour. See Compressed Vice for when a character is saddled with an issue for just long enough to illustrate the aesop, and Long-Lost Uncle Aesop for when a new character is introduced solely for this purpose and never seen again. An Author Tract is when the entire work is used as an excuse to preach about a particular real world issue. Green Aesop is when the story focuses on environmental issues, but these aren't as common. Can also double as a Prejudice Aesop.
See Bizarro Episode, Christmas Episode, Christmas Special, Halloween Episode, Sick Episode, Prison Episode, Mini-Golf Episode, April Fools' Plot and Toilet Training Plot for other specially themed episodes.
---
Examples:
<!—index—>
open/close all folders
Anime and Manga
The episode "Vomiting Point" from Panty & Stocking with Garterbelt was extraordinarily depressing, and a satire on the pitiful, everyday lives of people living in a monotonous world, minus the main characters. The animation style is much more realistic in contrast to the show's normal Powerpuff Girls-esque style, and the titular characters (who are animated in the normal style) only show up at the end for about a minute. The rest of the episode follows a very put-upon office worker as he attempts to simply do his mundane job and get his daughter a present for her birthday. The ending is at least somewhat positive, as Panty and Stocking do give him an autograph to give to her.
Himitsu no Akko-chan, the original 1969 series, plays that straight with episode 32, "Kokoro to Kokoro ni uta ga aru" (A Song From the Heart to the Heart.) The eponymous heroine, a school girl, meets a new deaf/mute kid, and, wishing to know more about his plight, she wishes to the spirit dwelling in her pocket mirror to make her deaf/mute as well. Upon a brief showcase of all the challenges her new altered state forces her to face, Akko-chan asks the magic mirror to be changed back... only to be mystically informed that, since she was enough impulsive to stress over the "mute" part of the ailment, and the mirror works only by vocal commands, she's going to be disabled for the rest of her life. Reality fixes itself shortly before the final scene. Apparently, the magic mirror could have restored Akko-chan's voice and hearing as soon as she asked the first time, but it was simply proving its point, stating that Akko-chan got her Aesop all wrong: instead of feeling compassion for her new friend, she should have thought of how he's brave enough to get on with his condition without breaking down as she just did.
Ojamajo Doremi:

In a Very Special Story Arc of Motto! Ojamajo Doremi, the eponymous elementary school witches have to help Kayoko, a little girl pushed on the brink of depression by the inherent competitive Japanese school system. Feeling inadequate, mercilessly bullied, teased by her peers, ignored by the teachers and witnessing her parents always arguing for her school problems, Kayoko starts to exhibit psychosomatic reactions (aka throwing up in fear) whenever she approaches school, ultimately choosing to become an hikikomori. The witches just decide, without any use of their powers, to be Kayoko's helping hand, going so far to offer their own hats for... Kayoko's use and offering their friendship to ease her feeling of inadequacy and loneliness.
Episode 12 of the 2004 OVA series Ojamajo Doremi Na-i-sho titled "The Seventh Witch Appears: Non-chan's Secret" tackles cancer (which is a taboo subject matter in Japan) and terminal illness. The episode involves Doremi befriending a cancer patient named Nozomi Waku whom she encounters while cheering up sick or critically ill children at a children's hospital. She learns that Nozomi has a big fascination of witches and owns tons of witch related books at her hospital room. As Nozomi struggles to overcome cancer (while never named in the episode, Nozomi is suffering leukemia), she tells Doremi that she wishes to become an actual witch someday. One night, Doremi surprises her by showing their witch forms at bedtime and temporarily makes her a witch. The next evening, Doremi witnesses Nozomi struggling to breath showing signs that her friend is losing her battle. A day later, Nozomi's mother reveals to Doremi that her daughter has passed away early that morning and gives Doremi back a card that she gave Nozomi to make her a magical witch. Nozomi's mother and Doremi decide to have a playful snowball fight in her memory which reduces them to happily crying (while Doremi's witch friends are silently watching on). The episode ends with Genki (another cancer patient from the same hospital) visiting Doremi and her friends witch headquarters to reveal that he's been discharged from the hospital. The titular character responds to the news by immediately running up to Genki to give him a big hug as she openly cries not only out of grief from Nozomi's passing, but from relief knowing Genki won't suffer the same fate as her deceased friend.

Shima Shima Tora no Shimajirō has 3 episodes teaching kids about potty-training. The first episode was the memetic "If You Can Use The Toilet, You're A Pantsman" episode, the second was about public restrooms, and the third had a superhero named "Pants Man" in it, who's an anthromorphic kangaroo.
If potty-training episodes count, Pants Pankuro and Panpaka Pants are two other anime with these sorts of episodes, as well as the Hello Kitty and Cinnamoroll educational shorts by Sanrio that we're released in The '90s and 2008 in Japan.
This is pretty much half of The Kurosagi Corpse Delivery Service. Underneath the standard splatter horror and the occasional storyline devoted entirely to squick, the manga explores such diverse topics as abortion, suicide, the death penalty, the economic crisis, treatment of the elderly, burial culture, and Japan's actions during WWII that have been repressed by the public.
Yo-Kai Watch has a web-exclusive episode on eye safety featuring Baddinyan trying to get Nate and Whisper to do bad things to their eyes.
Being that one of the overarching themes of HuGtto! Pretty Cure is "You can be anything! You can do anything!", they've done several of these episodes throughout the show:

Episode 19 had a subplot involving Henri Wakamiya, a boy who wants to participate in a fashion show and wear girl's clothing, but he's always ignored by others and made fun of, even though he thinks putting restrictions on your own heart is a waste of time. Later during the episode's battle sequence, after making a comment where he's worried that he's in the role of a princess, Cure Yell tells him that anyone, regardless of gender, can dress whichever way they want.
Episode 28 focuses on Homare's pet dog falling in love with a cat and Ruru, who is an android, thinking it's wrong. Emiru then teaches her that you can love anyone regardless of their species.
Episode 35 focuses on a little girl named Aya, whose mother thinks that getting a C-section is unsafe. Saaya and the nurses teach the mother that they have many benefits.

Bottle Fairy's eighth episode teaches the fairies about the cycle of life through a flower they helped raise, Hananan. While they initially want to have it live forever, they realize if it does it won't be able to sprout seeds to help new flowers grow next year.
Toonami addresses Black Lives Matter in one of TOM's advice speeches.
Pokémon the Series: Sun & Moon has two episodes that focus on the death of a loved one and the Five Stages of Grief, a surprising tone shift from this arc of the anime.
There is a two-part special episode of Tama & Friends: Do You Know my Tama? in which a curse is put upon the people and animals of the third district regarding a little girl and her dog Shiro, who tragically ended up being two of the 129,000-226,000 casualties of the Hiroshima and Nagasaki bombings that took place during the climactic final months of World War II and caused horrific devastation. Tama's owner Takeshi has nightmares about her in the Christmas Carol-type first part. The girl's ghost even holds Tama hostage and threatens to kill him.

In the episode's second part, Tama's best friend Pochi is possessed by a haunted collar, which belonged to Shiro before he and his owner were killed in the bombings. Shiro is revealed to be a really terrifying-looking ghost dog once the collar is taken off of Pochi by Takeshi - essentially exhausting the former and luckily (do to his cowardly personality) causing him not to be able to see it. Thankfully, his ghost owner changes him back to the kind of loving dog he was when he was alive and apologizes for all the trouble they caused.
Although this take on one of the events that ended the Second World War was much tamer compared to the more graphic and nightmare-inducing Barefoot Gen (which depicts these terrifying events in more detail), you can see why 4Kids decided to skip the episode due to it being inspired by such a nightmarish true event.
Comic Books
Comic Strips
FoxTrot:

A lot of early story-lines had these (for example, Peter taking up chewing tobacco; Paige and Jason finding a used syringe at the beach; Paige and Nicole considering shoplifting). But after a while the strip focused almost exclusively on the Rule of Funny, although there were a couple of exceptions.
Also notable was the post-9/11 storyline in which Roger, who is afraid of needles, decides to donate blood. These storylines are impossible now that the strip is Sunday-only.

Funky Winkerbean:

Once story arcs were used in lieu of the former "gag a day" storylines, many of the arcs had "very special" themes. The first came in 1988, when a teenager named Lisa became pregnant during her senior year of high school, and only nerdy Les was willing to support her (Lisa also being an outcast, although not to the same extent as Les). Many other serious themes were employed, with the most notable recurring during much of the 2000s when Lisa- by now, married to Les- developing (and ultimately dying from) breast cancer.
Other "very special problems" various cast members have had to deal with included abuse (child and teen dating), alcoholism, war-related issues (including prisoners of war, land mines and post-traumatic stress disorder), pornography, juvenile fire setting and so forth. While lighter stories have continued in the strip, the dramatic stories have taken precedence.

Parodied in this Pearls Before Swine strip, where Rat's head explodes. It ends advertising "A Very Special Sunday Strip": Coping With The Death Of An Unloved One Guess what ran next week?
Baby Blues did the one where Wanda confronts a mother who struck her child in public.
For Better or for Worse did a number of strips like this. Just to name a few:

Lawrence admitting that he's gay.
Farley dying from a heart attack after saving April from drowning in a river.
The death of Elly's mother.
Jeremy Jones, the boy who had been bullying April, getting hit by a car.
April's pet rabbit, Mr. B, dying in her arms.
Elizabeth being sexually assaulted by a co-worker.
Grandpa Jim suffering from a stroke.
Michael and Deanna's apartment being destroyed by a fire.

Calvin and Hobbes:

In one storyline Calvin found a sick baby raccoon and had his parents try to save it. Unfortunately the little raccoon passes away and Calvin learns about how "death is as natural as birth" and we have to move on even when we don't understand things. A later Sunday strip◊ also looked at the nature of death, with practically no joke, just philosophy.
Another story was about Calvin's house being broken into while the family was away. While Calvin is more focused on making sure Hobbes is okay and later mourning his stolen television, his parents struggle with the trauma and fear of knowing they aren't safe in their own house.
Fan Works
In Mega Man: Defender of the Human Race, a secondary arc of Episode 7 involves Lynn finally dealing with her brother Castor's severe drug abuse, with some helpful advice from Mega Man. Castor is seen suffering drug withdrawals and is reluctant to recover. But, in the end, Castor breaks down in his sister's arms and finally agrees to seek treatment.
Harpflank and Sweets: A Very Special Episode demonstrates the effect this trope can have on characters when it's applied without buildup.
Hivefled; Sennir briefly breaks the fourth wall in a question-and-answer session to tell readers that death was not a reasonable price to pay for gaining a body which fit his gender, and assures them help is available.
Several chapters of Fallout: Equestria are devoted to The Hero Littlepip trying to kick an addiction to mind-enhancing drugs.
Mortal Man is a SpongeBob SquarePants fanfiction the plays out like one of these, being a somewhat Original Flavor fanfic that depicts SpongeBob working through the grief of his favorite superhero, Mermaid Man, passing away from old age.
Films — Live-Action
Literature
The Baby-Sitters Club series had Very Special Books dealing with different topics. Most involved characters that had never been mentioned before and some ended with information about related support groups, such as Students Against Drunk Driving. Topics included drunk driving, dealing with death, anorexia, scoliosis, parental abuse, racism, and homelessness.
The Berenstain Bears:

Trouble With Strangers includes "Brother And Sister Bear's Rules For Strangers" on the last page. The rest of the book isn't heavy-handed, though, and sends the message that "most strangers aren't bad, but you should be careful just in case."
This article lists the "8 Most Awkward Berenstain Bears Books". Six of the eight could be classified as this trope. Namely bullying, Internet addiction, too much junk food, birds and the bees, guns, and racism.

Sweet Valley High ventured into this trope with several books that covered steroid abuse, anorexia, teen gambling, dating violence, that typically featured secondary characters or one-off characters who had the Very Special Problem and they were never mentioned again. However, the one book that even the most casual reader of the series will remember was #40: On The Edge.

Regina Morrow, heartbroken over her breakup from Bruce Patman, goes to a party with a boy she recently met (and he is never mentioned again beyond book 41) tries cocaine, and dies almost immediately.

Rosemary Wells, well-known for her animal-based books such as Max and Ruby, wrote a book called Yoko in 1998 which deals with racism and prejudice. The book is about a young kitten named Yoko who is Japanese. In the book, she's getting ready for her first day at school and everything goes fine. Until lunchtime, when Yoko reveals that she's having sushi for lunch, and every student in the school (except for Timothy) makes fun of her for it. This results in Yoko feeling very hurt and is later discovered crying by Miss Jenkins when class is over for the day. This being a children's book, they all accept her in the end. This made it into an episode of the Timothy Goes to School Animated Adaptation.

There's also the Yoko book "Yoko Writers Her Name" from 2008, which deals with similar themes but also briefly touches upon the language barrier. Yoko realizes that she can't write English words and mostly writes in Japanese letters. The cat duo Sylvia and Olive make fun of Yoko and her Japanese lifestyle, making her so upset that she refuses to eat her favorite food (sushi) when she returns home.

Jacqueline Wilson has written several books based around an issue that readers might face: The Story of Tracy Beaker (living in care), The Suitcase Kid (divorced parents), Vicky Angel (bereavement), Love Lessons (Teacher/Student Romance), Lily Alone (Parental Neglect), Clean Break (what happens when a parent walks out on the family), Bad Girls (the effects of bullying), The Bed and Breakfast Star (the stress of living in temporary housing), Falling Apart (suicide), Girls Under Pressure (eating disorders), Katy (learning to cope with disability), Love, Frankie (coming out as a lesbian) and more.
The Miffy books are usually lighthearted and cute, however, in 1996 a book entitled "Dear Grandma Bunny" was released, which deals with Miffy learning about her grandmother's death. The book is actually recommended by bereavement organisations as a way of helping to explain the death of a loved one to young children. Another book notably more sombre than others in the series involved Miffy shoplifting and having to deal with the consequences.
Roys Bedoys: "Stay at Home, Roys Bedoys!", "Distance Learning Has Rules, Roys Bedoys!", and "Distance Learning is Not Always Fun, Roys Bedoys!" were written in response to the Covid-19 pandemic and involve the characters having to stay at home.
Music
Soul Asylum's Music Video for "Runaway Train" was interspersed with photos of missing children and ended with a phone number to call if the viewer had seen any of them. In unfortunate twists, it was eventually revealed that some of the now-adults shown in the video didn't want to be found, and at least one of them was a victim of abuse by the same Abusive Parents who sent the photo. Worse, a little girl shown in the original video had been murdered by her mother and buried in her backyard as the corollary of her parents's bitter divorce.
The music video for Sarah McLachlan's "World on Fire" claims she was given $150,000 by the record company to film it. Interspersed between footage of McLachlan barefoot singing and playing the guitar, the video mentions it was filmed for only $15 and the rest was donated to a variety of charities all around the world.
Megadeth's "99 Ways to Die" music video shows small children and infants carrying around guns, statistics for gun violence against youth and pictures of children that were killed, paralyzed or shot.
Moist's video for "Believe Me" depicted Biff Naked and her friend Violet moping around the Los Angeles River and giving each other FTW tattoos and later Violet somehow drowns herself in said nasty river. It's kind of confusing, really. Anyway, the video does end with the number for the Kids Help Phone.
Michael Jackson's video for the huge Green Aesop that was "Earth Song" ended with the phone number for his Heal the World charity organization. On the HIStory on Film: Volume II compilation, there was also a text scroll detailing the locations the video was shot in and how "man and his technology" had ravaged them.
Motörhead released a song called "Don't Let Daddy Kiss Me" which touches upon incest.
Ozzy Osbourne has a song of his No More Tears album called "Mr. Tinkertrain", which is about pedophilia. Ultimately subverted in that the titular pedophile winds up being a Karma Houdini.
Martina McBride has a few:

"Independence Day" is about domestic violence.
"Concrete Angel" is about child abuse.
"I'm Gonna Love You Through It" is about breast cancer.
"Cheap Whiskey" is about drunk driving and alcoholism.

Simple Plan has "Untitled [How Could this Happen to Me?]," a song which describes a car accident victim's last moments after a crash with a drunk driver. The music video shows loved ones' worlds literally crashing in and was produced in cooperation with Mothers Against Drunk Driving.
Fall Out Boy recorded their video for "I'm Like a Lawyer...(Me & You)" in Africa, centering around a love story between two young teens, along with shots of the band playing in a field and a group of locals watching, laughing and dancing with the video for "Dance, Dance." The boy is kidnapped to be part of an army; at the end, text is displayed with statistics about child soldiers in Uganda and information about Invisible Children, Inc., an organization helping kids who are forced into war.
Boards of Canada's Music Has the Right to Children concludes with "One Very Important Thought", a short spoken message about the importance of freedom of speech. It's far less narmy than it sounds.
"Hell Is For Children" by Pat Benatar deals with child abuse.
"No Man's Land" by Tanya Tucker deals with rape trauma syndrome by telling the story of rape victim Molly Marlowe who will have no man after her rape.
Foster the People's "Pumped Up Kicks" serves as one; frontman Mark Foster stated that the purpose of the song was to raise awareness of and provide a platform to talk about gun violence among youth, particularly with regard to the factors that drive young people to violence.
The music video for the song "Stress" by the French group Justice deals with the violence associated with young inhabitants of banlieues or slums of major French cities, particularly those from North African immigrant backgrounds. The video was directed by Romain Gavras, co-founder of the Kourtrajmé collective, whose members were, for the most part, born in banlieues.
Pro Wrestling
Although by its very nature professional wrestling does not have "very special problem" plots in the vein of most sitcoms and such, WWE has aired very different types of "Very Special Episodes," most notably after the death of a prominent current member of its roster or after a notably tragic event. Current storylines will be dropped, and wrestlers will be invited to do "out-of-character" tributes to their fallen comrade. The most famous "death" examples were tribute shows aired for Owen Hart (who was killed after a stunt gone horribly wrong), Eddie Guerrero, and Chris Benoit (aired live, before the details of his murders of his wife and son, and his suicide became definitively known). WWE also aired a show two days after the September 11, 2001, attacks in New York and Washington, as a salute to victims killed in the terrorist attacks.
WWE has also held events and specials known as the "Tribute to the Troops"—usually aired during the holiday season—as a salute to the U.S. armed forces. The specials were initially held at U.S. military bases in Afghanistan or Iraq. From 2003 to 2007, the Tribute to the Troops aired as a Very Special Episode of either WWE Raw or WWE SmackDown (usually on or around Christmas), but beginning in 2009 it became a standalone special. Since 2010, they have been held at either a military base in the United States, or in a city near major military bases
Puppet Shows
Toys
Since the first wave, the stories of Hero Factory amount to this (if the animated series is anything to go by): the Fire Lord arc is a drug PSA using fuel as a metaphor for drugs, and the Witch Doctor arc is about environmentalism.
Video Games
Parodied in Sam & Max Season 2: Night of the Raving Dead. The pair film a "Very Special Episode" of Midtown Cowboys in which they confront their landlord about his addiction... but the episode is really a massive product-placement ad, because who wouldn't be addicted to the great taste of Old Gutsmack brand Malt Liquor?

And then they replace the liquor with cigarettes containing garlic, causing a German vampire who is a big fan of the show to smoke them. You can also replace the liquor with a brand of water that you find in the castle, leading to some hilarious ad-lib moments.

Osu! Tatakae! Ouendan, its sequel, and its American counterpart Elite Beat Agents each have a level with a more serious story than usual behind it, involving a person/family coping with the death of a loved one. These levels are set to slower, quieter songs than the other stages. In Elite Beat Agents, the song used is Chicago's "You're the Inspiration".
High School Story features a quest line called "Hope's Story" about cyberbullying; due to the long time waits required to complete quests, it functions much as a days-long Public Service Announcement. The cynic may also describe it as a days-long Product Placement for the Cybersmile Foundation.
Parodied in the intro to Cel Damage:

Tonight, on a very special episode of Cel Damage: Will Violet ever learn of the disease that's slowly killing her? Will Sinder ever become house-trained? .....NAH! We'll just drive around way too fast and blow up everything in sight like we do every week!

Dragon Age: Inquisition features Dorian, a homosexual companion, whose personal quest (involving

his family attempting to "cure" him of his orientation via potentially-dangerous blood magic

) is rather blunt in its message. Note that while there is some in-game justification for the shift (Dorian is from a culture that had not yet been featured in-depth in previous games and its rulers are engaging in a Super Breeding Program, discouraging non-procreative unions), previous Dragon Age titles hadn't portrayed homosexuals as very controversial or discriminated-against in-setting.

At least in context, it isn't that Dorian's parents think being gay is wrong. It's that he won't play by the Imperium rules and agree to an Arranged Marriage Super Breeding Program. His parents would probably be fine if he engaged in extramarital homosexual relations so long as it's behind closed doors so long as he marries the proper girl and produces an heir first. Word of God is Dorian's parents hate each other and as a result only had one child which is why they can't turn to another kid to continue the family line. This gives credible in-universe justifications for their actions, but doesn't work as a Real Life allegory for parental homophobia as the basis for Dorian's fictional discrimination is vastly different to what people face in the real world.
There is also a book discussing Sexuality in Thedas that comes off as rather... hamfisted in how it points out that such discrimination practically doesn't exist in the setting. However, the Dragon Age setting has plenty of its own unique social issues — particularly those regarding elves, mages, and religious extremism — that make homophobia seem quaint in comparison.

Fortnite featured an interactive recreation of Martin Luther King Jr. famous speech as well as monuments and museums about the history of the Civil Rights Movement as a limited time mode.
Gamedec: The bonus scenario Seven Daemons in the Definitive Edition had a Suicide Prevention message.
Watch_Dogs 2 has the side mission Bad Publicity where Marcus is sent to take down a recent recruit to DedSec, a streamer called Pr0-Lapz for abusing his skills and getting his opponents SWATtednote for an advantage, with Marcus doing the same to him. While usually the mission dialogues is often humorous throughout the game, this one is treated very seriously due to the number of SWATting incidents over the years as a result of online gaming and streaming, due to how easy it is to SWAT someone, how illegal it is and how dangerous this is!

The DLC has one mission about cyberattack targeting hospitals (similar to a certain cyberattack that attacks public sectors, including hospitals, occasionally and, incidentally, the DLC was released before the infamous May 2017 global-scale cyberattack), even the Dedsec announces urges taxpayers voice to prioritize update on the vulnerable hospital computers.

The ARMA 3 DLC campaign The Laws of War, which was co-developed with the International Red Cross, focuses on depicting an NGO working to clear an abandoned village of unexploded ordinance and features comparatively little combat, all of it told In Medias Res. The story focuses on not only the tragic consequences of war to both combatants and civilians, but also goes into detail about the dangers of both unexploded ordinance and anti-personnel landmines to civilian populations.
Expect at least one or two sidequests at least to take on various forms of this in the Yakuza series. While a lot of these are universal, several others focus on issues that are fairly unique to Japanese society, such as the dangers of cults, confronting the need to lay off employees when business is hard (which is a huge cultural taboo in Japan) and helping a school girl confront one of her peers who has roped her into selling her used panties to strangers. Unlike most examples, these are usually thoughtfully approached and well-written, enough so that Extra Credits dedicated an episode giving praise to how Yakuza 0 handled the topic of sexuality.
Webcomics
Web Original
Alternate History Hub's video on the Armenian Genocide certainly counts. Instead of exploring alternate history what ifs, the video is dedicated to a summary of the genocide and raises awareness of its denial by numerous nations, including the perpetrator. Cody's voice is pretty somber and serious, and no lighthearted snark, comedic elements or background music (even during the outro) are present.
Parodied in Yu-Gi-Oh! The Abridged Series, episode 17, which features a commercial for a Very Special Episode of Zorc and Pals:

Announcer

: Next week, in a very special episode of Zorc and Pals:

Yami-Bakura Florence

: Zorc, what's wrong? Why haven't you destroyed the world?

Zorc

: Because I have a

terminal disease! Florence

: But you can't die! What about our adopted daughter? Who is going to take care of her when you're gone?

Zorc

:

She also has a terminal disease! Announcer

: Don't miss this very special award-winning episode of Zorc and Pals.

Because we really need the ratings.

Parodied in Avatar: The Last Puppet Bender. Toph hosts a special episode speaking out against... people pronouncing your name wrong. Naruto even showed up.
8-Bit Mickey interviewed a member of the Westboro Baptist Church at one of their protests… at the Holocaust Museum. Why yes, they aren't just viciously homophobic and transphobic, they're anti-Semitic. He kept level headed throughout the interview and at the end of the video stated that he was quite shocked at these people.
Discussed in an episode of LoadingReadyRun commodoreHUSTLE where they think about filming a "Very Special" episodes of warriors of darkness to explain why Paul has lost his beard.
Extra Credits, normally a Visual Pun-centric commentary on video games, did this with the second part of an episode on game addiction. Instead of the show's normally minimalist art, the writer, James Portnow, sat down in front of a camera and talked about his previous experiences with gaming addictions and the harm it did to his life. It even came with a moral: "Life will always welcome you back."
Foxy's Family has "The Pandemic Peril", which talks about the importance of staying in quarantine to prevent the spread of COVID-19.
Brows Held High:

The review of Angels in America for World AIDS Day in part of the Red Ribbon Reviewers project was mostly a PSA about HIV and AIDS, and praise for the play and TV miniseries.
His review of Melancholia. The movie deals with themes of severe depression, and when it starts as a fun Milestone Celebration, it quickly grinds down and becomes less funny until Film Brain calls him out for focusing on easily mocked but ultimately irrelevant aspects of the movie instead of facing the Elephant in the Living Room. At this point, Kyle stops the review to talk for a moment about real-life depression and his battles with such.

The Nostalgia Critic had "The Top 11 Simpsons Episodes" and "The Top 11 Batman Episodes". Neither episode had much humor, so the failure at school and Domestic Abuse talks stood out better.
Atop the Fourth Wall: The episodes where Linkara reviews Very Special Episode comics have been given the moniker "PSA Hell". Additionally, in one episode, Linkara explains that he was asked to do an episode dealing with bullying, particularly that relating to geeky interests, but he then states that he wasn't able to approach the subject because, while he was bullied as a child, it was because he had an unusual surname, not because he liked comic books. He then goes on to discuss a few Spider-Man comics that mentioned the issue, but didn't do a very good job at it.
Todd in the Shadows:

The episode on "Turn Up the Music" only barely mentions the song. Instead it's a long rant on how its performer, Chris Brown, still acts like a despicable human being despite all the backlash against him in the past.
"Last Night" by Morgan Wallen takes a similar approach, talking about the infamous video of him using the N-word casually, though the tone is less "angry" and more "conflicted" as it talks about his apology tour and if he deserves a second chance.

Parodied and deconstructed in the fifth Don't Hug Me I'm Scared video. A gang of talking foods sing a common children's cartoon aesop about eating healthy. It soon becomes obvious they're very factually incorrect and spouting nonsense. Things such as how "plain foods" such as "bread, cream, white sauce, and aspic" are good for you while "fancy foods" like "cooked meats, fruit salad, soil foods, and yolk" are bad for you. The Anthropomorphic Food characters are also Faux Affably Evil and condescending towards Duck Guy and his friends.
YouTube Rewind:

Rewind 2017 has a sequence in which all the characters have to deal with all the terrible things that happened that year. They pull through these tough times by Holding Hands.
Rewind 2018 has a campfire scene where the characters give shout-outs to those who helped out important causes, talked about mental health, supported each other, etc.

LEGO Rewind:
Funny or Die has an entire series comically summarizing Very Special Episodes of various sitcoms, mostly those from 7th Heaven and Full House.
Game Grumps: Episode 19 of Wind Waker HD was taken up by Danny's very serious and heartfelt story about his struggles with OCD when he was younger, how it lead to some serious depression, and how he managed to overcome them. The fan reaction was overwhelmingly positive, to the point where in a later episode Danny did a special recording thanking everyone for their responses and apologized for not being able to respond to them all individually.
---