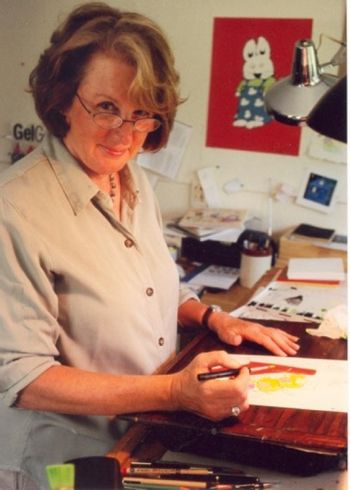 "Animals can serve as a metaphor and they are easier to write about than human children. For example, with the
Yoko
series, it might not be considered politically correct for a non-Japanese writer to pen a story about a Japanese character. Since Yoko is a kitten, I can work around this."
— Rosemary Wells, from a Japan Times interview
Rosemary Wells (born January 29, 1943) is a prolific creator of children's picture books and has also written for older audiences. Her two most popular franchises, which have also been adapted for television by Nelvana in Canada, are Max and Ruby and Timothy Goes to School. Some other popular titles by her include the Bunny Planet books, the Edward the Unready series (later rereleased as eBooks under the banner "Edward Almost Ready"), the McDuff series and Emily's First 100 Days of Kindergarten. Her nonfiction titles have included Help Children Cope With Divorce and Getting to Know You: Rodgers and Hammerstein Favorites. Some of her works titled at older audiences include Mary on Horseback and The Miraculous Tale of the Two Maries. In all, she has written well over 100 titles. Her most recent series are the Kindergators, about a group of young alligators, the Sophie books, about a high-spirited two-year-old mouse, and Felix & Fiona, which revives her Felix the guinea pig character, but also adds a new friend for him named Fiona.
Her very first title, published in 1972, was Unfortunately Harriet. It is currently out of print. Her second title, published a year later, was the much more well-known Noisy Nora, which remains in print to this day, with Nora becoming one of the characters on the Timothy Goes to School television series.
She is known for the Read to Your Bunny initiative, which, through the book by the same name, and through other media, encourages parents to read to their children for at least 20 minutes a day.
She was also involved in the production of the Max & Ruby and Timothy television series. Her official website can be found here
.
Not to be confused with a film which also contains the word Rosemary in it.
---
Tropes featured in Wells's works include:
---