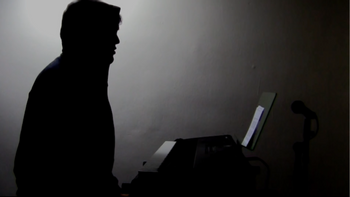 "I don't make these videos because I hate pop music, I do it because I LOVE pop music."
Todd Nathanson (born 3 June 1984) is a YouTube-based reviewer who focuses on snarking on pop music of the past and present. Combines legitimate complaints with humorous observations and Shout Outs. Also, he always obscures his face in his videos.
Todd has four different shows:
He also has a podcast Song vs. Song which compares big hits from pop history.
A former member of Channel Awesome, he left the site in early 2018. Once a frequent "Special Guest" on Pushing Up Roses' "Let's Play Shorties". Todd also regularly appeared on Roses' Let's Plays of Edutainment PC games from the early '90s. He also had frequent cameo roles and co-writing credits on The Nostalgia Chick's early videos.
His videos can be found on his YouTube account here.
His Twitter account can be found here.
All tropes regarding Todd himself go to the character sheet.
---
Works covered on Todd's docu-review shows:
open/close all folders
One Hit Wonderland
2012

a-ha - "Take On Me" (1986)
Sir Mix-A-Lot - "Baby Got Back" (1992)
Carl Douglas - "Kung Fu Fighting" (1974)
Dexys Midnight Runners - "Come On Eileen" (1982)
Gerardo - "Rico Suave" (1990)
Billy Ray Cyrus - "Achy Breaky Heart" (1992)
Men Without Hats - "Safety Dance" (1982)
Wild Cherry - "Play That Funky Music" (1976)
Bobby "Boris" Pickett - "Monster Mash" (1962)
Chumbawamba - "Tubthumping" (1997)
Elmo & Patsy - "Grandma Got Run Over By a Reindeer" (1979)

2013

Eddie Murphy - "Party All the Time" (1985)
Semisonic - "Closing Time" (1998)
Billy Paul - "Me & Mrs. Jones" (1972)
The Weather Girls - "It's Raining Men" (1982)
Rednex - "Cotton-Eye Joe" (1994)
EMF - "Unbelievable" (1990)
A Flock of Seagulls - "I Ran (So Far Away)" (1982)
The Proclaimers - "I'm Gonna Be (500 Miles)" (1988)
Mr. Big - "To Be With You" (1991)
Iron Butterfly - "In-A-Gadda-Da-Vida" (1968)
Baha Men - "Who Let the Dogs Out" (2000)
Rockwell - "Somebody's Watching Me" (1984)
Alien Ant Farm - "Smooth Criminal" (2001)
Debby Boone - "You Light Up My Life" (1977)
Dead or Alive - "You Spin Me Round (Like a Record)" (1984)

2014

Marc Cohn - "Walking in Memphis" (1991)
OMC - "How Bizarre" (1995)
The Floaters - "Float On" (1977)
Pras - "Ghetto Supastar (That Is What You Are)" (1998)
Nine Days - "Absolutely (Story of a Girl)" (2000)
Deee-Lite - "Groove Is in the Heart" (1990)
Biz Markie - "Just a Friend" (1989)
Snow - "Informer" (1992)
Blue Swede - "Hooked on a Feeling" (1974)
Michael Sembello - "Maniac" (1983)
Shawn Mullins - "Lullaby" (1998)

2015

Cameo - "Word Up!" (1986)
Eiffel 65 - "Blue (Da Ba Dee)" (1998)
John Parr - "St. Elmo's Fire (Man in Motion)" (1985)
Hanson - "MMMBop" (1997)
The Vapors - "Turning Japanese" (1980)
Crazy Town - "Butterfly" (1999)
Meco - "Star Wars Theme/Cantina Band" (1977)

2016

Toni Basil - "Mickey" (1982)
Barry McGuire - "Eve of Destruction" (1965)
Chamillionaire - "Ridin'" (2005)
The Darkness - "I Believe in a Thing Called Love" (2003)
Living in a Box - "Living in a Box" (1987)
Donna Lewis - "I Love You Always Forever" (1996)
Divinyls - "I Touch Myself" (1990)
Wall of Voodoo - "Mexican Radio" (1982)
Coven - "One Tin Soldier" (1971)
Jars of Clay - "Flood" (1995)
Midnight Oil - "Beds Are Burning" (1987)

2017
2018
2019

Harvey Danger - "Flagpole Sitta" (1997)
OK Go - "Here It Goes Again" (2005)
House of Pain - "Jump Around" (1992)
Paper Lace - "The Night Chicago Died" (1974)
New Radicals - "You Get What You Give" (1998)
Van McCoy - "The Hustle" (1975)
Asher Roth - "I Love College" (2009)

2020

Young MC - "Bust a Move" (1989)
Lipps Inc. - "Funkytown" (1979)
Yello - "Oh Yeah" (1985)
Corona - "The Rhythm of the Night" (1993)
Jimmy Ray - "Are You Jimmy Ray" (1997)
Modern English - "I Melt With You" (1982)
The Buoys - "Timothy" (1970)
The Waitresses - "I Know What Boys Like" (1980)

2021

Tag Team - "Whoomp! (There It Is)" (1993)
Mark Morrison - "Return of the Mack" (1996)
Rick Dees & His Cast of Idiots - "Disco Duck" (1976)
Meredith Brooks - "Bitch" (1997)
The Red Jumpsuit Apparatus - "Face Down" (2006)
Lou Bega - "Mambo No. 5" (1999)
Evan and Jaron - "Crazy for This Girl" (2000)

2022

Edison Lighthouse - "Love Grows (Where My Rosemary Goes)" (1970)
Bobby McFerrin - "Don't Worry, Be Happy" (1988)
Mims - "This Is Why I'm Hot" (2007)
Los del Río - "Macarena" (1993)
White Town - "Your Woman" (1997)

2023
Cinemadonna
Trainwreckords
---
Tropes used by Todd in the Shadows in his reviews:
<!—index—>
---