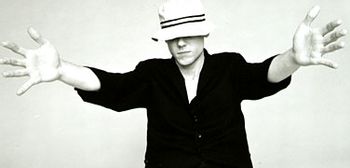 New Radicals were an American pop-rock band from The '90s. The band was founded and fronted by multi-instrumentalist Gregg Alexander, who wrote and produced all their songs. The only other official or permanent member of the band was Danielle Brisebois, a Former Child Star known for her roles on All in the Family and its spinoff Archie Bunker's Place, who provided percussion, keyboards and backing vocals. The band's other members were mostly session musicians that Alexander hired song by song, and the lineup constantly shifted during their short career.
They released one album, Maybe You've Been Brainwashed Too, in 1998. A pop-rock album drawing influences from various rock and Funk/Soul acts like Todd Rundgren, Prince and The Rolling Stones, Brainwashed was greeted with critical acclaim. It also provided the band with their only hit single, "You Get What You Give". It's one of those One Hit Wonders that you are guaranteed to hear on the radio all the time to this very day.
Alexander disbanded the group in mid-1999 out of fatigue with touring and the rock star life, declaring that he had "accomplished all of [his] goals". This greatly affected the performance of second single "Someday We'll Know", which got some airplay (and versions from Mandy Moore and Jon Foreman; along with Hall & Oates) but not enough for the band to be considered a two hit wonder. He returned to his previous job of writing and producing for other musicians. He later won a Grammy for writing Santana and Michelle Branch's "Game of Love."
After 15 years intentionally shying away from stardom, Gregg Alexander finally granted his first interview since his stint with the New Radicals in October of 2014.
He also continues to collaborate with Brisebois, who has remained his musical and songwriting partner; The duo wrote the music for Begin Again, earning themselves an Oscar nomination in 2015.
To the surprise of 90s kids everywhere, on January 20th, 2021, the band briefly reunited (this time with Alexander, Brisebois and some session musicians from Philadelphia) to play "You Get What You Give" for President Joe Biden's inauguration, as a special tribute to Biden's departed son, Beau Biden, who loved the song. This was approximately 22 years after the song peaked at #36 on the Billboard Hot 100. And for the occasion, Gregg wore the same bucket hat from the music video.
---
Tropes:
---
Social Security Number, please. Credit card number, please. Money, please. Money, please. Money, please. Soul, please. Please deposit 85 dollars for the next three minutes, please.