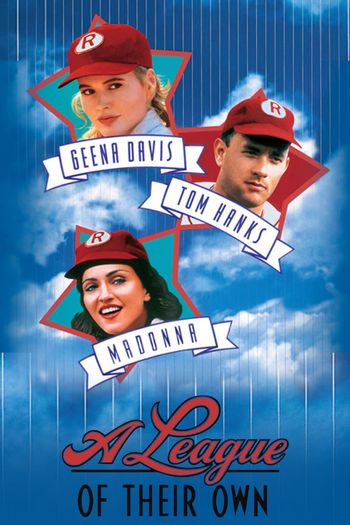 "Are you crying? Are you crying? ARE YOU CRYING? There's no crying! THERE'S NO CRYING IN BASEBALL!"
— Jimmy Dugan
It's World War II, and all of the biggest stars in Major League Baseball have left the ball field for the battlefield. Something has to be done to keep the stadiums full, the people's morale up, and profit coming to the owners of the league and their business partners. One man's solution: Create the All-American Girls Professional Baseball League
. This is their story.
A League of Their Own is a 1992 Dramedy directed by Penny Marshall, starring Geena Davis, Lori Petty, and Tom Hanks, with major supporting roles by Madonna, Rosie O'Donnell, Jon Lovitz and Penny's brother Garry Marshall. It is a fictionalized telling of the founding of the aforementioned baseball league and its struggles to stay relevant after the war ended. The main focus is the Rockford (Illinois) Peaches, headed by drunkard former baseball player Jimmy Dugan, and Kit and Dottie, two sisters who join the team.
Spawned a television adaptation on CBS running for six episodes, airing at bizarrely varying times (somewhere between May and August) throughout 1993. A second television adaptation, featuring Nick Offerman, was released on Prime Video in 2022.
Not to be confused with the British sports panel show of the same name.
---
This film provides examples of:
---
---