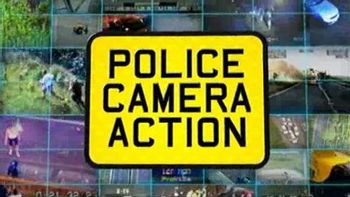 Police Camera Action! is an ITV Genre-Busting Reality TV Documentary series that started airing in November 1994 and continues to the present day. The show depicts police video footage of bad driving and road crime. Originally hosted by Alastair Stewart, Adrian Simpson became co-presenter in 2008, and Gethin Jones presented a special episode in 2008, before doing four Very Special Episodes in 2011.
The show was initially produced by Carlton Television, but Optomen now hold international production and distribution rights, plus the Copyright to the show.
Missing Episodes
Well, technically, not so much missing episodes in the way
Doctor Who
has them, but rather rarely-broadcast ones. There are a lot of episodes that don't get broadcast. (See the section below). When they
do
air them, the episodes are usually cut for timing reasons, or to make room for commercials, and rarely, if ever broadcast in their original form. Only a select few do get aired uncut. Some episodes have footage replaced due to clearance issues concerning the police forces who supply them - obtaining the footage
is expensive
, and legally it can't be shown for entertainment purposes (which is why the show needs to have
An Aesop
every
episode,
because this show is a semi-educational show, not an entertainment one
).
DVD versions
There was a vogue in
The '90s
for police camera car shows on VHS; namely
Police Stop!
between 1994 and 1995 on VHS, before it became a fully-blown TV show in 1996.
Although (it is believed) ITV have no plans to release this on DVD, the show exists on torrent sites, leading to a mass influx of the web version of Keep Circulating the Tapes. Releasing it on DVD would stop this trade, and give fans a legal outlet for acquiring it. However, it would have to be a Boxed Set for obvious reasons - they did this with other series.
Getting music rights clearance for DVD is possibly an issue (but other shows have managed to get the music intact on their DVD releases) and police footage clearance as well. However, the 2007 series is made up of a lot of British footage, so that argument is somewhat unclear.
There is an argument, however, for releasing this on DVD; given the success of CSI, NCIS, The Wire on DVD, there is possibly enough Fandom for this to be released.
---
Police Camera Action! provides examples of:
---
<<|
British Series
|>><<|
Long-Runners
|>><<|
Crime and Punishment Series
|>>