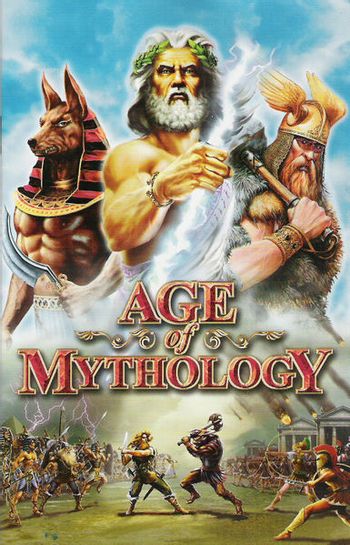 "Arkantos... awaken."
Age of Mythology is a spin-off from the Age of Empires series. It had similar town-building structure and similar units, but veered away from the traditional realism of the Age of Empires series. Rather, it was based in ancient Earth, where there were real Gods and play as three civilizations based on their various mythologies, and followed consistent, original storylines through characters and in-game cinematics.
The plot of the original game follows Arkantos, an Atlantean Admiral who battled monsters in his time but is getting old, and since no one's really attacking Atlantis, he doesn't have much to do. That is, until Atlantis is attacked by strange monsters and men in black ships, prompting Arkantos to go off to Troy and help Agamemnon finish The Trojan War to curry favor with Poseidon. After taking Troy and sailing to Greece for repairs, they stumble on a plot by Gargarensis, a cyclops demigod who is trying to help a god release Kronos from Tartarus. Naturally, Arkantos needs to stop him, and to do that, he journeys from Atlantis, to Greece, through the Underworld, to Egypt, up to Scandinavia, then back to Atlantis.
The Titans expansion, set 10 years after the original, adds one more civilization and only a third as many missions as the original game. It revolves around Arkantos' son Kastor being tricked into weakening the gods by destroying their monuments so Kronos can escape Tartarus.
There's also a much lesser-known tabletop game made by Eagle Games, as well as a Turn-Based Strategy game for the Nintendo DS called Age of Empires: Mythologies developed by Griptonite Games and published by THQ.
The game also received an Updated Re-release on Steam in May 2014, known as Age of Mythology: Extended Edition. This, in turn, received a second expansion pack, Tale of the Dragon, which introduces the Chinese Mythology into the mix, which was released in January 28th, 2016.
During the Age of Empires 25th anniversary celebration, a second Updated Re-release, Age of Mythology: Retold was announced.
---
Tropes used include:
open/close all folders
A-D
E-M
N-Z
---