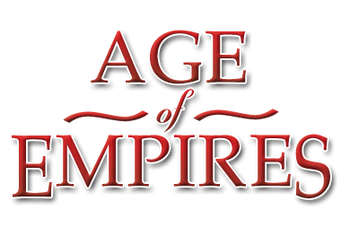 AAAAAHHHHH.....
All hail! King of the losers!
Nice town. I'll take it.
Age of Empires is a series of historical Real-Time Strategy games first made by the Microsoft-owned developer Ensemble Studios.
The franchise so far consists of the following games/series:<!—index—>
Main Series
Spin-offs
<!—/index—>Age of Empires: The Age of Kings — 2006 — A Turn-Based Strategy spin-off for Nintendo DS.<!—index—>
Age of Empires: Mythologies — 2008 — Same as above.
Age of Empires Online — 2011-2014 — A defunct free-to-play free-roaming RTS with RPG elements.

Age of Empires Online: Project Celeste — 2017 — An unofficial server that revives the game with all previously-released content included.

Age of Empires: Castle Siege — 2014-2019
Age of Empires Mobile — 2023
<!—/index—>
In addition, Star Wars: Galactic Battlegrounds is Age of Empires IN SPACE (LucasArts used the AOE II engine) and Ensemble developed an RTS based on the Halo series, Halo Wars, which was Ensemble Studios' swan song, as Microsoft closed them down on 1/29/09. There was also a spiritual successor in the form of Empire Earth, which was developed by the very same creator of Age of Empires and released on November 23, 2001. Another spiritual successor, 0 A.D., is being developed (it's still an alpha, though).
Age of Empires Online, however, turned out to be very much in production. The announcement broke the base almost immediately. The game, made by Gas Powered Games, is intended to enable players "to create a living, growing online world, shared with friends and friendly rivals around the globe, [while] players can develop their own persistent online civilization, which grows even when the player is offline and watch as it progresses from a village to an empire. They can embark on quests along the way, alone or with friends, and to "immerse themselves in epic tales, quirky characters, adventure, history and strategy." The game also includes Live Achievements. Initially released with just the Greek civilisation, the Egyptians, Persians, Celts, Babylonians and Norse have since been added. The free-to-play model has also been revamped, allowing persistent players to earn in-game currency to purchase paid content without paying a dime.
On January 3, 2013, it was announced on the official blog that Online would have no further content added, though support will be continued for the game. Online was shut down on July 1, 2014. Before that date, it was widely believed that Microsoft would shut down the Games for Windows — Live service (which Online relied upon) that same day, but the company later announced in June 2014 that only AoEO is shutting down that day, not the entire GFWL service.
In between the closure and the announcement, no new players could join nor could the premium currency be purchased with real money, though it could still be earned in-game by players already present. However, in 2017, an independent group of developers, using Microsoft's publicly-released development kit under a non-commercial license from Microsoft, revived AoEO in the form of Project Celeste
, a server emulator that features all the content and online features that was released in the game's official lifespan, with the team planning to add the unreleased Roman civilization based on what was provided before the shutdown. Project Celeste can be installed
using either the old Steam installation for AoEO or a standalone version.
2014 also saw the series go mobile with Age of Empires: Castle Siege for both Windows Phone and Windows 8. Castle Siege went for a Clash of Clans-like Tower Defense approach while still retaining many series mainstays.
On August 21, 2017, Microsoft announced the much awaited and anticipated fourth installment in the series.
---
The series in general gives examples of:
---