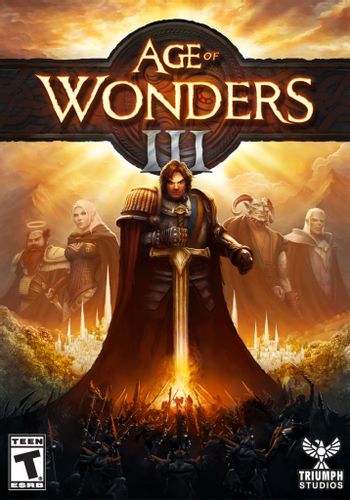 "I have lived since two thousand years. I ruled the Wizard's Circle and reduced it to dust and shadow. I've made way for the new age... for you to inherit. Create an empire in your own image. Become a scion of magic. The herald of technology. Inspire through faith. Through fear. Rally the forces of nature. Conquer with the blood-stained sword. But know that there is corruption... but you must face it to rule the third age of wonders."
—
Merlin
, the
trailer of Age of Wonders 3
.
The third official installment of the Age of Wonders series, Age of Wonders 3 is a turn-based strategy game released by Triumph Studios on March 31, 2014.
Set many years after the events of Shadow Magic, the world is going haywire again as the traditional, tree-hugging Elven Court and industrious Commonwealth head to war. Really, it was inevitable considering the type of game this is.
The gameplay of AoW3 mixes many aspects of the prior installments. Wizards (or rather "Leaders") are back to being frontline units (casting from outside the battle costs twice as much), but are much safer from sudden death and empire failure. New to the series, units in combat are vulnerable to flank attacks; weaker units earn their place on the battlefield by being distractions, setting up attacks to be delivered by your bruisers. Units are also more explicitly categorized as Infanty, Archers, Cavalry, etc, with each group having innate abilities and weaknesses (Cavalry is weak to pikemen but can Charge, Infantry can climb walls, etc).
While many of the races don't return, a new class system adds a lot more variety to the returning races, and the base lineup of each faction has also been diversified more.
There are two DLC that expand the race and class selection. The first expansion, Golden Realms, added several new units and races, including the Halflings from the previous games as a playable race, and mystical city upgrades, buildings a city can build depending on treasure sites within its domain. The second expansion, Eternal Lords, brought back Tigrans, Frostlings, and the Undead (by means of the Necromancer class), and added alignment-based specializations.
A list of races, characters, and their tropes can be found at the character sheet.
---
Age of Wonders 3 provides examples of the following tropes: