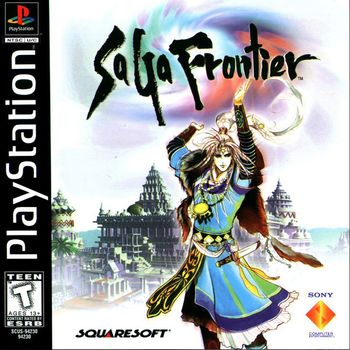 "A wizard's dark destiny, a woman's revenge, even a robot's search for his soul. Seven amazing adventures that weave into one — yours."
So reads the back of the case for SaGa Frontier, the first SaGa game released in North America since SaGa 3 (aka Final Fantasy Legend III) and the first one on the PlayStation. It came out March 25 1998, (July 11 '97 in Japan) and was produced by Squaresoft's Production Team 2 (referred to as "2nd Division" in-game.) The 75 song soundtrack was composed and arranged by Kenji Ito, who also did the soundtracks for previous SaGa titles.
SaGa Frontier is unique in that there are seven playable protagonists, each with their own individual quest. It also uses a 'system data' feature, which, if you complete one character's story, will give bonuses to the characters in subsequent quests.
A quick summary of the seven stories:
There's also a Character Sheet in progress.
---
SaGa Frontier provides examples of:
---