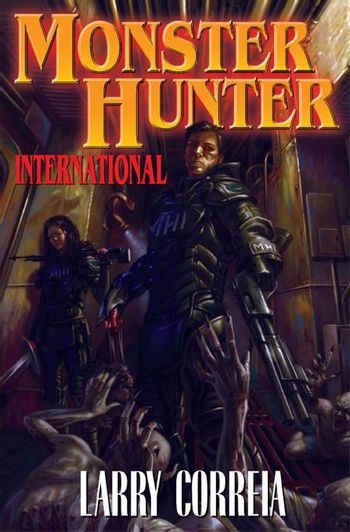 You know what the difference between me and you really is? You look out there and see a horde of evil, brain eating zombies. I look out there and see a target-rich environment.
—Dillis D. Freeman Jr., as quoted in foreword
Monster Hunter International is a contemporary Urban Fantasy/Action Horror/Gun Porn novel written by Larry Correia about a group of professional monster hunters. Correia's stated goal was to combine B-Movie monster tropes, but have the characters not be complete idiots. Consequently, in order to still present a threat, the monsters are much more powerful than in most B-movies, and the Hunters respond in kind. Grenade launchers? Fully-automatic shotgun? Claymore mines? Yes, yes, and yes.
The first book was originally self-published in 2008, but high sales through word-of-mouth advertising, especially on gun-related forums, attracted the attention of Baen Books, which picked up the series.
The series:
In Monster Hunter International an ordinary accountant, Owen Pitt, finds that the world is far more extraordinary than he first thought, when his boss turns into a werewolf and tries to kill Owen. He finds himself in a race against time to stop an evil Conquistador using the Kamaresh Yar to destroy the world.
Monster Hunter Vendetta focuses on the aftermath of the climax of the first book. Owen is now at the top of the Old Ones' Most Wanted list, and they have promised great power to whoever can bring him to them. Now the Sanctified Church of the Temporary Mortal Condition, a necromantic cult with a mysterious leader, is hell-bent on catching him. The Monster Control Bureau has been tracking them for years, and thinks that using Owen as bait is just the break they need. But the Hunters have other ideas...
Monster Hunter Alpha picks up some time after Vendetta, with a change of protagonist. Earl Harbinger heads to a remote town in Michigan, to settle some old scores with one of his oldest foes, a vicious werewolf who served the KGB, and take him down for good. But there's another force waiting in the darkness, working to bring about a new breed of werewolves, and the only thing in their way are a handful of locals and a Determinator Earl Harbinger who won't die.
Monster Hunter Legion brings MHI to Las Vegas, where they and other hunter teams from around the world, invited by a mysterious host for a hunter convention, run into a buried supernatural super weapon from the tail end of World War II.
Monster Hunter Nemesis takes the story inside the Monster Control Bureau, leaving most of the regular cast in the background. It covers Agent Franks's backstory and perspective, and fills in some of the cosmology.
Monster Hunter Memoirs: Grunge is the first of three MHI novels written by John Ringo with help from Correia, in the form of the memoirs of a hunter from The '80s operating in Washington state, and later in New Orleans. Grunge was released in August 2016, Monster Hunter Memoirs: Sinners in December 2016, and Monster Hunter Memoirs: Saints in July 2018.
Monster Hunter Siege MHI decided to rescue member left behind in the Nightmare Realm in Legion by staging an invasion on a city populated by various faction of monsters.
The Monster Hunter Files is a short-story anthology by various authors in the MHI-verse, including Jim Butcher, John Ringo, John C. Wright, Sarah Hoyt, and Jody Lynn Nye.
Monster Hunter Guardian takes place at the same time as Siege, it focuses on Julie Shackleford attempting to protect her son from dangerous enemies, while safeguarding the Kamaresh Yar.
Monster Hunter Bloodlines is the direct sequel to both Siege and Guardian, taking place after a slight Time Skip and starting In Medias Res with an attempt to acquire a Wardstone that goes south due to several previously-established factions clashing, and it's up to Owen to resolve the mess.
The first novel is now available for free in the Baen Free Library.
It has also spawned a Role-Playing Game using the Hero System and Savage Worlds.
If you're looking for a completely different Monster Hunter, which is a video game, click here.
---
The first novel uses the following tropes:
---
Monster Hunter Vendetta adds the following tropes:
---
Monster Hunter Alpha adds the following tropes:
---
Monster Hunter Legion adds the following tropes:
---
Monster Hunter Nemesis adds the following tropes:
---
Monster Hunter Siege adds the following tropes:
---
Monster Hunter Guardian adds the following tropes:
---
Monster Hunter Bloodlines adds the following tropes: