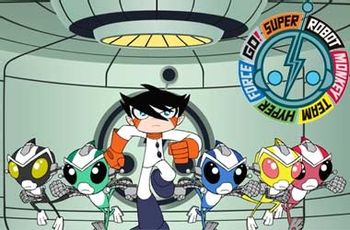 "
While exploring the outskirts of the city, I discovered an abandoned Super Robot. It was then my life was transformed by the Power Primate. The Robot Monkeys were awakened and I, Chiro, made their leader. Our quest: save Shuggazoom City from the evils of the Skeleton King.
"
— Chiro
Super Robot Monkey Team Hyperforce Go! was a 2004-2006 Japanese-American animated show created by Ciro Nieli for Toon Disney as part of its Jetix (now Disney XD) block. Notable for being the very first original series produced by Jetix for the block, the show is about a teenager named Chiro who finds a Super Robot with a set of 5 robot monkeys locked inside. He is made the leader and together they fight Skeleton King, who wants to take over their home planet of Shuggazoom.
This show now has a character sheet and a recap page that needs contributions.
---
This show provides examples of:
Bragging Theme Tune: "Super Robot Monkey Team Hyperforce Go! Fighting any evil, they are Shuggazoom's hope! Super Robot Monkey Team Hyperforce Go! Defeating any foe!"
Genius Loci: Planetoid Q is a sentient planet-sized entity.
Genre Blindness: The Hyperforce. Not only are they willing to accept their superficial victories without any suspicions about what the villain's true goal might be, they are gullible enough to believe even the most obviously suspicious characters. This is Lampshaded by a minor character in "Prototype:"

Chiro

: I know all about you! How you've managed to destroy nearly everything else on this planet!

Dr. Takeuchi

warned us!

Slingshot: Oh, really? Let's see, were you talking to a human being with a face? Or a disgusting heap of brain on a plate?
Infinite Supplies: Downplayed. The team makes routine trips to Shuggazoom's moon in order to harvest rocks to convert into fuel for the Super Robot. They were also shown running low on fuel in one instance and had to stop to refuel at an intergalactic truck stop. Other than that, though, the trope is played straight.
Insignificant Little Blue Planet: Earth is only seen once, in "Belly of the Beast", and even then the Hyperforce don't land on the planet. (Strangely, when Japan is seen, there's what seems to be an advertisement for this very show.)
I Was Quite a Looker: Captain Shuggazoom was quite handsome in his days as a superhero.
Nice Job Breaking It, Hero!:

Sprx breaks himself with the Fire of Hate, despite Gibson already implying the danger of its power, and helping in the resurrection of the Skeleton King.

By

allowing the Citadel of Bone to be destroyed in an asteroid belt, the Hyperforce inadvertently allows Skeleton King to finally separate himself from it, thus gaining the ability to travel and spread his evil around the cosmos more freely.

No One Could Survive That!: Otto says this in one episode, and that's the least of it.
Not Quite Dead:

Skeleton King, Mandarin, and quite a few others.

Oculathorax: Several of them are fought throughout the show.
Supervillain Lair: The Citadel of Bone is the Home Base of the Skeleton King.
Surveillance as the Plot Demands: Skeleton King tends to have this, often via his TV Monster, staff, or other Magitek projection. It's perhaps most noticeable in Flytor, although this episode also shows some of its limits - Skeleton King can't just remotely get

a detailed scan of Chiro

, he has to send a specifically equipped creature in to do so.
Take Over the World: Originally appears to be Skeleton King's plan until we learn what he's really after.
Tame His Anger: Snowbound is largely about Nova's temper issues.
The Team: The Hyperforce is Shuggazoom City's reponse team to threats like the Skeleton King. It has Chiro as The Leader and the robot monkies as his diversely talented subordinates.
Temple of Doom: The temple in The Savage Lands, which is filled with various traps, plays host to a "miniboss" fight against Valeena's aforementioned Lightning Bruiser creature, and ultimately powers Valeena up enough to allow her to use a ritual to summon a freaking Dark One back from outer space while handily trouncing the Hyperforce.

Her defeat requires the destruction of its centrepiece skull via Chiro's Monkey Mindscream to depower her.
To the Batpole!: The Super Robot has suction tubes for the team to report to their designated vehicles.
Troperiffic: The Robot is deliberately as generic as possible (yet still loaded up with hidden, cliché weapons in every inch of its body,), its ability to transform into smaller vehicles is not only physically impossible, it's usually only used to remind us that it's there, Chiro's named attacks are some of the most generic Supernatural Martial Arts moves (Elemental Punch, Elemental Kick, Kamehame Hadoken), the monkey team are like any other generic Colour-Coded Characters sentai team... except they're freaking MONKEYS...
Ultimate Evil: The evil force that created The Dark Ones.
Undercover as Lovers: In Pit of Doom, Sprx and Nova are forced to go undercover as a married couple in order to trick the Elevator Monster into taking them to the Pit of Doom on the outskirts of Shuggazoom.

Sprx-77: Well sweetheart, looks like your dream has finally come true.

Nova: Your dream... my nightmare!
The Virus: In season 4, the

Wraiths

, who are able to mark humans with dark magic which will eventually transform the victim into another Wraith. Even Chiro succumbs, although his eyes always mark him as unique and incompletely subdued (reappearing briefly while he's still human, unlike the other victims' always empty eye sockets, then glowing green as the robot reactivates when Jinmay takes his place in Torso Tank One), and eventually his Inner Primate coupled with the Power of Love allow him to break out of his Wraith form.
Weaker in the Real World: In "In The Grip Of Evil", Skeleton King is so powerful in the shared nightmare that he effortlessly defeats the entire Hyperforce. While the monkeys manage to wake up and escape the dream, Chiro breaks free and attacks Skeleton King before waking up, dragging Skeleton King back to the waking world with him. As the daylight sun rises, it causes Skeleton King to burn. As Chiro notes, he's not as powerful outside the dream.
Wham Episode: Several of them.

Episode 14 "Skeleton King"- Show us the first true battle against the Skeleton King and his forces. Serves to help hint at whats to come.
Episode 17 "In The Grip of Evil"- What starts as a nightmare turns into an exploration of memories with some bombshells:

It's revealed the Skeleton King was once a good and noble man called the Alchemist. Combining magic and science, he created the Monkey Team to stop him from himself

Episode 25-26 "Antauri's Masters" and "I, Chiro." Especially "I, Chiro." We see Skeleton King corrupt the Power Primate and enabling it from helping the heroes while the 'safest place in the galaxy' falls. Furthermore, in "I, Chiro" we see the Skeleton King's true goal: To resurrect a Dark One, calling back to the Pit of Doom. After an intense battle, the Skeleton King is merged with the worm, Antauri sacrifices himself to seal the egg, possibly unlocking the sentience of the Super Robot and restoring Chiro's Inner Primate, turning him into a monkey in the process, resulting in a Bittersweet / Downer Ending.
Episode 28 "The Savage Lands part 2"- The return of Antauri, the revealed fate of the Skeleton King and Dark One Worm and the Monkey Team's descent into space to end the two once and for all. Also, the reveal of Valina
Episode 49 "Secret Society"-

The reveal of two background characters as heads of a Skeleton King-worshipping society as well as being Valina's parents. Also, the Skeleton King's skull reveal into a Crystal Skull, commencing the start of Mandarin and Valina's attempt at reviving him.
---