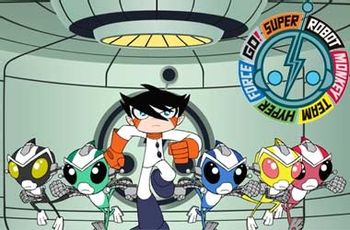 "While exploring the outskirts of the city, I discovered an abandoned Super Robot. It was then my life was transformed by the mysterious Power Primate. The Robot Monkeys were awakened and I, Chiro, became their leader. Our quest: to save Shuggazoom City from the evils of the Skeleton King."
— Chiro
Super Robot Monkey Team Hyperforce Go! was a 2004-2006 Japanese-American animated show created by Ciro Nieli for Toon Disney as part of its Jetix (now Disney XD) block. It is the very first original series produced by Jetix for the block.
The show is about a teenager named Chiro who finds a Super Robot with a set of 5 robot monkeys locked inside.
He is made the leader and together they fight Skeleton King, who wants to take over their home planet of Shuggazoom.
---
This show provides examples of:
---