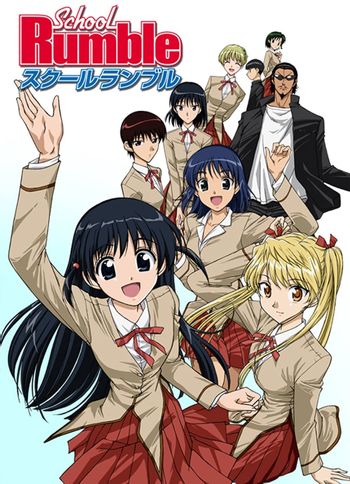 School Rumble Forever!
Idiot delinquent (Harima) has a secret, obsessive crush on an even more clueless classmate (Tenma), who is in love with a complete oddball (Karasuma), who is in love with food (curry). Tenma's quiet, gentle sister Yakumo, her ojou friend Eri, and the hot school nurse may or may not have feelings for Harima, depending on the rumors you believe and the time of day. Also, both Tenma and Harima's cousin Itoko think Harima is in a relationship with Yakumo. Class rep Hanai is loudly in love with Yakumo (thus seeing Harima as his rival), while two or three girls may or may not have feelings for him. Also, there is Ichijo, who likes Imadori, who likes Mikoto, who likes one of her ex-sempais, who got a girlfriend since the last time she saw him. And so forth. Failed confessions, confessions to the wrong people, and relationship misunderstandings abound.
You will rarely take any of this seriously.
School Rumble is ostensibly a high school romantic comedy, but in practice it's really more of a Gag Series that relies more on character interaction than actual progress in relationships. It also loves to parody other series, including Initial D, Fist of the North Star, Dragon Ball Z, Battle Royale, Iron Chef, Star Wars, and Ghost (1990).
The original manga by Jin Kobayashi ran in Weekly Shonen Magazine from 2002 to 2009. It has an anime adaptation that consists of two 26-episode seasons, each covering a term of the school year, as well as two 2-episode OVAs: the first centered on the first term, and the second centered on the very end of their high school life. The second season ends with the characters planning the class trip that forms the first major arc of the third term. The second OVA ends with the characters having a class reunion some time after they have all graduated high school, but occurring presumably not beyond their first year of college .
The end of the manga was followed by a brief sequel manga, School Rumble Z, which is not quite a sequel but an alternate universe.
---
School Rumble provides examples of:
Alternate Character Reading:

The reason why some people are led to mistake "Harima Kenji" for "Harry McKenzie" - their names use the exact same characters, but are pronounced differently.
Harima reads "Karasuma" as "Torimaru" due to the alternate furigana readings the kanji in his name have.
A very heartbreaking example is Karasuma to Tenma, whom he has loved all along - especially when the reader finds out

he's hallucinating her, and by the time Tenma actually reunites with him, he's already lost his memories.
Satsuki in episode 8 of Nigakki, after she eats family-sized meals in hopes that she will grow taller.
Baseball Episode: 2C play it in a sports class.
Battle Aura: Both Harima and Hanai get this often, especially when it comes to each other and a Tsukamoto girl.
But Now I Must Go: Eri invites Harima to her house overnight to work on the school album. To get him to reveal his feelings, Eri's butler cosplays as a character from Harima's favorite show and fights him. Harima leaves the house without revealing his feelings because that's how the episode ended.
Failure Is the Only Option: Pretty much sums up Tenma's success with Karasuma and Harima's success with Tenma. Not as much in the ending of the manga and in School Rumble Z for

Tenma. Still sucks to be Harima though.
---