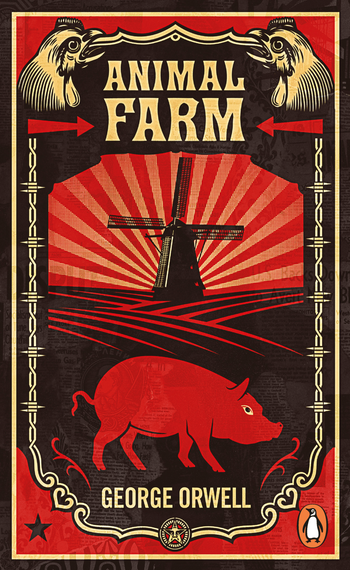 "All animals are equal…but some animals are more equal than others."
A 1945 Beast Fable by George Orwell satirizing the evolving Russian communism, as well as a book with two adaptations that have an understandably misplaced demographic.
In the book, Orwell tells, allegorically, how the Russian Revolution would go if its participants were animals, and if you reduced Russia to the area of a typical English country farm. When you get what the point of the book is — being a satire of Stalinism written during World War II — it's not hard to guess where the plot is going.
The animalist state of Animal Farm is founded by Old Major's philosophy of peace and equality among animals and a deep hatred for humans. To confirm their stance, the animals create a system of constitutional laws collectively called "Animalism" that are painted on the side of the barn:
But as Napoleon's reign grows corrupt, the laws are eventually violated by the pigs and rewritten entirely to one famous phrase ("All animals are equal, but some animals are more equal than others"), with the maxim "Four legs good, two legs bad" changed to the also-iconic "Four Legs Good, Two Legs Better".
Animal Farm was strictly outlawed by Josef Stalin as it technically depicted Stalin and other Soviet leaders as evil pigs (Stalin as Napoleon, Leon Trotsky as Snowball, and Vyacheslav Molotov as Squealer. Also, Karl Marx as Old Major, though that one technically wasn't evil). The inspiration for the book came about when Orwell saw a boy leading a cart-horse, whipping it all the while. Orwell thought that if animals realized just how strong they are, they could defeat the human race and end up running the world.
Adaptations include:
Animal Farm (1954): An Animated Adaptation produced by the British animation studio Halas & Batchelor, which was widely heralded as a milestone of British animation,note though it came under heavy criticism for its Lighter and Softer approach to Orwell's fable, including a (somewhat) Happy Ending in which the farm animals rise up against their new overlords. (It appears that the United States' CIA had a hand in providing funding for the film, though it seems uncertain whether the film's writers and directors were aware of the fact.)
Animal Farm (1999): A live-action version, starring Patrick Stewart as the voice of Napoleon and Kelsey Grammer as Snowball.
Animal Farm (2008): A stage adaptation, drawing heavily from another Orwell classic, Homage to Catalonia.
Animal Farm: The Graphic Novel (2019): A Comic-Book Adaptation by Brazilian creator Odyr.
Orwells Animal Farm (2020): Nerial, developer of Reigns, partnered with the Orwell Estate to develop a Video Game Adaptation for PC and mobile.
Animal Pound (2023): A series published by Boom! Studios written by Tom King and art by Peter Gross that changes the setting to an animal shelter.
Andy Serkis is prepared to direct a new film version using Serkis Folk.
It also inspired Pink Floyd's Concept Album Animals, though that criticizes capitalism instead of communism. John Reed's Affectionate Parody aptly named Snowball's Chance also rips on both capitalism and Animal Farm itself, portraying Snowball returning and becoming a George W. Bush Expy. In Animal Farm, things go horribly wrong; in Snowball's Chance, things go horribly right.
All spoilers below are unmarked.
---
All tropes are equal, but some tropes are more equal than others:
---
"What? Not enough tropes? If Comrade Napoleon says it, it must be right. I will work harder!"
---