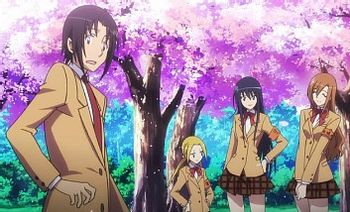 (Aria beats the drums and Suzu blows the whistle)
Shino: Ousai Academy Student Council Rule #5!
(Drumming and whistling loudens)
Shino: There should be... no overfiddling!
Tsuda: Huh— with what?!
Until this year, Ousai Academy was an all girls' school. Takatoshi Tsuda, one of the first boys to go to the now co-ed school, finds himself confronted with Shino Amakusa, the student council president, because his tie isn't tight enough. In a short amount of time, he meets Suzu Hagimura, the treasurer, and Aria Shichijou, the secretary, finding himself roped in as vice president. According to Shino, a male perspective will help them along. As Takatoshi is about to find out, the student council, and the students of Ousai, are very very strange.
Based on a yonkoma manga by Ujiie Tozen, Seitokai Yakuindomo (literally The Student Council Officers) was adapted into an anime in the summer of 2010 by GoHands. Multiple OVAs were released periodically. A second season called Seitokai Yakuindomo * note The asterisk is pronounced "bleep." Yes, it's for that. was aired for the Winter 2014 Anime season. A full theatrical movie was released on the 21st of July 2017 to celebrate the series' ten year anniversary. A second theatrical movie has been announced for Summer 2020.
Think Seitokai no Ichizon in a gender role reversal with truckloads of perversion.
---
open/close all folders
Tropes in Seitokai Yakuindomo include:
Tropes # to B
Tropes C to D
Cluster F-Bomb: When a foreigner unwittingly pushed Suzu's Napoleonic Berserk Button:

(Actual English conversation follows) Unnamed foreigner

: Thank you...

Suzu

: Yeah.

Unnamed foreigner

: ...

Little

girl!

Suzu

:

Argh! (Suzu flails with rage while Takatoshi restrains her, shouting "Wait-toh!" between struggles) Suzu

: Fu

*

k you! Mother fu

*

ker! Fu

** ***!

Color Failure: As expected of a gag manga, but special mention for the female trio of the student council when the Principal asked whether or not Tsuda had a girl on his mind and he replied with

Hata

. note
Comically Missing the Point: The source of so many gags.

A great example is in Chapter 89; Tsuda and Aria are practicing pretending to be boyfriend and girlfriend in order to get her out of an arranged marriage. Shino, who knows they are pretending, still feels irritated when she sees them together. This makes her wonder if she's in love...with Aria.
Another great example is in chapter 150.005, where Shino basically makes an indirect confession towards Tsuda by saying the only thing she isn't good at is love (while talking directly to him). This leads Tsuda to claim that it stinks, since he thought she was talking about Koi fish (Since love and koi sound similar in japanese).
When Tsuda says something nice and touching about Kaede, she blushes and her heart starts racing — naturally, she concludes that being around boys is dangerous to her health because he heightened her blood pressure.

Comic-Book Time: The manga's time stopped passing when Shino and Aria became seniors, Takatoshi and Suzu became sophomores, and Kotomi became a freshman at Ousai (beginning at around Chapter 33). As such, most of the subsequent events and characters introduced henceforth, for the rest of the 500+ chapters to date, take place during the second year after Takatoshi enrolled in the beginning of the manga.
half of episode 13/season 2.
Tropes E to M
Tropes N to R
Tropes S to Z
---