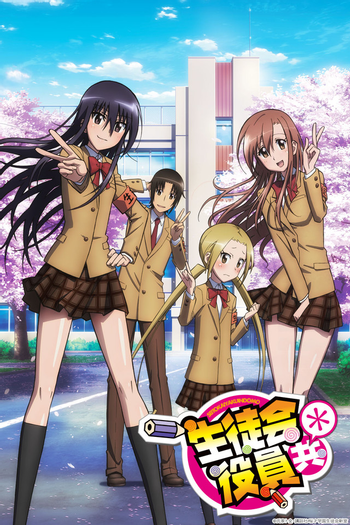 [Aria beats the drums and Suzu blows the whistle]
Shino: Ousai Academy Student Council Rule #5!
[drumming and whistling loudens]
Shino: There should be... no overfiddling!
Tsuda: Huh— with what?!
Until this year, Ousai Academy was an all girls' school. Takatoshi Tsuda, one of the first boys to go to the now co-ed school, finds himself confronted with Shino Amakusa, the student council president, because his tie isn't tight enough. In a short amount of time, he meets Suzu Hagimura, the treasurer, and Aria Shichijou, the secretary, finding himself roped in as vice president. According to Shino, a male perspective will help them along. As Takatoshi is about to find out, the student council, and the students of Ousai, are very very strange.
Seitokai Yakuindomo ("The Student Council Officers") is a yonkoma manga by Ujiie Tozen, which was serialized from 2007 to 2021 (starting out in Magazine Special, then moving to Weekly Shonen Magazine in 2008). It was adapted into an anime in July 2010 by GoHands. Multiple OVAs were released periodically. A second season called Seitokai Yakuindomo * note The asterisk is pronounced "bleep." Yes, it's for that. followed in January 2014. A full theatrical movie was released on the 21st of July 2017 to celebrate the series' ten year anniversary. A second theatrical movie was announced for Summer 2020.
Think Student Council's Discretion in a gender role reversal with truckloads of perversion.
---
open/close all folders
Seitokai Yakuindomo provides examples of:
Tropes # to B
Tropes C to D
Tropes E to M
Tropes N to R
Tropes S to Z
---