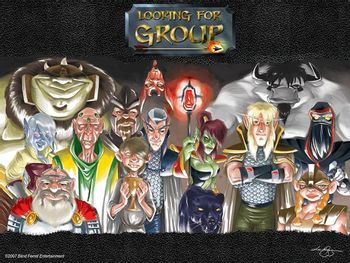 Cale: Richard, we need to go back in time. For all of us you need to open the portal. We can't do this without you. We need your help.
Benny: Foolish elf, Richard doesn't do this for us! He doesn't travel at our side because he cares or secretly desires companionship. He joined us for the opportunity for destruction, the pleasure of killing - And most likely out of boredom.
Looking For Group
was a fantasy Webcomic by Ryan Sohmer and Lar DeSouza, the creative team behind Least I Could Do and the Blind Ferret Entertainment animation studio. It borrows from classic Dungeons & Dragons conventions and World of Warcraft to tell an original story.
The main character is Cale'Anon Vatay, an elf who yearns to be a just and good hero. Unfortunately, in the LFG world, elves are Always Chaotic Evil. However, this is something that Cale is not aware of until told to go forth and do heroic stuff by his monastery, after which he meets an undead warlock named Richard, who is the embodiment of pure Chaotic Evil. Seemingly out of boredom, Richard decides not to kill Cale outright but to accompany the elf and watch him anguish over his existence and antagonize him whenever possible.
Shortly after meeting Richard, Cale is killed (guess who did that) and Richard helped him seek out a priest to resurrect him. Enter Benn'Joon, an unknown race priestess who, while more pragmatic than evil, has about as few qualms as Richard. She agrees to raise Cale for help with her pursuers in the King's Legion (who are also evil). Benny's adoptive father, a minotaur scholar named Krunch, also joins with them.
Then they set on their quest: Cale to restore goodness and honor to his race, Benny to pay off her debt to the legion, Krunch to learn the secrets of the ancients that can help with both their goals, and Richard... well, he just likes to kill things, and following these guys around seems to afford him plenty of opportunities for a little carnage.
As the group progresses, the story arc continues to get more detailed. Suffice to say, it is too interesting and vivid to be revealed here. The comic was officially retired as of August 31, 2023, so read it and enjoy!
This webcomic was being made into a feature film by Blind Ferret that was due out in 2008, according to Sohmer. The trailer is available here
. However, the efforts fell into Development Hell for several years, before being reworked as an animated series funded via Kickstarter.
---
Looking For Group provides examples of:
Back from the Dead:

Tavor and Leena

.

Subverted with the king of Gamlon. Turns out it was just an illusion.
Children Are Innocent: Invoked by a small boy who prays with Richard. Then the innocent child Cale kills turns out to be the Archmage in disguise. The innocence that had to be killed was Cale's, to badass him up.

The lost and frightened little girl in the middle of the battle in Richard's little town up the coast that a compassionate soldier picks up. And quickly regrets; see Enfant Terrible below.
City of Plot Advancement: Kethenecia.

Cale: It always comes back to Kethenecia, doesn't it?

Collector of the Strange: Richard's bear arms, shovel of pillaging, kidney hat...

Cale's group: in order of appearance - the omnicidal undead warlock, the female priestess of unknown race raised by minotaurs, her father, and the warrior-bard dwarf... who is a time-traveler from the distant past.
Dark and Troubled Past: Later strips are dragging these out. We see Richard as a Cheerful Child in a flashback, and it turns out Cale had a wife who he presumably caught cheating on him.
Daddy's Girl: As much as they snark at each other, Krunch would never let anything happen to Benny if he could help it, and Benny is

willing to support Cale's possibly hopeless cause because he refused to acknowledge that her father was probably dead.
Does This Remind You of Anything?: This.
Draconic Humanoid: The Guardians of Eight, an ancient order of dragon people connected to the origins of Kethenecia, the sword of truth, and the Archmage. Their appearances in the comic are pretty scarce, as they seem to be more active behind the scenes nudging the heroes in the direction of a brighter future.
Dragon Rider: Parodied, if Krunch's story is to be believed. Early, smaller (and smarter) dragons apparently tamed humans in an attempt to achieve flight.

This part of the story may have actually been told by Richard, as we find out after a few minutes that he has woken up partway through Krunch's tale. Krunch then says to Richard, "Don't interrupt me."
Played straight also, Legara utilises dragon cavalry during their attack on the North.
The Kethenecian forces are now doing this as well in order to break through the Legaran forces and attack their portal, but riding on sand dragons.

Dropped a Bridge on Him:

Krunch dies off panel. Apparently he was stabbed.
From Zero to Hero: Pervasive Butt-Monkey and Failure Hero tendencies aside, Cale'Anon starts off as naive and ditzy, but very slowly awakens to his destiny as a hero —

ending the war with Legara and re-establishing the lost city of Kethenecia

.
Genius Bruiser: Krunch Bloodrage, who, while confirmed as being the "scholar" out of two brothers (the other being "the warrior") still hefts around an enormous hammer and has in the past tackled a dragon.

Just to be clear: This is not figurative; he leaped at the dragon and wrestled it to the ground.

Richard: Bad news, Cale. I'm afraid that your position as my closest and dearest companion is being replaced by the fellow who just tackled a dragon.

Later on, during the Siege of The North, he descended into an Unstoppable Rage after the black dwarves killed his father, the likes of which frightened even his more martially-minded brother Ray'd.

Genius Loci: The planet itself is alive, and Richard ends up speaking to it when he pushes his way into the core.
Genre Savvy:

When the party returns to the Gnome City, the following exchange takes place:

Richard: Good news!
[Richard picks up a Gnome Guard]
Richard: We're on the same side!
Gnome Guard: Don't fwoosh me bro.

Cale in strip #400.
The slaver ship captain immediately calls bullshit on the idea the children she's transporting are slaves.

Captain: You are too well dressed and too well nourished. And most tellingly, you look at me while speaking.
God Guise: Happens to Cale a few times.
Good Colors, Evil Colors: Richard uses this idea to describe why he needs his "red fwoosh" back by having Cale describe fire and the sky.

Richard: What do you see?
Cale: Fire.
Richard: Describe it.
Cale: Hot.
Richard: Look closer.
Cale: Mysterious. Consuming. Intimidating. Powerful.
Richard: Now look up and tell me what you see.
Cale: Beauty. Endless possibility. Hope. Oh. We need to get rid of your blue fwoosh.
Hell Has New Management: The final page shows that after his Heroic Sacrifice to disentangle the worlds, Richard has taken over Hell.
"Hell, Yes!" Moment: Krunch Bloodrage has one of these in this strip.
Heroic BSoD: Benny after

Cale kills Aelloon when he and Richard unknowingly burst in on their peace talks. She breaks up with him on the spot, putting Cale into a BSOD of his own.
Iron Butt Monkey: Richard being able to survive just about any injuries

in his undead state

makes him prime fodder for this role.
More than Meets the Eye:

The rabbit is the Archmage

.

Richard's cozy little village up the coast turns out to be filled to the brim with undead citizens. Yup, even the children

.

Mugging the Monster: A group of bandits try to rob Cale, who is being accompanied by Sooba, Maikos, and Tim. To their credit, they actually (though indirectly) take Maikos and Tim out of the action, if only because

Cale uses Maikos as a shield, not knowing that Maikos was regressing from his undead state, and Tim is told by Cale to keep pressure on the injured Maikos

. Even then, they're still no match for Cale and Sooba.
The Only One Allowed to Defeat You: Benny heals

her ex-husband

back from certain death,

brought on by her team protecting her from him

because she wants to smash his head in herself. He manages two words right before she does it.
The Plan: Turns out that many events that take place are for the purpose of

molding Cale into the future king of Kethenecia

.
Play-Along Prisoner: After apparently being captured by some battlemages, Richard is shown taking one of his hands out of their cuffs, though either this seems to have been a one-off gag or the power of the chains to control undead have prevented him from making a full escape.
Sdrawkcab Name: Hctib Elttil

Also, Dnah, a talking hand... thing.

Sealed Evil in a Can: There is a minor example involving the Rakkuns. The queen of squirrels used her magic to seal them into their own little realm, with a trash can as the portal to it. She eventually coerces Cale into killing the Rakkuns entirely.
Severed Head Sports: Two undead children after a battle are seen in the background playing soccer with a soldier's head.
"Shaggy Dog" Story: When Cale brings reinforcements to the North far too late.

Cale and Richard rescue some kidnapped children and bring them back to what is presumed to be their home village, only for the villagers to turn out to be cannibals.

Ship Tease: Parodied, one assumes, here, in a Shout-Out to Ghost (1990). The dialog in the next page may also count, given how, out of context, it sounds very much like... something else...

Richard: You violated my spirit!
Pella: We agreed on no eye contact!
To Star Wars:

Richard: Many bothans died to bring you this information.
Cale: They're called gnomes, and you killed them!
Sociopathic Hero: Holy crap, Richard. He fits both versions of the trope, being played both seriously and comedically - sometimes within the same strip.
Soundtrack Dissonance: Pella slaughtering foes to "Lean On Me".

And Richard to "Lucy in the Sky with Diamonds" among other songs.

Soul Jar: Richard's gem is his phylactery.

He later switched to

the crown of Legara.

Squishy Wizard: Richard is given the pet name 'Squishy' by Tim. He's actually a subversion of this since, being undead (OR IS HE?), he's barely inconvenienced by things that would kill mortal fighters, like losing various limbs or being pin-cushioned with arrows.

He's also an extremely competent unarmed fighter, thanks to having drained the soul of a monk. It comes up now and again when his magic won't work.

Staring Down Cthulhu: Here.
Stealth Pun: Tah'vraay mentions she's "not sure she wants to be in a village where giant pieces of anatomy aren't allowed."
Stunned Silence: In this comic everyone is stunned into silence when Richard mentions that they forgot his deathday. Made all the more awkward/hilarious by Krunch blinking in surprise.
Supernormal Bindings: There's at least two occasions where the Warlock, Richard has his powers limited by enchanted shackles after being captured. In the second case we're shown that some of the enchanted shackles can be used to control Richard's body by commanding him to do something.

Subverted in that Richard has turned human and was just messing with Hctib.
Take a Third Option:

When Pella was asked if she wanted to pursue being a bard or a warrior (presented with an axe and a lute and asked to pick one), she said, "I rather be liking the feel of them both".
With Aellon's force about to besiege Kethenecia, leaving the people in to fight off a siege or flee, Cale decides on another plan:

capture the portal the Legion has made and launch an attack on Legara.

Repeatedly comes up when it comes to dealing with the Demon Court. The Demon Court orders Cale to do evil to make up for triggering Richard's Heel–Face Turn and greatly reducing the amount of evil Richard performs. If Cale refuses, then they will cause everyone Cale has ever interacted with to die to make up for the reduction in evil themselves. Cale's first solution is to try to Pay Evil unto Evil, doing horrible vicious things to people that deserve it, but since his chosen victims are surrender instantly and are completely cooperative, it doesn't work out. The group's third solution is to try to destroy the Court by killing all of the eggs in the place that the Court is birthed, but he feels uncomfortable with killing the unborn, even if they are Always Chaotic Evil demons. The group's fifth solution is to

rewrite the Book that provides the eggs with the knowledge they need to judge a case when they hatch.

Taking the Bullet: Well, Richard takes a couple of arrows for the team.

On more than one occasion.

That Was Objectionable: "Objection!" "On what grounds?" "I wish to stab [the prosecutor]."
Wham Shot: Page 1000 reveals Richard's face.

Subverted when it turns out Richard is actually the young woman, not the little boy

.
What Happened to the Mouse?: Twice in the quest to find the sand dragons. Originally they were looking for a device to control the dragons

A poke`ball

and at the same time, Richter was musing on how the dragons were magically summoned and whether or not he had the power to do it himself.
What the Hell, Hero?: Cale does not approve of how Pella convinced the Gnomes to go to Kethenicia.

#576.

Cale gets one from HIMSELF.

"You were supposed to change the world. Not let the world change you. What happened?"

Benny blaming Cale for

Krunch's death

.
Zerg Rush: The chachas operate by swarm magic: the more of them there are, the stronger their magic becomes. With enough of them, they can take down the likes of Richard and the Archmage.
Zombify the Living: Richard demonstrates this ability by forcing his enemies' skeletons to obey him... while they're still inside. More generally,

Richard himself seems to have been a case of this, and can apparently change back if he goes too long without senseless slaughter.
---