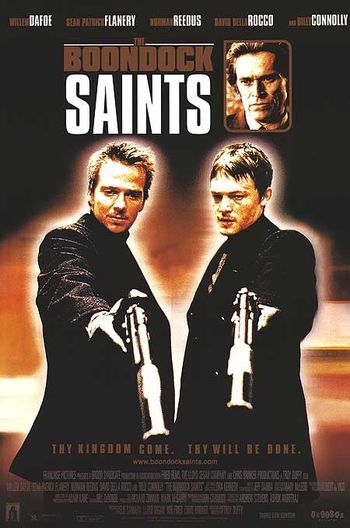 "And shepherds we shall be, for Thee, my Lord, for Thee.
Power hath descended forth from Thy hand, that our feet may swiftly carry out Thy command.
So we shall flow a river forth to Thee, and teeming with souls shall it ever be,
In Nomine Patris, et Filii, et Spiritus Sancti."
— Connor and Murphy McManus, delivering the family prayer before executing someone.
The Boondock Saints is a 1999 independent action thriller film written and directed by Troy Duffy about two Irish Catholic brothers from South Boston, Connor and Murphy McManus (played by Sean Patrick Flanery and Norman Reedus), who become vigilantes on a "Mission from God" after they are almost killed by Russian mobsters following a barroom brawl on St. Patrick's Day.
The brothers kill the mobsters and then turn themselves in to the police, though they are quickly released on their self-defense plea. They learn the location of the syndicate's leaders, then kill them all. They are quickly joined by their best friend David Della Rocco (played by an actor who shares the name), a package boy for the local Italian mafia, who enlists their help in taking down his former syndicate after he is sold out by his bosses Pappa Joe and Vincenzo.
FBI Special Agent Paul Smecker (played by Willem Dafoe) is on the case of the vigilantes, and as the bad guy body count continues to rise and the brothers become local heroes, Smecker has to decide whether he wants to catch the killers or join them.
Everything comes to a head when the Italians, tired of being picked off like flies, call in the mysterious hitman Il Duce (played by comedian Billy Connolly in one of his rare dramatic roles) to kill Rocco, who they believe is responsible for the killings. When the three Saints and the Duke collide, all hell quickly breaks loose; and when it is finally learned just who Il Duce is, the stage is set for a final reckoning that will bring the South Boston mob to its knees.
The Boondock Saints ran for all of a week in only a few theaters because no major distributor would touch the film after Duffy's falling out with his initial executive producer Harvey Weinstein. (The then-recent crackdown on violent action and horror movies and media in general following the school shooting at Columbine earlier that year didn't help things either.) However, when it was released several years later on FOX DVD, the movie became a massive cult success. Fans compare the film to Quentin Tarantino's classics Reservoir Dogs and Pulp Fiction, and Robert Rodriguez's Desperado. A sequel called The Boondock Saints II: All Saints Day was rumored for years (especially because the first film ends on one hell of a cliffhanger) and was finally released on October 30, 2009.
The film is especially popular for St. Paddy's Day drinking games, where if you sip every time someone curses, you're hammered by 30 minutes in. Because of this, some people have never seen the whole movie, nor seen it sober.
The 2003 documentary Overnight details the rise and fall of Duffy's reputation through the process of making the film, attributing the trajectory in no small part to the considerable overinflation of ego he suffered from. While he has tried to apologize for his past behavior
, watching the doc may give you a better idea of why we had to wait ten years for the sequel, and why a third film may not ever happen at all, although rumors still persist that it may happen eventually.
Has a Character Sheet that is in desperate need of more love.
Not to be confused with The Boondocks.
---
open/close all folders
Examples contained in both films
Examples that occur in the first film
Examples contained in the second film