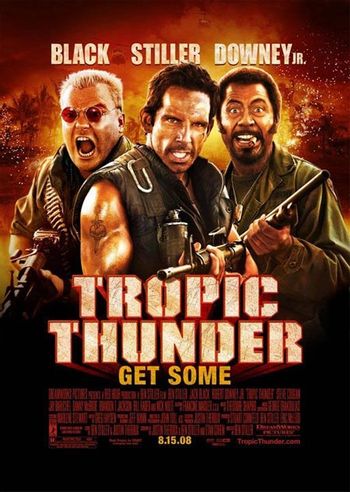 "In the Winter of 1969 an elite force of the U.S. Army was sent on a top secret assignment in South East Vietnam.

The objective: rescue Sgt. Four Leaf Tayback from a heavily guarded NVA Prison Camp.
The mission was considered to be near suicide.

Of the ten men sent, four returned.
Of those four, three wrote books about what happened.
Of those three books, two got published.
Of those two, just one got a movie deal.

This is the story of the people who attempted to make that movie."
Tropic Thunder is a satirical American action comedy film (with more focus on the comedy) from 2008, (very loosely) inspired by the train wreck that was the production of the classic Apocalypse Now.
Movie producer Les Grossman (Tom Cruise) is in need of an award-winning movie and decides to make the best and most expensive Vietnam War movie ever: an adaptation of the memoir Tropic Thunder. He hires rookie director Damien Cockburn (Steve Coogan) and five very different actors, who cause quite a stir in the press due to their very different backgrounds:
Naturally, nothing goes as planned, much to Cockburn's frustration. In a matter of days, Tropic Thunder is way over budget and the actors won't cooperate. Having finally become fed up with the actors, and following the suggestions of the film's subject and consultant John "Four Leaf" Tayback (Nick Nolte), he decides to drop the actors in the jungle and simulate realistic warfare, hoping to get real emotions from them. This plan drives production even further off the rails when the cast runs afoul of a Laotian drug ring known as Flaming Dragon, and the actors end up having to become the soldiers they're playing, despite not knowing how to use their weapons or navigate through the jungle.
A critical and financial success, this rude, crude, and very funny film mocks the way Hollywood works and, to that end, it showcases filmmaking tropes like a peacock displaying his feathers, and the extremely Genre Savvy characters poke fun at them.
A spinoff focusing on the Les Grossman character has been announced in 2010, but little else has come out of it since.
---
"First, take a big step back and literally TROPE YOUR OWN FACE!"
---