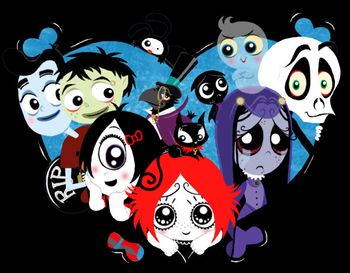 On the outskirts of Gloomsville rests a mysterious, labyrinthine Victorian mansion upon a hill. Residing within its halls lie all sorts of terrifying creatures, including miserable banshees, energetic cyclops, crafty living skeletons, and foggy-minded two-headed men. And trapped among them is but a young, red-headed girl who each day must bravely contend with their horrifying machinations such as... throwing surprise parties and performing musicals. Wait, she's friends with all of them? On second thought, maybe these monsters aren't so scary.
Originally based on a line of melancholic stationery created by American artist Martin Hsu, and a prime example of the Perky Goth mentality, Ruby Gloom is a Canadian animated program produced by Nelvana for YTV. The series focuses on the adventures of eponymous Ruby Gloom, who lives in the aforementioned mansion alongside her circle of eccentric friends, which alongside the aforementioned spooks, include a know-it-all talking raven, a bat too scared to fly, a prankster ghost, and a living toy named Mr. Buns. Oh, and Ruby's pet cat Doom Kitty.
Ruby Gloom ran for 40 episodes over 2 seasons, airing from 2006 to 2008. While the show never saw much exposure outside of Canada (including a complete absence from American airwaves), it developed a significant cult following for its quirky and likable characters and clever but good-natured sense of humor. The entire series can be watched for free on Nelvana's Treehouse Direct channel
.
---
This show contains examples of:
---