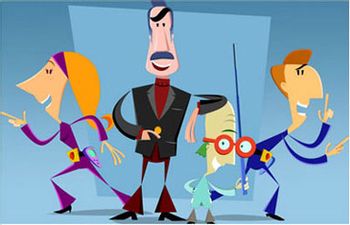 The Fluffy Bunny Show
Hello my cutesy wootsy squigly bunny friends, Sweet little granny here and welcome to The Fluffy Bunny show!
Sweet little Granny
Beloved of children for decades, The Fluffy Bunny Show
We apologise for the inconvenience but this wiki page is needed urgently. Describe The Secret Show!
The Secret Show (2006-2007) is either an incredibly silly cartoon or a ruthless parody of Martini Flavoured Spy Fiction. Probably both. Any trope that gets within a mile of this show tends to end up subverted or parodied. Like all good children's comedy shows it can raise a smile in adults too.
The show follows top U.Z.Z. agents Victor Volt and Anita Knight as they thwart the various threats to earth's security, supported by Da Chief whose name is Changed Daily, always to something embarrassing and/or silly, and U.Z.Z. chief scientist Professor Professor. The most common foe is Doctor Doctor's T.H.E.M. and its Expendaballs. Other foes are the Impostors, a race of (probably) worm-like aliens who have special suits that allow them to assume perfect disguises, The Reptogators who live 60 miles below the surface of the Earth, and are naturally stupid; they have terrible eye sight, so they track people down by the smell of dirty teeth. They only become intelligent by sucking out the brainwaves of other creatures (most are too stupid to know this however). The Floaty Heads, aliens with floating heads who, according to the website seem to want something different every time they show up.
The format of each 15 minute episode is fairly regular, start with Special Agent Ray clearing the time slot of The Fluffy Bunny show, run titles, have the briefing including Changed Daily's new name of the day, fight the often utterly ridiculous foe (with extra briefings as needed) and then a de-briefing.
Originally a British creation airing on The BBC, this is among Nicktoons' independently-funded acquisitions it made in the later part of the 2000s, along with Kappa Mikey, Sky Land, Shuriken School, Edgar & Ellen, Ricky Sprocket: Showbiz Boy, Three Delivery, Wayside, and Making Fiends.
Definitely not to be confused with ''The Great and Secret Show''.
---
Tropes used include:
---