X-Men '70s Members
open/close all folders
The Team In General
The All New All Different X-men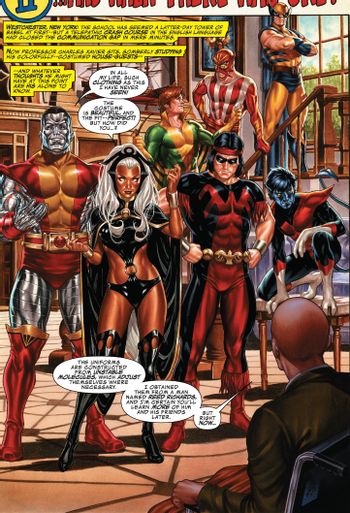 When the X-men were captured by
Krakoa
, only Cyclops managed to escape. Making it to the mansion he informed Charles Xavier of the encounter, after a
botched rescue attempt
, Xavier traveled around the world recruiting a new team to rescue the old one. Once assembled the team set out to Krakoa to rescue the old team and were successful. Once they returned to the mansion most of the original X-men left, while most of the new team stayed. Cyclops, feeling he had no other place to go, decided to remain to lead the new team.
Nightcrawler
Kurt Wagnernote / Nightcrawler
Nationality: German
Species: Human mutant
A mutant from Germany, Nightcrawler possesses superhuman agility, wallcrawling, a prehensile tail, and the ability to teleport. Despite his demonic appearance, he is a devout Catholic. Nightcrawler was raised in a circus, where he was accepted with the other "freaks" and grew to have a playful and happy-go-lucky personality. He's a fan of swashbuckling fiction and Errol Flynn in particular, and for a time, he took up swordplay and started to wear an almost pirate-like costume. Kurt later discovered that the villainous terrorist Mystique was his mother, who had to abandon him because he couldn't change his shape and blend in with her. This also makes him Rogue's adoptive half-brother. Nightcrawler is generally considered to be one of the X-Men's Ensemble Dark Horses and manages to consistently rank among the most popular X-Men. He's also one of the luckiest with women, as his unusual appearance and approachable personality tends to draw women to him really easily. Especially the tail and the fuzzy. Chicks dig the fuzzy.

Nightcrawler's unique design was a carryover from an earlier Dave Cockrum pitch
◊ to DC for new members of the Legion of Super-Heroes. In that pitch, Nightcrawler would have been an alien from a race who inspired Earth's images of demons and something between a Token Evil Teammate and a Nominal Hero, with an animalistic attitude and a taste for Black Comedy; instead, under Chris Claremont he became one of the Marvel Universe's classic examples of Dark Is Not Evil.
---
Wolverine
James "Logan" Howlett / Wolverine
Notable Aliases: Logan, Jeremiah Logan, Patch, Weapon X, Death, Mutate #9601, Emilio Garra, Weapon Chi, Experiment X, Agent 10, Peter Richards, Mai' keth, Black Dragon, Captain Canada, Captain Terror, John Logan, Jim Logan
Nationality: Canadian, Krakoan, (possible dual citizenship in Japan and/or Madripoor)
Species: Human mutant
First Appearance: Cameo appearance: The Incredible Hulk #180 (October, 1974); Full appearance: The Incredible Hulk #181 (November, 1974)
A long-lived mutant with the rage of a beast and the soul of a Samurai, James "Logan" Howlett's once mysterious past is filled with blood, war, and betrayal. Possessing an accelerated healing factor, keenly enhanced senses, and bone claws in each hand (along with his skeleton) that are coated in adamantium; Wolverine is, without question, the ultimate weapon.
---
Banshee
Sean Cassidy / Banshee
Notable Aliases: Irish, Agent #215-66, Death
Nationality: Irish, Krakoan
Species: Human mutant
First Appearance: X-Men #28 (January, 1967)
A detective and heir to a castle and fortune in County Mayo, Sean Cassidy was a former Interpol inspector with flight and sound manipulation abilities. After his wife died in a terrorist bombing, he blamed his cousin, causing him to run off with his daughter and driving a rift between the two. He was mind-controlled by an alien terrorist group but freed by the X-Men. Later, he joins the X-Men when the original five are kidnapped. Being about 10-15 years older than the rest of the recruits, he was only active for a short amount of time but still hung around as a reserve and as a mentor, who applied his experience in espionage and anti-terrorism to the younger members of the group. Deceased in 2005, he was briefly resurrected in 2013 and became a Horseman of Apocalypse. In 2019 he seems to be entirely restored, whereas he was a weird zombie previously before being outright killed again in Uncanny X-Men (2018).
---
Storm
Ororo Munroe / Storm
Notable Aliases: Blue, Ororo Iqadi T'Challa (former married name), Queen Ororo of Wakanda, Ororo Komo Wakandas (Former Wakandan title), 'Ro, Beautiful Windrider, Mutate #020, White King, Weather Witch (also as S.W.O.R.D. code name), La Reine Storm (French title), Windrider, Goddess, Mistress of the Elements, Princess of N'Dare, Hadari Yao/Hadari-Yao ("Walker of Clouds" in ancient Alkamite), High Priestess, "Sister Voodoo", Emma Frost (mind swapped), Horseman of Life, Sista Storm
Nationality: American, Kenyan, Krakoan, formerly Wakandan
Species: Human mutant who ascended to godhood
Gifted with the power to control the elemental forces and energies that govern the weather, ranging from the nervous system and elements present within living beings to planetary atmospheres and the depths of space, Ororo Munroe — also known as Storm or the Hadari Yao — is an Omega-level mutant and Wakandan goddess, solidifying her place as one of the strongest members of the X-men and one of the most powerful beings on Earth.
---
Sunfire
Shiro Yoshida / Sunfire
Notable Aliases: Famine, Taiyo Kaji, Japan's Ichiban (number one) Son
Nationality: Japanese, American, Krakoan
Species: Human mutant
First Appearance: X-Men #64 (January, 1970)
Sunfire got his powers from his mother being poisoned by the radiation from the bomb dropped on Hiroshima. He vowed to use his radiation powers to fight a one-man war of revenge on the U.S., with the help of his Manipulative Bastard uncle Tomo. After his uncle revealed his true colors by murdering Sunfire's father, he surrendered himself to authorities. He was invited to join the new version of the X-Men, but only agreed to be on reserve status, because his temper and radiation powers combined means he doesn't play well with others.
---
Colossus
Piotr Nikolaievitch "Peter" Rasputin / Colossus
Notable Aliases: Chrome Dome, The Destroyer of Worlds, Juggernaut, The Killer of Worlds, Little Brother, Pete, Peter Nicholas, Petey, Phoenix, The Proletarian, Russkie, Rasputin, War
Nationality: Russian, Soviet, Krakoan
Species: Human mutant
Joined In: Giant-Size X-Men #1 (May, 1975)
A Russian mutant with the ability to transform the entirety of his body into organic, indestructible metal, Colossus was introduced as one of the "all-new, all-different X-Men" who followed in the footsteps of the original roster — alongside Storm, Nightcrawler, and Wolverine — who would also become stalwart mainstays of the team.

Despite his imposing appearance and immense strength, cultivated from years growing up on a Soviet collective farm, Piotr is characterized by his kind soul and love for painting. He may be a physical threat and reliable tank for the X-Men in battle, but violence is frequently his last resort in any given situation — which sometimes works against him.

He's also notable for his extensive relationships among the X-Men. His younger sister, Illyana Rasputin, became the demonic sorceress Magik, while his longtime (on-off) love interest is fan favorite — and eventual leader of the X-Men — Kitty Pryde. And that's not even mentioning his friendship with Wolverine, with whom he'd become the Trope Maker and Trope Namer for the so-called Fastball Special. He has a spanning network of relationships among the X-Men's rogues as well, having followed Magneto for a time as one of his Acolytes and having a supervillain older brother, Mikhail Rasputin.

As a longtime X-Man, Colossus has appeared frequently in other media. Most notably, he's appeared throughout the X-Men Film Series since its inception — primarily portrayed by Daniel Cudmore in the original trilogy, while Andre Tricoteux & Stefan Kapičić share the role note (through motion capture and voice acting, respectively) in 2016's Deadpool and its 2018 sequel, Deadpool 2.

Colossus has also appeared in just about every cartoon series featuring the X-Men, voiced by a variety of well-known voice actors like Nolan North and Tom Kenny, as well as (non-speaking) appearances in Marvel Anime: X-Men.

Also, he's canonically related to Rasputin the Mad Monk.
---
Affectionate Nickname: Colossus often calls Katherine "Kitty" Pryde "Katya". When he broke off their teen romance after the Secret Wars, he made a point of calling her "Kitty". Later when they resumed their romance during Joss Whedon's run on Astonishing X-Men, he resumed calling her "Katya". His sister, Illyana also calls Kitty "Katya"... make of that what you will.

Colossus also calls his sister "Snowflake".

Amicable Exes: With Kate to a degree but even more so with Domino. He's much more honest with Dom when he's not Brainwashed and Crazy.
Arch-Enemy: Mikhail Rasputin, Mr. Sinister and Proteus are his three most recurring and dangerous foes.
As Long as It Sounds Foreign: A marginal example — "Piotr" is the Polish version of Peter. Due to being Russian, his name should be spelt "Pyotr".
Bash Brothers: Most long-runningly with Wolverine, though he has also been half of this with Deadpool and Exodus.
Battle Couple: With Kitty Pryde. Also, during his stint with X-Force, with Domino.
Beethoven Was an Alien Spy: In the mini-series Colossus: Bloodlines, Rasputin was an ally of Mr. Sinister, as well as an ancestor of Piotr "Colossus" Rasputin. Piotr is not proud of that fact.
Berserk Button: During the '70s, any insult toward Storm was likely to set him off. At one point, Wolverine (pre-character development) yelled at her when she took off on her own during a fight, and Colossus promptly picked him up and tossed him into the distance.
Beware the Nice Ones: He's a calm, gentle artist. But upset him seriously and you'll end up with his metal fist in your face. Or, in the case of Riptide, twisted in half.
Big Brother Instinct: To Illyana... initially. No wonder he is hurt after learning that she was Evil All Along in Avengers vs. X-Men. And yet, even after threatening to kill her if he saw her again, he still cares for his "Little Snowflake". Illyana still cares about him too, and both make amends not too long after.

He was the youngest of the "All-New, All-Different" team, being 17 or 18 when recruited, but he was also the Big Guy and towered over the others in his metal form.
Even outside his metal form, Piotr is taller than his older brother Mikhail, who is not a short person anyway.

Big Brother Worship: He deeply respects his own big brother Mikhail, even after the latter's turn to supervillainy, and never gives up on him even at his worst moments. This eventually pays off, as Mikhail was ultimately able to overcome his insanity and the mental manipulations of Mr. Sinister long enough to make a Heel–Face Turn and Heroic Sacrifice for his little brother's safe.
The Big Guy: He's physically huge (7'5" in his armored form), and his abilities to both ignore and dish out great amounts of damage makes him one of the most powerful X-Men. In the early days, he was usually the one to take on people like Juggernaut and Gladiator because he was the only X-Man who would even have a chance against them.
Big Little Brother: Despite being younger than Mikhail, he's the larger of the two.
Brainwashed and Crazy:

Arcade once brainwashed him into believing he was the Proletarian, a Russian enforcer.
Apocalypse also brainwashed him into becoming one of his horsemen at one point.
He spends much of the Krakoan Age brainwashed by a the Chronicler, a Russian mutant who is under his brother's orders. Under this thrall he murders his girlfriend, infiltrates the ruling Quiet Council, votes members of Orchis onto the Council and sabotages Krakoa by voting to reveal the events of the mutant-dominated Bad Future known as the Sinister timeline to the world.

Bruiser with a Soft Center: An archetypal example, as he is a comic book strongman whose greatest passion is painting.
Cain and Abel: Kinda sorta with Mikhail, depending on how Ax-Crazy the latter is that day.
Cain and Abel and Seth: Ironically enough, Illyana is the Cain in this trope, given that she predates Mikhail in terms of creation

and has also played a more antagonistic/corrupting role to Piotr in recent years

. As this trope and the Rasputins go, Piotr is the Abel, Illyana is the Cain and Mikhail is the latecomer Seth.
The Cape: After Captain America, he's among the best examples in the Marvel Universe. Ironically, the only time he's actually worn a cape was during his Face–Heel Turn stint with the Acolytes.
Chrome Champion: He can transform at will from a normal (though fairly large and muscular) flesh-and-blood human to what the comics refer to as "organic" osmium steel.
Chummy Commies: Introduced during the Cold War as a kindhearted Soviet immediately onboard with Professor X's suggestion that his powers be used for the good of "the whole world". A Gentle Giant, he was usually depicted as something of a patriot for the Soviet Union, though the sliding timeline means this has largely since moved on to just pride for simply Russian heritage.
Despair Event Horizon: During the late '80s to early '90s, he was put through a long Trauma Conga Line which culminated in him losing both of his siblings. Losing Illyana in particular was his Event Horizon, driving him to renounce Xavier's ways and join Magneto as one of his Acolytes.
Determinator: Another good reason not to piss him off.
Disposable Woman: Peter Rasputin broke up with Kitty Pryde because of Zsaji, a Disposable Woman he met during Secret Wars and fell hopelessly in love with despite not even speaking her language. After spending hours together, she ends up sacrificing her life to save the heroes from Doctor Doom's attack after he absorbed the Beyonder's power. Karma then came and kicked his ass in the form of the Juggernaut. Afterwards, Wolverine lectured him on not letting Kitty down gently.
Dogged Nice Guy: Took this approach toward Kitty Pryde in X-Men: Gold:

Persistence appears to have paid off; at the end of issue #20, she asked him to marry her... only to get cold feet and leave him at the altar in issue #30.

Extra-ore-dinary: He even provides the trope image.
Face–Heel Turn: Joined Magneto for a while after the aforementioned death of his little sister. His personality didn't change all that much, though, and between this and being Out of Focus his turn to the 'dark side' wasn't very well received. He went back to the X-Teams within a couple of years.
Fake American: In-universe. Piotr speaks English with a noticeable American accent, so when he passed through the Siege Perilous and ended up amnesiac in New York, he was assumed by everybody (including himself) to be a local.
Fake Defector: In retrospect he was one of these in his defection to the Acolytes, though he wasn't originally intended to be such (even though he betrayed his comrades almost from the get-go by allowing the X-Men to teleport onto Avalon unhindered).
Famous Ancestor: His is the infamous Mad Monk Rasputin.
Fantasy Metals: His armoured form is made of a metal called osmium, the densest element known to man. His power exchanges osmium from this other place with carbon atoms in his own cells to make a super-strong steel alloy.
Fastball Special: He and Wolverine cornered the market on this, their Combination Attack being both the Trope Maker and Trope Namer.
Faster Than They Look: It's been commented many times throughout the years that his metallic form is both much faster and more agile than people would think.
Fatal Flaw:

His love for Illyana is not, strictly speaking, a negative, but if it comes down to his Snowflake or anyone else, Piotr will go for Illyana, regardless of anything else.
As noted in Heroic Sacrifice Peter will always try to take the bullet for someone else. This gets him in trouble a few times.

First Kiss: Colossus and Kitty Pryde's first kiss was Kitty kissing him on the cheek at Christmas with a sneaky use of mistletoe◊. Kitty gave him the full lip lock later, but Colossus broke it off reminding Kitty of the age difference between them. It wasn't till Astonishing X-Men where Colossus and an older Kitty made out as two consenting adults.
Flat Character: With a liberal dose of Good Is Boring, as unlike his more multifaceted teammates Piotr has been given little characterization over the years beyond "Bruiser with a Soft Center and Incorruptible Pure Pureness". To be fair, this seems to be the way fans like him, as an attempt in the '90s to inject some Darker and Edgier angst into him was not well received and the idea has not been revisited, but if you ever wonder why he always seems to be in the background compared to the likes of fellow second-generation X-Men like Wolverine or Storm, well, this is why.
Gentle Giant: Colossus is one of the strongest members of the X-Men, and his favourite activities include painting.
Good Hurts Evil: His Incorruptible Pure Pureness has been shown to be as harmful as his metal body when it comes to most demons and Legions of Hell.
Heroic Build: He has a very muscular body.
Heroic Russian Émigré: Piotr Nikolaievich Rasputin aka Colossus was introduced as part of the new team in Uncanny X-Men's 1975 relaunch. He was only a farmboy in rural Russia until Xavier recruited him. He became one of the most recognizable mutant heroes, and is generally one of the kindest and most honorable people on the team.

Colossus is something of a subversion, though. While he is heroic, and is a Russian emigre, he is shown to be a bit of a Soviet patriot initially, and a few Claremont/Byrne stories, including the first X-Men fight with Arcade, explore his unease with joining an American-based superteam.

Heroic Sacrifice: To stop the Legacy Virus, which had infected and eventually killed his sister, Piotr sacrificed himself so that no other mutants would fall victim to its curse. Don't worry, he got better.

He has a tendency towards this in general. It's part of the reason

Kitty breaks up with him once and for all

.

Hidden Depths: He's the team tank and one of the strongest and toughest heroes of the Marvel Universe. He's also a capable painter, and one of the sweetest and most truly gentle people you'd ever want to meet.
Hopeless Suitor: In the '70s, he had a huge crush on Storm (and due to his innocent nature wasn't exactly good at hiding it). However, Storm didn't return the affection, and the idea eventually vanished, mostly because everyone had a crush on Storm under Chris Claremont's pen.
Huge Guy, Tiny Girl:

Many times over with Kitty Pryde, who is ever the Tiny Girl to his Huge Guy.
Also the case with Kayla, the purple water-bender he lives with in the Savage Land in X-Force (2019).

Hunk: He's extremely muscular and good-looking.
Husky Russkie: He's Russian, and very big and muscular even when he's not transformed.
Implacable Man: You piss him off and nothing will stop him. Riptide found this out the hard way. After the events of Fear Itself, he became the Juggernaut for a time.
Incorruptible Pure Pureness: As mentioned above, Colossus is one of the nicest, gentlest, and most decent-hearted of all the X-Men. His "purity of spirit" has been shown to be harmful to the various incarnations of The Legions of Hell, whenever the X-Men have gone up against them — in a crossover with Doctor Strange, he was able to literally open the gates of Hell, he was so pure. Though this turned out to be the first hint something wasn't right about "Hell", as Strange noted that good-hearted as he is, only one guy was supposed to be able to do that. Though he has killed (most famously when he snapped Riptide's neck during Mutant Massacre), he has to be pushed very far to do it, and it usually involves righteous rage, which doesn't detract from his "purity" in any way.
Innocent Fanservice Girl: A rare male example. While Colossus is consistently portrayed as one of the most shy, naive and innocent character in the X-Men, his costumes are usually extremely skimpy and revealing.
The Juggernaut: Literally, after he gains the Power of Cytorrak. Like Cain Marko before him, he becomes a walking engine of destruction that cannot be stopped by physical force. At least, on a good day; Cytorrak eventually starts to weaken his powers because he's not destructive enough.
Knight Templar Big Brother: He will go through hell and back for his siblings and in Illyana's case has literally gone through hell for her sake.

In Uncanny X-Men, Colossus is this toward his sister Magik, to the point where he allowed himself to be possessed by the demon Cytorrak and became the new Juggernaut to protect her, losing his humanity and the love of Kitty Pryde in the bargain. Subverted in Avengers vs. X-Men when Illyana reveals she had manipulated him into becoming the new Juggernaut to make him see that she wasn't his sweet little sister anymore but a monster he shouldn't care for. Right off the bat Colossus vows that he would kill Illyana if they ever met again, but later they make up.

Love at First Sight: Colossus and Zsaji in Secret Wars (1984), despite the facts that a) they couldn't speak each other's languages and b) she died days after they met. A popular Fanon theory states that Zsaji was an empath who either intentionally or inadvertently manipulated Peter's emotions, especially since he went from pining over Kitty to doting over the alien healer so fast that the boy probably got whiplash. And apart from his subsequently breaking things off with Kitty (which was the sole purpose for Zsaji's existence), she was almost entirely forgotten within a year and is almost never mentioned.
Loving a Shadow: Colossus refused to see his sister Illyana as anything but his beloved little "snowflake" even after it was clear to everyone else that her time in Limbo and her transformation into a demon sorceress had changed her for the worse (it was even a factor in ruining his renewed romance with Kitty Pryde). Illyana got fed up with this and manipulated Colossus into temporarily becoming the new Juggernaut to teach him a lesson. In her own words, "there are no snowflakes in Hell." When Colossus realizes that she tricked him into becoming the servant of a God of Evil and let him suffer when she could have freed him at any time, he acknowledges that she's become a monster and vows to kill her the next time they meet.
Made of Iron: Can take a beating even in his un-armored form, but even tougher when steeled up.
Magic Pants: Almost literally; his classic uniform's pants completely disappear when he transforms, leaving only his boots, due to being made of unstable molecules. Why they do this, only the Professor knows...
Man of Kryptonite: Serves this role whenever the supervillain Proteus is around, as metal is Proteus's Weaksauce Weakness, and Colossus is made of it. Because Proteus is a Reality Warper of Physical God proportions, Colossus was forced to Shoot the Dog and kill him, making him the one being Proteus is afraid of when he came back (because of course he came back).
Martial Pacifist: At heart, he's an artist. He doesn't like violence. But over the years he's become extremely good at it, and as probably the strongest and most durable X-Man, he tends to be first on the front lines.
May–December Romance: His and Kitty's relationship dates back to roughly when she was thirteen or fourteennote and he was at least eighteen (but certainly not more than twenty). This caused him a lot of angst at the time. When a depressed Kitty wants to consummate their relationship before a battle, he refuses due to her age. Things like this disturbed then-Editor-in-Chief Jim Shooter to no end, finally leading him to not only demand in no uncertain terms an end to the relationship arc, but to personally write a story arc in Secret Wars (1984) in which Colossus falls in love out of nowhere with alien healer Zsaji (for whom the Human Torch also had the hots — no pun intended) to force a "breakup" story in Uncanny X-Men. They finally consummated their relationship in Astonishing X-Men.

Wolverine: About damn time.

Middle Child Syndrome: Averted — Even though he is the middle child there is no evidence that Piotr was regarded with any less love or affection than his siblings, even with his older brother was a famous cosmonaut.
Mistaken for Afterlife: In Astonishing X-Men Colossus emerges from his prison in the Benetech compound and takes out several guards before Kitty Pryde stops him. When Colossus recognizes Kitty's voice, he falls to his knees and sobs "Am I...God please...am I finally dead?"

In a flashback scene in X-Men: Gold #28, Colossus recalled this moment and confirmed that he genuinely thought he was in Heaven since the first thing he saw after escaping was Kitty, the woman he still loved.

The Mole: He becomes an unwilling one on the Quiet Council, forced by the Chronicler's brainwashing to vote in ways that undermine Krakoa.
Mother Russia Makes You Strong: His origin story has him being raised on a Russian collective farm, and he was clearly a hard worker even before his mutation kicked in.
Mr. Fanservice: He's frequently noted in-universe to be very good looking. It helps that, in order to show off his armored form, his costumes tend to leave a fair amount of him uncovered. His good looks are best summarized in Astonishing X-Men when Emma Frost praises how attractive he was.

Observer: He's a good-looking boy, isn't he?
Emma Frost: If you like the tall, muscular, square-jawed, unbelievably gorgeous type... I suppose he's all right.

Named After Somebody Famous: Len Wein came up with the name Peter Rasputin, based on two famous Russian figures: Peter the Great and Rasputin the Mad Monk. Ironically enough, decades later the latter would be retconned into an ancestor of Peter's family.
New Child Left Behind: During an arc in the Savage Land, Piotr (somewhat reluctantly) lost his virginity to a native. Some time later, during another mission there, he reconnects with her and her new son. It's implicit then that the son is his, but she decides not to tell him. Bloodlines definitively shows that he's his son, and in an alternate future he develops the same power set.
Nigh-Invulnerability: His armored form is extremely hard to damage, even compared to a lot of the other heavyweights in the Marvel Universe.
Not Brainwashed: All the X-Men thought Piotr had been brainwashed when he made the decision to join Magneto's Acolytes, but no, he was just burned out and at the bottom spiral of a Despair Event Horizon.
Oh, My Gods!: During the early Claremont days, had a tendency to exclaim "By the White Wolf!" or "Lenin's Beard!" when startled.
O.O.C. Is Serious Business: Invoked in his focus issue of Immortal X-Men. By this time he has come to be almost completely under the control of the Chronicler, a mutant who can make anything he writes come true. And he'd been writing Poitr's actions for a while with increasing control, which had only been worsened by Piotr being voted into the Quite Council, Krakoa's deciding government. Under the Chroniclers control Poitr started making decisions against Krakoa's favor including colluding with Shaw, voting Selene onto the Quiet Council and voting to reveal the events of Sins of Sinister to humanity. Beneath all of this however was a small piece of Poitr fighting back at the Chronicler's writing. This Colossus wanted his close friends to pick up on how O.O.C this was with his inner dialogue begging them to figure out that something is wrong. Unfortunate for him, Kate and Storm, while shocked at his behavior express disappointment.
Only Sane Man: During his time as an Acolyte, as he and Only Sane Woman Amelia Voght were the only two members of their ranks who did not worship Magneto as a divine mutant messiah.
Personality Powers: Piotr has a very protective and self-sacrificing personality, and just so happened to manifest a mutant ability that more or less allows him to be the ultimate human shield. Even his Super-Strength, which more aggressive personalities would use for destructive purposes, is most often used by Colossus to help or support his teammates, the natural use of it for a person without a selfish bone in his body.
Rasputinian Death: The trope is referenced after Colossus (who was thought to be dead after his Heroic Sacrifice) came back in Joss Whedon's Astonishing X-Men;

Beast: Boy's named Rasputin. Should have known he wouldn't be easy to kill.

Retired Badass: Subverted as he genuinely tried to just be a farmer with his new girlfriend in the Savage Land once Krakoa became a nation. Tragically, his brother and Charles Xavier had other plans.
Russian Guy Suffers Most: None of the X-Men have it easy, but Colossus seems to get the shaft even more often than most. He lost multiple family members (one of which returned later as a demonic child that screwed over him multiple times in order to show him she was a "monster" now), lost multiple girlfriends (sometimes getting them back, only for them to break up with him) and also died and was brought back as a pawn for multiple alien overlords... It's a wonder the "Gentle" part stays with this Gentle Giant at all.
Same Surname Means Related: Colossus from X-Men, real name Piotr Rasputin. Originally it was just a stereotypical Russian surname, but later it was revealed that the most well-known Rasputin was actually his ancestor.note
Sealed Inside a Person-Shaped Can: Piotr after becoming the avatar of Cyttorak.
Sensitive Guy and Manly Man: While they are both very manly physically, in terms of their personalities he and Wolverine are this, with him being the Sensitive Guy to Wolverine's Manly Man.
Sex God: When he and Kitty finally consummate their relationship in Astonishing X-Men, it turns out he's such a phenomenal lover that he causes Kitty to subconsciously activate her Intangibility powers and phase through the floor of the mansion (to her embarrassement). When they have sex again in Breakworld, Kitty gushes to him afterwards about what a great lover he is.
Shoulder Teammate: Colossus himself is known to give shoulder rides to Kitty, Lockheed, and Illyana his little sister.
Sibling Yin-Yang: Piotr Rasputin aka Colossus and Illyana Rasputin aka Magik. Piotr is a textbook Gentle Giant and soft spoken artist with has organic metal skin while Illyana is brash, outspoken and can teleport through dimensions. Piotr is also a pacifist whilst Illyana will readily kill with her Cool Sword.
So Proud of You: In Giant Sized X-Men #1, when [[Colossus Peter Rasputin]] left his family farm to join the X-Men, he told his parents, "I will make you proud of me." His father assured him, "We are proud of you."
Spock Speak: Frequently, but especially after his revival.
Stripperiffic: A very rare male version. His main costume is very revealing, consisting of his boots, armbands, a red speedo and leotard that's open at the sides revealing most of his upper body. This is probably the reason he's almost always in his metal form whenever he's wearing it.
Stronger Sibling: In terms of pure strength, he's easily the strongest of the three Rasputins, and he's also easily the most stable and moral among them.

Not so much anymore in the Krakoan age.

Super-Strength: Initially stated to be in the impressive 70-ton range when he was in his teens, but this was bumped up a bit following the Mutant Massacre due to physical maturity and a side-effect of Magneto's treatment on him after getting injured by Riptide, so he's now in the godlike "Class 100" strength (able to lift more than 100 tons) these days.
Super-Toughness: Even when unarmored he's a big guy with some degree of this.
Tall, Dark, and Handsome: Colossus is very much tall, dark-haired and really handsome.
Technical Pacifist: Originally, he was one of these, but over the years, as his world has grown Darker and Edgier, Piotr has had to accept using lethal measures here and there, though he still prefers only to kill when absolutely necessary.
Thou Shalt Not Kill: Averted. Piotr is possibly the gentlest and kindest-hearted member of the team, but he will kill someone if necessary. He killed Moira's son Proteus in cold blood, simply because he was so dangerous, there was literally no other option. And when he realised the Marauder Riptide was enjoying killing helpless people, he broke his neck with just one hand. In fact, it's because Piotr is usually so kind-hearted that you know when he kills someone, things have gotten very, very serious.
Token Good Teammate: He served as this during his time as a member of Magneto's Acolytes, in contrast with the far more vicious or bloodthirsty members of the team.
Too Dumb to Live: A justified example during one of his first times facing Magneto. He turns into his metal form to fight... the guy who controls metal. This was very soon after the second generation's introduction, and the point is made several times that the new team, while powerful, lacks experience and cohesion, and isn't ready to handle Magneto (which is why they're even in a position to have that particular fight in the first place).
Trauma Conga Line: Starting from the '80s onwards, his sister was abducted by a demon, aged into young adulthood, then aged back down. His parents and everyone he knew on the farm he grew up on were murdered, and then Illyana caught the Legacy Virus and died.
Unwitting Pawn:

Of Illyana.

Used to Be a Sweet Kid: Poitr was once a sweet gentle farm boy, but many a traumatic events and other decisions have hardened him and he has not recovered.
Villainous Legacy: Colossus: Bloodlines show that his last name isn't a coincidence — he really is descended from the Mad Monk himself. On his death bed Grigori, who was apparently a mutant, used his powers to imbue his essence into the unborn children of all the women he slept with in a kind of mutant breeding cult with Mister Sinister. This had the effect of corrupting everyone descended from him, as pieces of him drove them to madness and eventually suicide, redistributing his essence to the rest until the final survivor ended up with all of him thus resurrecting him completely.
Wearing a Flag on Your Head: Colossus in X-Men always wears a red and yellow costume to represent his Soviet roots.
We Used to Be Friends: He and Exodus were comrades in the Acolytes and Piotr initially was convinced that Exodus had a "firmer grasp of Magneto's commandments" than the traitor Fabian Cortez. In a darker example, his relationship with

his sister Illyana

had gone this way but they eventually reconciled.
Will They or Won't They?: Piotr and Kitty in particular have had a strife-ridden relationship. The latest installment in the story of their relationship happens in X-Men Gold. After Piotr proposed to her and Kitty asked for time to think about it, Kitty proposed back in Gold #20. Unfortunately, in Gold #30, Kitty decides to back out at the last minute because of their history, to the point that her powers trigger when he tries to put the ring on and vanishes in front of all their friends. And then, in #31, she's surprised and upset when he tries to leave without saying good-bye.
The Worf Effect: Frequently in his earlier years, Colossus would be beaten away by the latest enemy of the week. It even got to the point that he started grumbling about it to himself.
Thunderbird I
John Proudstar / Thunderbird I
Click here to see him post resurrection
Nationality: American
Species: Human mutant
An Apache Indian and Vietnam veteran with the mutant abilities of superspeed, strength, and invulnerability — and super-tracking which was basically a standard requirement for all Native American superheroes throughout the 20th century. He joined the X-Men solely for excitement and glory, despite resenting "the White Man". He died in vain and acted against orders — trying to keep a minor supervillain from getting away, causing a plane crash that he did not survive. His younger brother, James Proudstar (Warpath), would eventually become a member of the X-Men and X-Force.
---
---