Main Character Index | Main Character and Spirits ( Spirit of Origin ) | Ratatoskr | Anti Spirit Team | Deus Ex Machina Industries ( Isaac Ray Peram Westcott ) | Others | Quasi-Spirits
Sir Isaac Ray Peram Westcott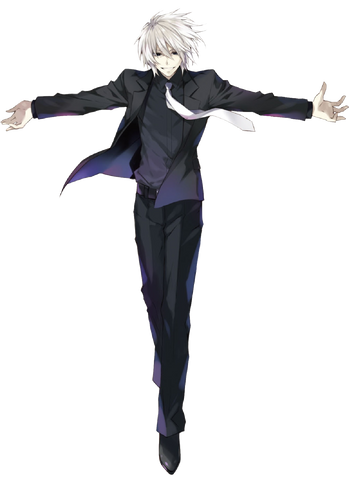 Race: Human/Mage
Nationality: British
"My aim....hm.....Ah! Yes. That would actually be very simple. I want your powers as Spirit to turn the ways of the world upside down... In order to topple the restraints of this world and unleash total chaos."
The managing director of Deus Ex Machina (DEM) Industries who is the main antagonist of the series and the catalyst character to the story as a whole. Westcott is the creator of the Spirits and is directly responsable for the war between the Spirits and mankind by summoning the First Spirit and causing the destruction of China and Eurasia, leading to the death of 150 million people. He plans to use the power of the Inverse Spirits to become a God to enslave and destroy mankind in order to rewrite the world in his image where mages will rule as the master race. Originally called Ike but renamed himself after he was adopted by a British couple.
Westcott grew up in a town of mages who could use sorcery along with Woodman and Ellen. However, civilians who feared the power of mages scorched their village. This event caused a change in Westcott and became a cruel being. This became the first step to the creation of DEM. The trio spent their youths learning everything they could about sorcery, leading to the foundation in creating a Spirit, a being of immense power born from the mana of the world which they could use to achieve their goal. Around the same time, Westcott was adopted by a rich couple, but, ended up dying in an accident, leaving their entire fortune to Westcott.
---
open/close all folders
A-F
G-L
M-R
S-Y
---