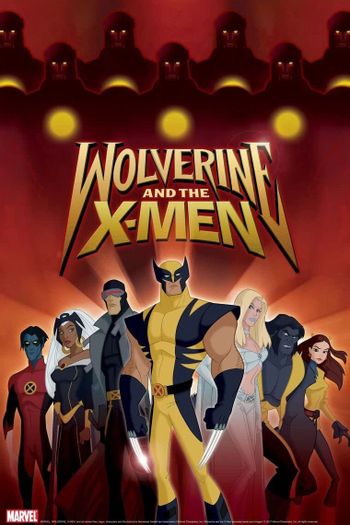 Wolverine and the X-Men is an Animated Adaptation of the X-Men franchise. It premiered in America in 2009 and everywhere else in the world in 2008.
The show begins with the destruction of the Xavier Institute and Professor Xavier and Jean Grey missing due to being apparently dead. A distraught Cyclops disbands the team, and everyone heads in their own directions. After a run-in with some token anti-mutant villains, Wolverine decides the X-Men must be reassembled, and begins locating the missing members.
As the title may have told you, this show heavily focuses on Wolverine, even becoming the leader of the X-Men. That said, there were more than enough A Day in the Limelight episodes to prevent things from being too repetitive, and the show explores the "Days of Future Past" storyline and "Genosha as Mutant Refuge" concept in more depth than any other adaptation. Forge and Emma Frost are made part of the main cast for the first time.
Despite early reports of plans for Season 2, it was canceled after just one season
, joining The Spectacular Spider-Man, which was cancelled not too long before. The series is able to be streamed on Disney+.
While the show itself didn't last very long, its legacy did live on in a very unusual way. Two years after the series' cancellation, Marvel launched a new comic series of the same name, which again focused on Wolverine re-building the school and reluctantly assuming the leadership role of to a group of X-Men (albeit under different circumstances). While some characters have been known to make the jump from an adaptation to its source material before, this is one of the few times a source material has come to mirror the premise of its adaptation.
This series has multiple character pages.
---
In addition to all the usual X-Men related tropes, this show contains examples of:
---