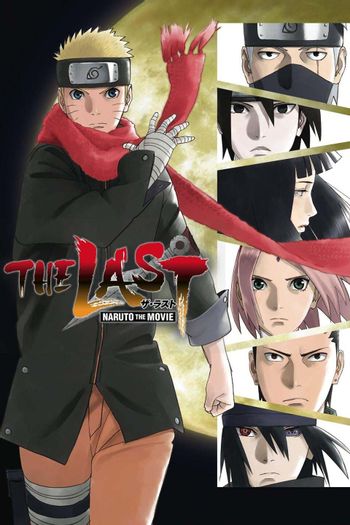 The last story of Uzumaki Naruto... is love
.
The Last: Naruto the Movie is the tenth Naruto film, the seventh Naruto: Shippuden film, and the first canon film in the Naruto franchise. The series' author, Masashi Kishimoto, was heavily involved in its production as chief story supervisor.
In the movie, it's been two years since the events of the Fourth Shinobi World War and the moon begins to descend towards the Earth. With the moon now a meteor that would destroy everything on impact, an older Naruto must deal with this new threat. Meanwhile, a mysterious man tries to kidnap Hinata Hyuga, and her younger sister and heiress of the Hyuga clan, Hanabi. Albeit the former manages to escape with Naruto's help before she's taken. The name of the man is Toneri Otsutsuki, a descendant of Kaguya. Naruto, Hinata, Sakura, Sai and Shikamaru are deployed to get Hanabi back, while the rest of the shinobi world try to find a way to stop the moon from crashing on Earth.
Despite the action-orientated premise and plot, the central theme of the story is actually Naruto and Hinata's relationship and the movie serves as the story of how they became the main Official Couple in the end.
The movie was first announced on December 22, 2012, as described here.
The first teaser was released on July 31, 2014, and can be viewed here.
The second teaser was released on October 30, 2014, and can be viewed here.
The official trailer was released on October 31, 2014 and can be viewed here.
The film was released in theaters in Japan on December 6, 2014.
A novelization came out shortly afterwards on December 8, 2014. A French release was announced for May 13, 2015 in movie theaters. The film's DVD and Bluray were released on July 22, 2015.
Here
is the official website.
This movie's versions of Naruto, Sasuke, Sakura, Hinata, Hanabi, and Kakashi are all playable in Naruto Shippuden: Ultimate Ninja Storm 4.
---
The Last: Naruto the Movie contains examples of:
---
"Hinata... thank you."
---