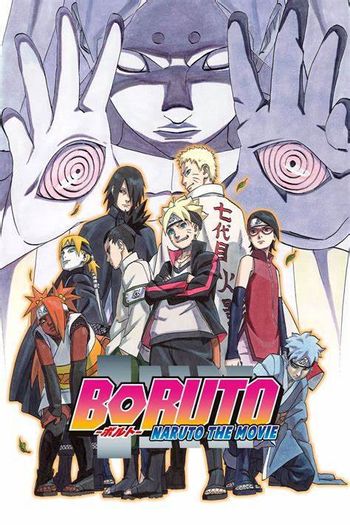 Boruto: Naruto the Movie is the eleventh Naruto film. It was first announced at the ending of The Last: Naruto the Movie and was released in Japanese theaters on August 7, 2015, with an English-subtitled version later released on October 10, 2015. It's the second Naruto film after The Last to be considered part of the main series canon, as Masashi Kishimoto is the main storywriter for this movie alongside Ukyo Kodachinote Kodachi also wrote one of the light novels: Gaara Hiden: A Sandstorm Mirage. and serves as the main character designer. This movie ties into the ongoing Naruto Project, which includes the aforementioned The Last as well as Naruto Gaiden: The Seventh Hokage and the Scarlet Spring and the light novel series Naruto Hiden.
The movie takes place after the events of Naruto Gaiden, which itself took place after the events of The Last and Chapter 700. Naruto, now the Seventh Hokage, is busy preparing Konoha for the upcoming Chuunin Exams. However, focusing his attention on the village has left Naruto little time to spend with his family, something that his son Boruto Uzumaki does not take well. Meanwhile, Sasuke Uchiha returns from a mission in another dimension with news of an imminent threat. After learning from his daughter Sarada that Sasuke is Naruto's rival, Boruto seeks him out of anger at his dad for splitting time between the village and his family and asks to become his apprentice in order to surpass his father. Sasuke accepts on one condition: Boruto must learn his father's signature move, the Rasengan, and prove that he's willing to work for his goals rather than always looking for the easy way out. At the same time, Boruto enters the Chunin Exams alongside Sarada and Konoha newcomer Mitsuki in order to demonstrate his abilities to Naruto and finally win some attention and respect from his busy dad. As the Chunin Exams take place, the festivities are interrupted by the sudden appearance of two ominous individuals: Momoshiki and Kinshiki Ootsutsuki. They launch an attack against Naruto and the Kages, prompting a new battle to defend the ninja world.
The first two teasers can be seen here
and here
. The official full trailer can be viewed here
. The movie has been adapted into a novel.
For more information on the main characters from the original series, particularly characters such as Naruto, Sasuke, Sakura, Hinata, etc., click and navigate here. For the main stars of the movie and next generation of ninjas such as Boruto, Sarada and Mitsuki, click here. For the villains of the movie, click here.
Much like the The Last versions of their parents, this movie's versions of Boruto and Sarada are available as playable characters in Naruto Shippuden: Ultimate Ninja Storm 4.
The movie was later expanded on as part of the Boruto manga and its anime adaptation.
Be wary of spoilers below...
---
This movie contains examples of:
---