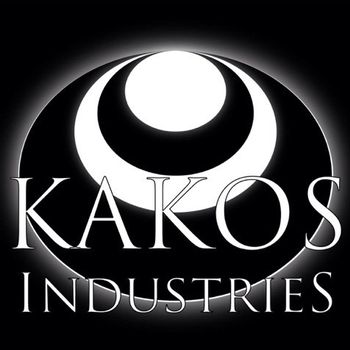 "Hello and welcome to the Kakos Industries Corporate shareholder announcements."
— Corin Deeth III
Kakos Industries is a Black Comedy satire podcast published in 2014 detailing the activities of an Evil, Inc. known as Kakos Industries, a company that is dedicated to Do Evil Better. After the death of his grandfather, Corin Deeth III takes his place as CEO and regularly reports on the achievements and events via shareholder announcements. The listener will also learn of any difficulties Corin may get wrapped up in, varying from defeating a sentient A.I program with an aggressive libido to narrowly avoiding his company from being nuked by a batch of Dirty Communists.
Along with that are the interfering whereabouts of his arch nemesis Melantha Murther of an opposing company with similar goals, the Ruin-A-Life drawing, Things They're Taking Credit For Now, and plenty of events ranging from raunchy to bizarre-often both at the same time.
Though mainly functioning as a comedy, the show also includes subtle elements of sci-fi and fantasy in a setting reminiscent of a fantastical, if not borderline surreal, exaggeration of real life. Here Humongous Mecha battles and fights between weaponized hot air balloons are treated like pastime entertainment and the pleasures of sex and violence are deceptively casual. As long as the intent is Evil, and in lines with whatever corporation a shareholder is aligned with, its fair to say anything goes.
Episodes and additional information can be found here
and updates during the beginning and middle of the month.
---
These are tropes we're taking credit for now:
open/close all folders
Tropes A - H
Tropes I - P
Tropes Q - Z
War Reenactors: When the isolation imposed by the pandemic hampers the Humongous Mecha battles and/or orgies of the annual Festival of Innovation, a section of Kakos Industries known as Division of Kaiju Battle Reenactment sees an opportunity to fill the niche. They are directly compared to Civil War or World War II reenactors as C.E.O. Corin Deeth describes them as creating elaborate costumes and reenacting the battles in a manner not unlike the older Tokusatsu shows.

Corin: Instead of the Civil War, or all of the weird World War II reenactment we've seen lately, or the Battle of Tucky Mucky Bay, they do the classics. MechaMoth vs Armadilladon. Stuff like that. At first I was skeptical about what they could be doing with these ridiculous costumes, and cardboard sets. Hearing about it at first, I thought it was kind of silly. But I've seen a few of these battles. The costumes are not fully convincing, but once the action starts to get going, it gets intense. And I don't care who you are, you will be drawn in.

Wham Episode: Has been building up a few of these so far.

"Pseudo-Dilation" which reveals

the true intentions and past of Belladonica, why Corin was ever kidnapped, and ends with him signing a contract he immediately regrets putting his name on. Also the fact Grace is the one who led him to it.

"Space Race" doesn't have a lot of obvious wham elements at first though listening up to the middle does confirm that Corin Deeth I had a romantic relationship with the Melantha Murther. Not only has she managed to exist beyond his death but was alive far before Corin Deeth III was even born and is still continuing a cycle of messing with the Deeth lineage to this day.
"Refuge" has a few whams including

Belladonica deciding to take control of the corporation by her own means by becoming the secondary CEO, in her case meaning Chief Evil Officer, and driving all of the employees to suicidal misery. The situation becomes so bad that Corin and his supporters are forced to stay beneath the building with the abomination known as Junior to do the announcements.

When Trees Attack:

The ending of "Growth" results in this as a tree becomes hostile and breaks through the studio window, forcing Corin to kill it.

Wicked Cultured: Corin takes part in sophisticated and mundane hobbies such as meditation and drinking Dark Mega Green Tea.
Workaholic:

Though he is the owner of a large corporation and must work to keep it afloat, Corin shows signs of not having much else to do but pertain to work-related situations. Anytime he is at a social event not related to the company, he has a tendency to only be concerned about getting back to work. It gets so bad that the executive board assigns Corin a best friend, Brosephus, to give him an outlet.
Violet Trudge is the single hardest working employee in all of Kakos Industries. While this title is self-proclaimed, it's proven true when she's introduced in episode 102. Corin calls multiple divisions while chasing down some clues and Violet is at each and every one, covering for everyone else who's at the annual Halloween party. She's still just as hard at work in episode 104, despite everyone in the building, including her, becoming sick. In fact, she calls Corin to complain about everyone else slacking. Turns out this is a problem because Violet is "Patient Zero" and her working literally everywhere is why everyone elseis sick. Upon being forced to accept this and, subsequenty, being forced to rest her illness off, she demands sixteen books of crossword puzzles, seven books of sudoku, eight seasons of a trashy television show, and one hundred pounds of yarn or, she swears, she's going to lose her shit. The episode ends with Corin reporting that Violet was automatically clocked out upon entering the infirmary and, because it's been years since she did that last, the thousands of overtime hours she's racked up crashed the accounting systems.

Violet: (coughing) No. I don't take sick days. I don't take vacations. I don't take mental health days. I don't even take holidays. I work. I always work
Yandere: Helena had an obsessive crush on Corin Deeth I before he died and has been made into a security system since her ambition to protect him was strong enough to provide an efficient A.I. This has made her just a little too good at her job, as she'll do anything in her power to destroy even a stiff breeze that might become a problem.
Year Inside, Hour Outside:

The timing patterns of the dilation chamber works under these principles. Hence why being inside it for over a month can make someone age from child to adult at a much quicker pace in real time, but considered normal aging when inside it.

Zombie Apocalypse: The entirety of "Wake The Dead" due to a spin of the Wheel of Misery granting someone's desire for this happen.
---
"We have now come to the end of the Tropes Page. The index is coming next..."
---