"Hello and welcome to the Kakos Industries Corporate shareholder announcements."
— Corin Deeth III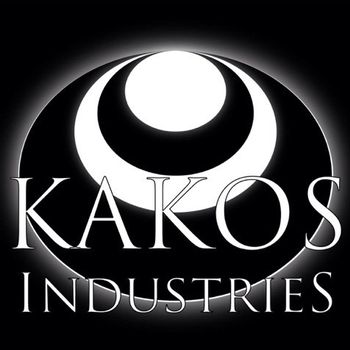 Kakos Industries is a Black Comedy satire podcast published in 2014 detailing the activities of an Evil, Inc. known as Kakos Industries, a company that is dedicated to Do Evil Better. After the death of his grandfather, Corin Deeth III takes his place as CEO and regularly reports on the achievements and events via shareholder announcements. The listener will also learn of any difficulties Corin may get wrapped up in, varying from defeating a sentient A.I program with an aggressive libido to narrowly avoiding his company from being nuked by a batch of Dirty Communists.
Along with that are the interfering whereabouts of his arch nemesis Melantha Murther of an opposing company with similar goals, the Ruin-A-Life drawing, Things They're Taking Credit For Now, and plenty of events ranging from raunchy to bizarre-often both at the same time.
Though mainly functioning as a comedy, the show also includes subtle elements of sci-fi and fantasy in a setting reminiscent of a fantastical, if not borderline surreal, exaggeration of real life. Here Humongous Mecha battles and fights between weaponized hot air balloons are treated like pastime entertainment and the pleasures of sex and violence are deceptively casual. As long as the intent is Evil, and in lines with whatever corporation a shareholder is aligned with, its fair to say anything goes.
Episodes and additional information can be found here
and updates during the beginning and middle of the month.
---
These are tropes we're taking credit for now:
open/close all folders
Tropes A - H
Tropes I - P
Tropes Q - Z
---
"We have now come to the end of the Tropes Page. The index is coming next..."
---