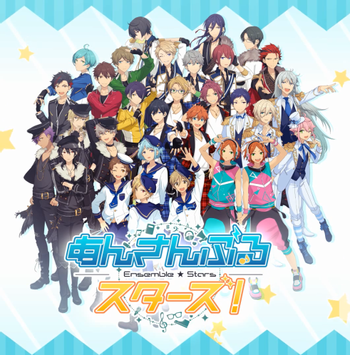 Ensemble Stars!
is a touch-and-go, CCG game created by Happy Elements of Merc Storia fame, and the younger brother series to Happy Elements' earlier idol mobile game, Ensemble Girls!. Its main attraction is a Cast Full of Pretty Boys performing various idol activities and semi Otome-Game like features, and also a story involved as background to many of the cast.
The player, a new female student (called Anzu as default, but the player can input their own name as well) in the second year transfers to Yumenosaki academy which used to be an all-boys school famous for creating popular performing units until her transfer to start studying in the producer course. Facing the fact that the school is not what it seems to be, she decided to help a group unit who wanted to rebel against the school's Unit system.
Ensemble Stars! is currently only available in the Japanese App store for Apple products while for Android, it is available with the help of the Qoo app to bypass the region lock.
A Manga adaptation had been running since August under ARIA magazine with 4-koma shorts at their Pixiv account, updated weekly. An anime was set to come by 2017, but after a two year delay with no updates the project was finally revealed to be premiering in 2019, spearheaded by David Production. The franchise also boasts a novelization of the main story and a stage play series: Ensemble Stars! On Stage, with sequels Take Your Marks!, Judge of Knights, and To the Shining Future. A new Manga adaptation, "Ensemble Stars! Ready for Star" is also released, adapting the game's event stories and following the game faithfully, it can be read in the Japanese app, Mangaone.
In 2019, Happy Elements announced a new direction for the mobile portion of the franchise: it would be retitled to Ensemble Stars!! and consist of two coincentric games. Along with the classic training game (retitled Ensemble Stars!! Basic in 2020), an additional rhythm spinoff/sequel titled Ensemble Stars!! Music launched, featuring the boys signed to different talent agencies.
Now has a Character page under construction. Please help by moving or adding character tropes there.
IMPORTANT NOTE: As the game is currently unavailable outside of Japan sans Android users with the help of the app above, please mark spoilers accordingly.
---
This game provides examples of: