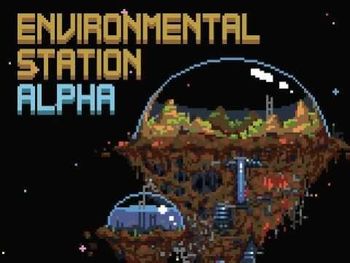 Environmental Station Alpha
is a retro-styled indie platform game by Finnish developer team Hempuli Oy that draws heavy inspiration from the
Metroid
games, and was released in May 2015 on
PC
through
Steam
.
The eponymous station where the game takes place was an environmental habitat divided into several zones to house different kinds of alien flora and fauna. A disaster several decades ago caused the station to be abandoned - the player is dispatched to the station in the form of a scouting robot to find out exactly what happened there.
The gameplay consists of exploring the station, defeating creatures and finding new tools along the way to help you progress to new areas and uncover more of the mysteries within the station. Many challenges exist in the form of hazardous areas, violent creatures and the station's old defense systems which have not taken kindly to your intrusion.
A sequel is in the works.
No relation to The Station (which in 3D, and set in space) or The Final Station (which is about a train driver during a Zombie Apocalypse.)
---
This game provides examples of:
---