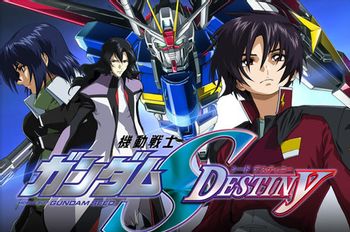 Mobile Suit Gundam SEED Destiny is the sequel to the Mobile Suit Gundam SEED anime series. It is the tenth televised series in the long-running Gundam franchise and the second to be set in the Cosmic Era Alternate Universe. Destiny has some thematic ties to Zeta Gundam, similar to the relationship between Gundam SEED and Mobile Suit Gundam (though less pronounced than SEED's pseudo-remake status); these include SEED characters, now Older and Wiser, reappearing in Destiny, and a very similar Romance Arc in Destiny and Zeta.
Destiny takes place two years after the end of SEED, and follows the story of Shinn Asuka, a young Coordinator and ZAFT pilot. A surprise attack on a ZAFT military base and the subsequent Gundamjacking of three of ZAFT's new Super Prototype Gundams kicks off a sequence of events that results in a second full-scale war between ZAFT and the Earth Alliance. However, things are not as clear-cut as they seem at first, and questions arise over which side of the conflict is really in the right. About halfway through the series, much of the cast from Gundam SEED returns to the spotlight, and the series gradually shifts to their POV, considerably changing the tone of the series.
While Gundam SEED Destiny was wildly popular in Japan, the reaction among English-speaking audiences was much less positive. This largely spawns from the mid-show POV-shift, with Western fans typically preferring Shinn to Kira, and feeling that the latter "stole" the show from the former, while Japanese fans are more fond of Kira and thus much more forgiving of the shift. Some displeased fans take this to extreme levels, and the series has a vocal Hatedom. This has died down some since the inclusion of Mobile Suit Gundam 00. It has its own sidestory in Mobile Suit Gundam SEED CE.73: Stargazer.
Destiny makes numerous appearances in various Video Games, such as the Massively Multiplayer Crossover franchises Super Robot Wars and Another Century's Episode, in addition to the Gundam Vs Series. Its inclusion in Super Robot Wars Z is particularly notable for being widely considered something of a Fix Fic; the story was reworked by Banpresto's writers to fix parts of the plot that had frustrated viewers, and to show both Kira and Shinn as heroes, which was well received by both sides of the Broken Base. Destiny characters and mecha also appear in Gundam Fighter, a Flash-based Web Game featuring nearly the entire Gundam franchise.
On November 16, 2012, Gundam Seed Destiny: HD Remaster was announced after Gundam Seed: HD Remaster's run was completed. It aired on March 29, 2013, and finished its run on March 7, 2014. In 2017, it was announced that the HD Remaster of both SEED Destiny and its predecessor, SEED, would be receiving English dubs.
Please move any character tropes to the proper character page.
---
Gundam SEED Destiny provides examples of:
Organ Dodge: Andrew Waltfeld does the prosthetic limb version, blocking a knife with his arm and then revealing the gun hidden underneath to finish off the attacker. The damage from the knife doesn't appear to do more than cosmetic damage to the prosthetic either.
Paper-Thin Disguise: Athrun's "Alex Dino" identity at the beginning of SEED: Destiny.
Pietà Plagiarism:

Athrun carrying Meer, and Shinn carrying Stella

.
Posthumous Character: A few of the deceased SEED cast serve this role, including

Rau Le Creuset

, who may or may not be a hallucination.
Pragmatic Adaptation: The view many fans (and Shinn's voice actor) take to its handling in the Super Robot Wars games. Super Robot Wars Z in particular is seen as one of the best versions of the story, although Fukuda himself was less than happy.
Precision F-Strike: In the English dub of Phase 12, as well as the first TV Movie, Shinn says, "Aww, shit!" when the Zamza-Zah grabs Impulse's leg. You can see it here.
Praetorian Guard: FAITH (Fast Acting Integrated Tactical Headquarters), a ZAFT elite force that only answers to Durandal, and which many of the protagonists are members. While they're not the Chairman's bodyguards full-time, they do end up protecting him during the Armory One attack, and serving him during the Battle of Messiah.
Quirky Miniboss Squad: Phantom Pain.
Reality Ensues: After ZAFT's failed invasion of ORB to get Djibril, a series of Do Not Adjust Your Set incidents leads to Lacus Clyne making her first public appearance since the end of the First EA-Plant War, decrying both Djibril and Durandal for their actions. However, this does jack to the situation except wreck Meer Campbell's credibility. As people still see ORB as part of the Earth Alliance thanks to Cagalli's earlier actions and it seems that very few people are convinced the Lacus who suddenly showed up is the real one with the one person who could have made a lot of difference, Shinn, being convinced by Rey to just ignore it.
Red Eyes, Take Warning: Shinn.
Replacement Scrappy: Lord Djibril is an in-universe example, lacking the charisma and intelligence of his predecessor, Muruta Azrael.
Re-Release Soundtrack: In episode 39 of the HD Remaster, T.M.Revolution's song, "Vestige", was replaced with "Kira, Sono Kokoro no Mama ni" ("Kira, Just as He Pleases"/"Kira, True to His Feelings") during Strike Freedom's first sortie.
Retcon: A Flash Back at the beginning of the first episode implies that Kira may have accidentally killed the Asuka family. Later on, another Flash Back clearly shows that Kira was not at fault. However, they are inconsistent with one another. The official cause of death of Shinn's family was that they were caught in a crossfire between the Freedom and Calamity, which was restored in TV Movie 1.
Revised Ending: In the original broadcast, the final scene was the survivors watching the fall of Messiah with no Dénouement. The Special Edition features an Extended Cut with several new scenes which have carried over to the HD Remaster. Athrun is edited into the final Mexican Standoff in which he was not originally present, "Field of hope" plays over the ceasefire, Kira is finally introduced to Shinn as the Freedom's pilot, Murrue and Mu are together and presumably retired (with Waltfeld), Kira has become a white coat officer, Athrun has become an ORB admiral, and Lacus and Cagalli have become the respective leaders of PLANT and ORB.
Right-Hand Cat: Djibril is occasionally seen stroking a cat while contemplating acts of villainy that have been set into motion.
Rule of Sexy: Lacus' modest bust is inflated to Meer-levels in the eyecatch and some official art. She's never anywhere near that stacked in canon.
Take a Third Option: The leftover members of the Three Ship Alliance take this route when they determine that both ZAFT and ORB are heading towards less than ideal futures.
Say My Name: Athrun's agonized cry when

Kira is apparently killed in his climactic duel with Shinn

. The English version is especially gut-wrenching.
Screw the Rules, I'm Doing What's Right!: In one battle, Shinn breaks off combat in order to free civilian prisoners of the Alliance; when Athrun administers Corporal Punishment afterwards, Shinn responds with this trope.
Sequel Song: See-Saw wrote the fourth ending theme song "Kimi wa Boku ni Niteiru" as an answer song to "Anna ni Issho Datta no ni", SEED's first ending theme they also wrote. The lyrics reflect the rift and renewal of Kira and Athrun's friendship over the two shows, starting with "We were so close together, but the twilight has a different color now..." and ending with "The two of us can put an end to this."
Ship Sinking:

Athrun and Cagalli separate early on, but their relationship remains ambiguous throughout the show, effectively making Cagalli a member of Athrun's Unwanted Harem (along with, at various points, Lunamaria, Meyrin, and Meer). Given that Athrun and Cagalli were an Official Couple as of the end of Seed and the beginning of Destiny, this downgrade was the source of much shipping rage. Adding fuel to the fire was unconfirmed rumors that it happened due to the writers not getting along with Cagalli's voice actress, Naomi Shindo. Not helping things was the garbled communication between the Japanese creators and the English-speaking fandom, including at least one supposed translated interview by Morosawa eventually turning out to be a fake.
The Special Editions try to stress that Shinn viewed Stella entirely as a surrogate sister and nothing more, which some fans consider Blatant Lies given their first and second encounters.
After Miriallia rejoins the crew of the Archangel, someone asks her what happened to Dearka. Her response is that she dumped him. Shippers everywhere were outraged.

Shout-Out:

There are numerous references to Future GPX Cyber Formula, the series that put director Mitsuo Fukuda on the map; this includes shots in the opening lifted frame-for-frame from Future GPX Cyber Formula SAGA and SIN, as well as several SEED characters driving the same cars and motorcycles featured in the earlier show. At one point, a leaked sketch of the Strike Freedom lead fans to believe that the Mid-Season Upgrade Gundams would have Theme Naming shout outs (IE "Knight Justice", "Sin Providence").
Take a good look at Durandal's chair and the window behind it on the Messiah space station. They are very similar to the ones in the Emperor's throne room on the second Death Star.
In episode #9, there's a brief mention of the EAF ship "Netanyahu", named most likely after the Israeli Prime Minister Benjamin Netanyahu.

Shout-Out Theme Naming: Athrun's Mid-Season Upgrade, Infinite Justice, is named after "Operation Infinite Justice", the original name for "Operation Enduring Freedom". Likewise, Kira's Freedom is likely named after "Operation Enduring Freedom". Finally, Kira's Strike Freedom is named after his two previous mobile suits, the Strike and the Freedom.
So Last Season: At one point, Kira sorties in the Strike Rouge, a machine pretty much identical to his old Strike Gundam. He nearly gets his butt handed to him by a group of ZAFT pilots in top-of-the-line grunt-class Mobile Suits.
Soundtrack Dissonance:

The nightmarish images of the Junius Seven Colony Drop set against Lacus's "Fields of Hope".
Also the triumphant baroque symphony that plays as the Alliance is launching nukes at the PLANTS.

Speak Now or Forever Hold Your Peace: Kira objects!
Spell My Name with an "S": Not as bad as many Gundam series, but the fansubs had fun with Gilbert Durandal/Durandel/Dullindel/etc, apparently not getting the reference.
Spoiler Opening: The second opening shows us that

Mu La Flaga survived

before it was even close to being revealed.
State Sec: Downplayed with Phantom Pain. Though having personnel of the Earth Alliance military, the special ops group was controlled by Blue Cosmos

and LOGOS

.
Stock Footage: There is so much reused footage in this series, especially towards the end, that it actually earned the director the derogatory nickname of Mitsuo "Flashback 'Em All" Fukuda. To make matters worse, some of footage came from its prequel.
A Storm Is Coming: Lacus says "There's a storm on its way" at the end of episode 7, after fragments of Junius Seven crashed on Earth. Kira thought the same thing as well.
Strange Salute: ZAFT military.
Stripperiffic: Meer's outfits.
Super Mode: SEED Mode, which turns people's piloting abilities Up to Eleven via a psychedelic vision of a seed exploding and a visual effect similar to Reflectionless Useless Eyes.
Taking the Bullet:

Poor Meer dies as she takes a bullet meant for Lacus

.
The Abridged Series: One on Youtube, plus The Typical Gundam SEED Destiny.
The Reveal: A rather understated (and generally unsurprising) one concerning Rey's origins. Another regarding the true purpose of the Destiny Plan.
Theme Naming:

Most of the Minerva's weapons are named after Wagner operas.
Shinn's BFSes, the Excalibur and the Arondight, were taken from the King Arthur mythology.

Transformation Is a Free Action: No one ever tries to shoot down the Core Splendor or the Chest and Leg Fliers whenever they combine into the Impulse Gundam.
Transformation Sequence: Impulse Gundam's launch sequence, debuting with a music track lasting well over a minute.
Transforming Mecha: The Savior, Chaos, Gaia, and Abyss Gundams all transform into various Mobile Armor forms (ironically, the Impulse is more of a Combining Mecha), as do several other ZAFT designs. ORB also debuts the Murasame as their new standard Mobile Suit.
Trigger Phrase: The Phantom Pain pilots have at least two; one that acts as a Berserk Button and one that calms them back down again. They're seen using them on each other occasionally.

Shinn

accidentally uses both on

Stella

when they first meet.
Two Guys and a Girl: Shinn, Rey, and Lunamaria and Sting, Auel, and Stella. Meyrin and Those Two Guys from the Minerva may also count.
Tyke Bomb: All three Extendeds.
The Unreveal: We never learn whether the Asuka family was killed by a stray shot from Kira, the Druggies, or something else entirely.
Unwanted Harem: At its peak point in the series, there are no less than four hot young women who are vying for Athrun's attention.
UST: in the last episodes, Cagalli has removed Athrun's ring, while she still wore it when they fought on opposing sides.
Villain Ball: In-universe example; Meer's Lacus impersonation notwithstanding, Kira wonders that if the assassination attempt on Lacus had not happened, he and the rest of the Archangel crew might have been okay with Durandal's "Destiny Plan" when it was finally revealed. Out-of-Universe, it certainly would have kept them out of the fighting for some time.
Villainous Legacy: The damage that Rau Le Creuset and his Unwitting Pawns Patrick Zala and Muruta Azrael did in the original series, has yet to be undone by this point. Azrael's successor, Djibril, has picked up where Azrael left off, Zala faction loyalists continue to launch terrorist strikes against ZAFT and the EA alike, and the current Big Bad and his Dragon (both of whom were left philosophically shattered by Le Creuset) are motivated solely by the desire to make sure that nobody like Le Creuset can ever succeed again.
Villains Never Lie:

Gilbert Durandal

pulls this off with his speeches of good doing in the beginning.
Wave-Motion Gun: The Tannhauser and Lohengrin positron cannons affixed to the Minerva and Archangel, respectively. The Destroy has one that it combines with Beam Spam. The Requiem is another example, albeit turned Up to Eleven. Messiah Base also features Neo-Genesis, a scaled down version of the Genesis from the first series as part of its defences.
Weapons Of Mass Destruction: The nukes, the Requiem, Neo-Genesis, and the Destroy all count.
Wedding Smashers: Kira crashes Cagalli and Yuna's wedding to kidnap/rescue her. Cagalli is not amused, at least initially.
Welcome Back, Traitor: Dearka and Athrun returned to ZAFT despite defecting in the last war. Dearka at least gets busted down from Rednote to Greennote and apparently isn't allowed Ace Custom colors for his ZAKU until the very end of the series.
What the Hell, Hero?:

Shinn pretty much blames all that happened at Orb on Cagalli, and he isn't exactly subtle about revealing his opinions. In fact, Shinn calls out Cagalli so much it's nearly a Once per Episode deal.
Kira also gets called out twice by Athrun for trying to communicate with Orb stating he is just making the battlefield worse. Although even Kira thinks he is wrong in the Special Edition he notes that this is the only thing he can do whereas in the TV series Murrue supports him.

Woobie, Destroyer of Worlds: Stella once she's forced into the Destroy Gundam. She starts tearing up the countryside, blowing up cities and killing scores of people... because they scare her. Rau Le Creuset's status as such is also brought up again in the flashback episodes.
Worst Wedding Ever: For the sake of her country, Cagalli was about to marry a man who was using her and whom she didn't love, in a dress and makeup that didn't suit her, when her brother used his giant mobile suit and kidnapped her from the ceremony. The groom was left empty-handed, screaming, and whimpering.
Xanatos Speed Chess / Gambit Roulette: Whether you think Durandal is behind everything (including the Colony Drop, the

attack on Lacus

et al) that happens in the series or is just very good at altering his plans to take advantage of events as they occur has a lot to do with whether you think he's a villain or not.
Zen Survivor: The original characters from SEED, especially Athrun to the Minerva's pilots.