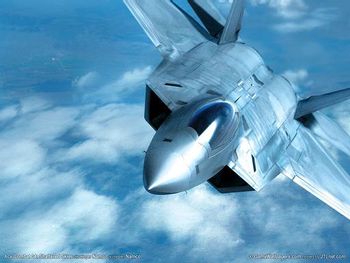 Focus. Control. Conviction. Resolve. A true ace lacks none of these attributes. Nothing can deter you from the task at hand except your own fears. This is your sky.
Ace Combat is a series of arcade-style combat flight games, involving flight sim levels of graphical detail but without all the fiddly realistic controls; the play style is something between Shoot Em Ups and the Action Game. The games are semi-realistic, featuring real-life aircraft and such things as planes stalling if they slow down too much, but combined with aircraft that carry hundreds of missiles at once and unlimited fuel. Most of the games take place in an Fictional Earth named Strangereal, one similar to and yet very different from our own.
---
The series currently spans seven consoles and twelve games:
Also worth mentioning is The Sky Crawlers: Innocent Aces for the Nintendo Wii, a Licensed Game of the Sky Crawlers anime. Though it has no direct ties with the Ace Combat universe, it was created by the same team and features the same arcade-sim air combat feel; as a result, many fans see it as a Spiritual Adaptation.
In 2011, the Strangereal series, specifically the third installment Electrosphere, seems to have been retconned into the United Galaxy Space Force
series, also tentatively known as Namcoverse. Said series seems to unite many of the futuristic games previously released by Namco, where the Strangereal games are the chronologically earliest installments.
---
Release order
Air Combat (1995)
Ace Combat 2 (1997)
Ace Combat 3: Electrosphere (1999)
Ace Combat 5: The Unsung War (2004)
Ace Combat Advance (2005)
Ace Combat Xi: Skies of Incursion (2009)
Ace Combat: Joint Assault (2010)
Ace Combat: Assault Horizon (2011)note
Ace Combat: Assault Horizon Legacy (2011) note
Ace Combat: Northern Wings (2011)
Ace Combat Infinity (2014)
Ace Combat 7: Skies Unknown (2019)
Strangereal chronology
The original/main continuity of the
AC
series is set on the
Constructed World
of Strangereal. The first two games were originally not really part of it but have since been
retconned
to appear that way.
Air Combat: Skully Islands insurrection (1995)
Ace Combat Zero: Belkan War (1995)
Ace Combat 2 and its remake Assault Horizon Legacy: Usean Rebellion/First Usean Continental War (1997/1998)
Ace Combat: Northern Wings: Various conflicts (1999 to 2016)
Ace Combat 04: (Second) Usean Continental War (2004-05)
Ace Combat 5: Operation Katina (2006), Circum-Pacific War (2010)
Ace Combat 7 VR Missions: Second Free Erusea Uprising (2014)
Ace Combat 6: Anean Continental War (2015-16)
Ace Combat 7: Lighthouse War (2019)
Ace Combat X and Ace Combat Xi: Leasath-Aurelia War (2020)
Ace Combat Advance: General Resource Conflict (2032)
Ace Combat 3: Usean Corporate War (2040)
---
Tropes list at vector 360, on the nose:
---
Yo buddy, still alive?