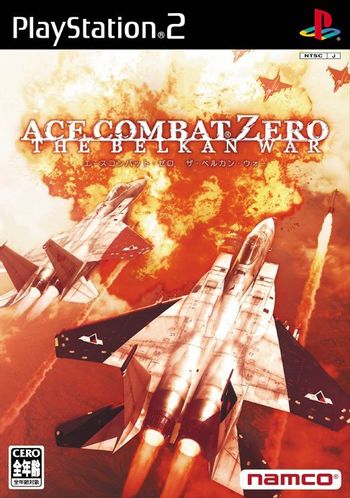 "This is the Round Table. Dead men's words hold no meaning."
In this, the seventh game in the Ace Combat series (released in 2006), a journalist from the Osean Federation named Brett Thompson films a documentary on the history of the Belkan War, which was alluded to in the previous game. In 1995, the Belkan Federation began an invasion of the newly-autonomous Republic of Ustio, hoping to reclaim the resource-rich territory that had once been theirs. 90% of Ustio's air force was destroyed in the opening days of the war and as they were overrun, Belka turned its attention towards the Osean Federation, the Union of Yuktobanian Republics and their allies. Unamused, the allied nations sided with Ustio and delivered a smackdown of national proportions and everyone lived happily ever after, right? Well...
In the war's final days, Ustio took desperate measures and recruited a number of mercenary pilots in a last ditch effort to fend off the encroaching Belkans. One of these pilots is the true interest of Thompson, a legendary ace known as the Demon Lord of the Round Table. In his time, he was known by the callsign Cipher, and was number one of the Galm Squadron alongside Larry "Pixy" Foulke, aka Solo Wing. As Cipher, you play through the most famous battles of the Belkan War and deal with its bloody and tragic aftermath, as Thompson interviews the various people that encountered the Demon Lord and lived to tell the tale, as he tries to find out the identity of this mercenary, and with him, the truth of the Belkan War.
In terms of the Ace Combat series, The Belkan War differs mainly in its presentation of the story. It takes the form of a retrospective using live action actors to play the parts and invests a significant amount of effort in demonstrating the extent to which the Demon Lord affected the lives of everyone who fought him. It is also the only installment that features a Karma Meter: based on whether you spare non-hostile targets or destroy them for more cash, the game identifies Cipher as either a Knight, a Soldier, or a Mercenary, which determines how other characters treat you and which bosses you face.
The events that take place in this game are not to be confused with the other Belkan War that brought about the downfall of an ancient empire, though the similarities are strong and Shout Outs to this game abound.
Now has a character sheet. Please put all character-relevant tropes there.
---
Time to dive into the Tropes!
Saved by the Church Bell: As the Belkans are pushed out of Directus, the resisting citizens take the opportunity to climb up snd start ringing the church bell to signal to the entire city that they're finally free. Ace pilot Rainer Altman would be shot down by Cypher that day, but he remained in Directus after the war in order to become a writer. During his interview, the church bells began ringing. He mentions that they ring every day at five PM to symbolize the moment that Galm squadron brought them freedom.

Rainer Altman: It signals peace...but to me, they are the sounds of death.

Schizo Tech: Zero takes place in 1995 and features squadrons of both the Su-47 and F-35C, years before the only Real Life prototypes for each were ever flown.note You can also own a fully operational and in fact has-more-options-than-a-later-version ADF-01 FALKEN at a time when its series' immediate predecessor is the most amazing plane in the world and a treasure trove of otherwise one-of-a-kind technology. In the FALKEN's case, its inclusion, along with the inclusion of the X-02 Wyvern, is most likely non-canon. Since this is an alternate world, the inclusion of the Su-47 and such fits in with this world's more advanced technology.
Scenery Gorn: The Hresvelgr mission opens with your airbase being bombed to flaming ruins by what is basically a flying aircraft carrier/battleship. And you see it happen in first person, from the cockpit of your plane still on the ground. The entire level takes place in ground zero of the bombing, as you fly over the desolate landscapes of the mountains.
Schrödinger's Gun: Played straight in most ace squadron battles, but with Silber, Gelb and Espada, the surviving pilots will react accordingly depending on who you shoot down first.

If Gelb 2 gets shot down first

:

Gelb 2:

This is Gelb 2, I'm hit.

Gelb 1:

Bail out. That's an order.

Gelb 1 gets shot down first

:

Gelb 2:

Captain! Was he shot down?

—-

If Espada 2 gets shot down first

:

Espada 1:

Espada 2, come in!

Espada 2:

*radio static*

If Espada 1 gets shot down first

:

Espada 2:

Espada 1, give me a status report! ESPADA 1!!!...

I will shoot down the Demon Lord myself

.

Sequential Boss: Morgan. First, it only uses its Tactical Laser System. After a few hits it follows up with its Multi-Purpose Burst Missile, and then you destroy both. Then it activates V2, and you have 5 minutes to shoot down the Morgan, by literally jousting it from the front with arrowhead attacks. Justified, as the first two phases are you stalling for time as your AWACS analyzes the Morgan for any weaknesses.
Sliding Scale of Idealism Versus Cynicism: Probably the most cynical Ace Combat game to date, with it being more or less cynical based on your Ace Style.
Sphere of Destruction:

The V2 weapon at the end

. Random little beamlets of light even shoot out as well. The Multi-Purpose Burst Missile the Morgan fires also results in a spherical blast.
Spreading Disaster Map Graphic: The story tells how Belka's poor economy allowed the eastern portion of the country to secede and become independent nations, including Ustio. Belka's economic problems didn't end, and their borders continued to shrink, allowing those new nations to further expand, and allowing Osea to claim some of the country's western borders. Belka went to war started expanding outwards to reclaim their lost borders and acquire more resources. They even invaded the southern country of Sapin, who wasn't involved at all.
Super Toughness:

Pixy's

Morgan can take at least six missile hits. Almost every other enemy plane goes down after two. Somewhat Justified in-universe as it being a Super Prototype (his is marked as an ADFX-02, where the model you get is an ADFX-01). Granted, that makes it a super prototype of a super prototype, but for gameplay balance reasons, it still makes sense. Wouldn't be much of a final boss fight if he went down with two relatively easy-to-make shots.
Taking the Bullet: Seen in the penultimate level, where Galm and the Allied Forces launch a massive air raid on Avalon Dam, the headquarters of

a World with No Boundaries

. Since the dam is blanketed by anti-air fire, the Allied pilots fly en masse against its defenses to give Galm Team a chance to get to the dam in the chaos. Most of them are killed or at least shot down, though a handful may survive long enough to engage the enemy pilots above.
Those Two Guys: The commander of Ruchs unit (a Belkan transport unit) and his second-in-command Johan. They never appear in person, but their radio chatter can be heard in a few missions as a sort of Running Gag. They can be heard in missions 2 (where the commander tells Johan that they're going to break through the Allied offensive to deliver their cargo), 11 (where they flee Hoffnung in trucks, carrying a wounded soldier with them) and 14 (where they supply renegade Belkan troops with ammunition).
Title Drop: "We'll start over from 'zero' with this V2..." (complete with quotations in the subtitles).
Truth in Television:

Though the times and planes are different, Belkan enemy pilots seem to show some signs of the code of Chivalry. In real life early World War I pilots displayed such acts.
Also, Solo Wing Pixy keeping his plane in the air after losing a wing is based on real life pilot Zivi Nidivi doing just that. F-15Cs have bodies that can stay stable that way; Nidivi himself later commented that past certain speeds the F-15 was "like a rocket" and would have been able to keep itself in the air even if it lost both wings.

Upgrade vs. Prototype Fight: Can be invoked by the player. After beating the game three times, once as a Mercenary Ace, once as a Soldier Ace, and once as a Knight, the ADFX-01 superplane is unlocked, and able to field either a Tactical Laser System, Multi-Purpose Burst Missile, or an Electronic Warfare Pod. Then they can take that plane into battle against the final boss, who flies an ADFX-02note that has all the aforementioned weapon systems. However, if you're fielding the laser, he goes down in three hits when it took dozens of normal missiles to do the same. Alternatively, the player can also take the ADF-01 FALKEN, which was developed from the ADFX-02 and gets an even better version of the Tactical Laser System.
Vestigial Empire: Belka has lost much of its territory due to economic troubles and past wars, leading to a radical faction seizing power and attempting to reclaim old territory by force.
Videogame Caring Potential:

Among all the carnage in mission 11, you have the option of sparing an enemy C-130 carrying wounded soldiers. This and other missions also occasionally feature friendly ground forces who ask for your help in defeating a squad of enemy A-10s. The Knight Ace path in general encourages taking this approach to the game.
Mission 2 has a couple AA guns hidden among a clutter of yellow targets (civilian farms and houses); Pixy, unless you're playing on the Mercenary path (at this point in the game, only possible on a New Game+), will note this and claim that he's not sure Cipher wants to go through with the mission. It takes some effort, but you can pick out those AA guns for a missile without harming the houses.
One version of Mission 4 involves escorting the Allied Fleet, including the aircraft carrier Kestrel. The main goal is to get the Kestrel out alive, and two or three allied ships being sunk is fairly normal for a good run of the mission. But with good reaction time, memorization of where the anti-ship planes attack from, and long-range weapons, it is entirely possible to escort the entire fleet with no losses.

Video Game Cruelty Potential: Taking the Mercenary Ace path revolves around intentionally gunning down retreating planes, destroying civilian/unarmed ground targets, and refusing to spare enemy pilots whose weapons have been taken out of commission. On the plus side, you get more money; on the downside, you face harder enemy ace squadrons.
Video Game Cruelty Punishment:

As a general rule, Soldier aces face tougher enemy ace squads in the Round Table than Knight aces, and Mercenary aces face even harder enemies than Soldier aces.
If you're going for Supreme Mercenary, you would try to destroy all "yellow" targets (meaning that it's a civilian target, unimportant military infrastructure that isn't directly contributing to the battle at hand, or a damaged enemy plane or ship that is limping home after being rendered combat ineffective). In most missions, there is no punishment for this, save for AI pilots occasionally calling Cipher a coward for shooting unarmed targets and slightly harder boss fights at the Round Table. However, in Mission 13 "Lying in Deceit" — Operation Stone Age, there is a yellow target in the southeast area of the map with no defenses that looks like easy points, but when you get close to it, an ambush of several AA guns and SAMs appears to punish you for your greed and willingness to target non-combat assets. To drive their point home, they yell ""Those damn mercenaries, haven't you earned enough?!" at you over the radio when they appear.

War Crime Subverts Heroism: As you fight against Belka, your forces engage in a bombing run of the city of Hoffnung, which ends up hitting civilian areas (analogous to the bombing of Dresden, Germany in WWII). This is the turning point

where Pixy realizes that the allied forces are really no better than Belka, and defects to A World Without Borders

.
War Is Hell: Most evident during the bombing of Hoffnung; see Kick the Dog above. Both sides do their best to level the city — the Allies for revenge, the Belkans as part of a scorched-earth policy.
Wham Episode: Missions 11 and 12 deliver a series of back-to-back Player Punches in very short order. The first comes when your allies indiscriminately flatten a Belkan city with bombs and cruise missiles, while the Belkans themselves start burning whatever escapes the attacks to deny the enemy anything useful before they retreat. In the very next mission, you're sent to intercept Belkan bombers carrying nuclear bombs. Except it turns out that the planes you're sent out after aren't the ones carrying the bombs after all — as you learn when one detonates nearby, nearly frying your plane's electronics. While you're still reeling from that,

your wingmate, who has obviously been rattled since the bombing mission, opens fire on you and deserts

.
What the Hell, Hero?: Both Belkan radio chatter and the interviewees' comments show disdain towards Cipher should he go the Mercenary route and destroy neutralized enemy vehicles or "innocent" buildings. Inverted however with Pixy and the ace pilots, who try to rationalize some of these. That said, he still has his limits — he's appalled by the Allies' indiscriminate bombing of Hoffnung. Unsurprisingly, especially after Belka goes even further, he defects to A World With No Boundaries in the next mission.

Pixy: A Tomahawk just hit the city! Are those guys serious?!

Would Not Shoot a Civilian: Played straight with your allies Pixy and PJ, who will only target combatants. Playing as a Knight involves the player as Cipher adhering to this as well. Averted with the Allied Forces in Mission 11, when you're tasked with accompanying a surgical strike that quickly turns into saturation bombing.
You Kill It, You Bought It: A bit more literal than other examples in the series, in that most jets available to the player are unlocked by shooting down an enemy ace flying it, via the squadron boss-fights at various points determined by the Ace Style gauge; a byproduct of this is that the SP paint schemes for a lot of planes don't require any particular extra effort to get, because getting them is still tied to shooting down the aces that give you the plane in the first place. This also results in the odd situation that a Knight player will unlock the excellent Su-37 four missions before the F-4E, which is a flying brick in comparison — but won't be able to afford it for six more missions or so, especially if they bought the Gripen or Hornet they already unlocked three missions before that.
---
"Yo, buddy. Still alive?"