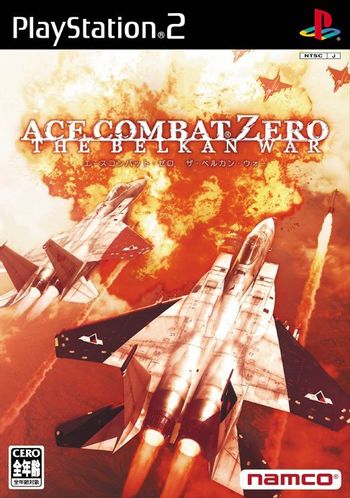 "This is the Round Table. Dead men's words hold no meaning."
In this, the seventh game in the Ace Combat series (released in 2006), a journalist from the Osean Federation named Brett Thompson films a documentary on the history of the Belkan War, which was alluded to in the previous game; In 1995, the Belkan Federation began an invasion of the newly-autonomous Republic of Ustio, hoping to reclaim the resource-rich territory that had once been theirs. 90% of Ustio's air force was destroyed in the opening days of the war and as they were overrun, Belka turned its attention towards the Osean Federation, the Union of Yuktobanian Republics and their allies. Unamused, the allied nations sided with Ustio and delivered a smackdown of national proportions and everyone lived happily ever after, right? Well...
In its final days, Ustio took desperate measures and recruited a number of mercenary pilots in a last ditch effort to fend off the encroaching Belkans. One of these pilots is the true interest of Thompson, a legendary ace known as the Demon Lord of the Round Table. In his time, he was known by the callsign, Cipher, and was number one of the Galm Squadron alongside Larry "Pixy" Foulke, aka Solo Wing. As Cipher, you play through the most famous battles of the Belkan War and deal with its bloody and tragic aftermath, as Thompson interviews the various people that encountered the Demon Lord and lived to tell the tale, as he tries to find out the truth of the Belkan War.
In terms of the Ace Combat series, The Belkan War differs mainly in its presentation of the story. It takes the form of a retrospective using live action actors to play the parts and invests a significant amount of effort in demonstrating the extent to which the Demon Lord affected the lives of everyone who fought him. It is also the only installment that features a Karma Meter: based on whether you spare non-hostile targets or destroy them for more cash, the game identifies Cipher as either a Knight, a Soldier, or a Mercenary, which determines how other characters treat you and which bosses you face.
The events that take place in this game are not to be confused with the other Belkan War that brought about the downfall of an ancient empire, though the similarities are strong and Shout Outs to this game abound.
Now has a character sheet. Please put all character-relevant tropes there.
---
Tropes found in the game:
---