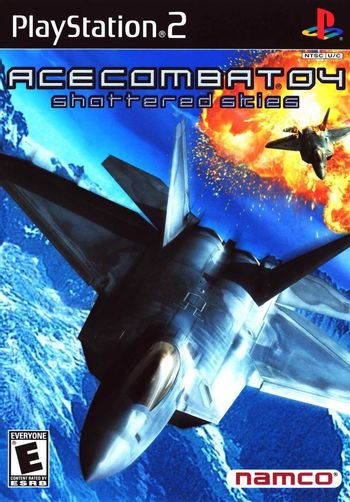 "I was just a child when the stars fell from the skies, but I remember how we built a cannon to destroy them and in turn how that cannon brought war upon us. War was an abstract thing, nothing more than a show on TV. Until that final day of summer...."
The fourth game in the Ace Combat series and the first on the PlayStation 2. Released in 2001.
In 1999, the gigantic asteroid Ulysses 1994XF04 entered Strangereal's atmosphere. In response, a coalition of countries decided to activate the weapon that they had constructed in anticipation of this disaster, the Spaceguard Turret Network, better known as Stonehenge. It succeeded in destroying the largest fragments of Ulysses but there were still many impacts; on the Usean Continent alone, 500,000 people were killed.
The Federal Republic of Erusea bore the brunt of the damage from Ulysses and was left crippled economically. 5 years later, they seized in desperation the town of San Salvacion as well as Stonehenge due to its value as an anti-aircraft weapon with a range that covered practically the entire continent. Almost overnight, Erusea had achieved complete air dominance and began a massive invasion, pushing back all of the other countries. This was the start of the Usean Continental War.
The other nations banded together to form the Independent State Allied Forces (ISAF) but were still beaten back, in no small part due to the power of Stonehenge, and prepared to make their final stand at North Point, on the northeastern tip of the continent. This is where you come in — you play one of the few remaining ISAF pilots stationed at North Point, callsign Mobius One. It is up to you, and eventually you alone, to turn the tide against Erusea.
Shattered Skies was one of the groundbreaking games of the series. It was instrumental in laying the foundations of Strangereal along with Electrosphere and all the previous games were retconned to take place in the same universe. It also completed the refinements to the controls begun in Electrosphere, which have formed the basis for all games since. Even today it remains one of the more highly regarded Ace Combat titles, and without question it's one of the most successful, being responsible for over a quarter of every Ace Combat game sold up until Ace Combat 7: Skies Unknown released in 2019 and broke series sales records by shipping over 3 million copies in the span of two years.
Has nothing to do with the fanfic of the same name.
---
Mobius One, engage.
---