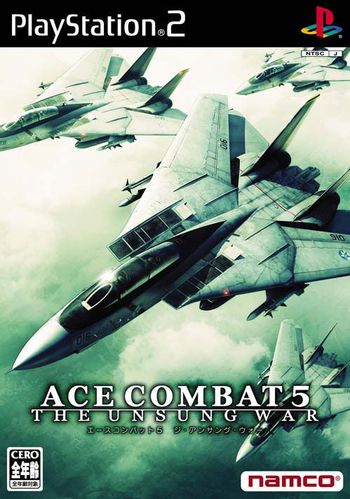 "When history witnesses a great change, Razgriz reveals itself...first, as a dark demon. As a demon, it uses its power to rain death upon the land, and then it dies. However, after a period of slumber, Razgriz returns.

This time, as a great hero.

"
The fifth game in the Ace Combat series, released in 2004, set mostly in Strangereal's Osean Continent in 2010. Although they have been staunch allies for 15 years, the Union of Yuktobanian Republics provokes and declares war upon the Osean Federation, conducting a massive invasion with nary a warning. The opening salvos are fired at Sand Island, an Osean training base where four cadets (or "nuggets") are on the verge of completing their training: Kei "Edge" Nagase, Alvin H. "Chopper" Davenport, Hans "Archer" Grimm, and Blaze (that's you!). Circumstances force these four to the forefront of the Circum-Pacific War where they will become the heroes known as the Wardog Squadron and, later, the Demons of Razgriz.
Four years prior, in another story, it has been one year since the end of the Usean Continental War and the hostilities have more or less been stopped. However, yet another group of rogue Erusian officers have vowed to keep fighting the "good" fight. Calling themselves "Free Erusea", they have raided an abandoned factory from the war and seized a rather large arsenal of weapons. To defeat them, the Independent State Allied Forces initiate Operation Katina — complete and total pacification of all enemy forces. To this end, they deploy the hero of the war, Mobius One, to get the job done, with a little help, of course, from AWACS Sky Eye.
Unlike its predecessor, The Unsung War attempts to place the protagonists and their various struggles and follies in the spotlight, rather than having them alluded to in the background. It also experiments in-game with a system for commanding and customizing wingmen. The Arcade Mode, as described above, is included free as part of the game. For the actual events that would lead to the alliance between Osea and Yuktobania, see the next game in the series.
Now has a character sheet. Please add all character-relevant tropes there.
In 2019, Ace Combat 5 was ported to (but not remastered for)
the PlayStation 4, exclusively as a pre-order bonus with the release of Ace Combat 7: Skies Unknown (Xbox One preorders instead came bundled with Ace Combat 6). There are currently no plans to release the game separately.
---
Tropes found in the game :
---