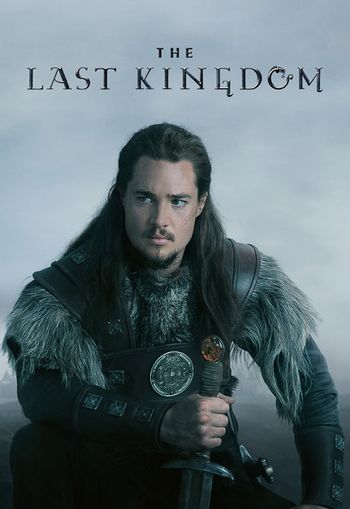 "Soon, all the kings of England will be kings of...
nothing.
"
— Ravn
The Last Kingdom is a British TV series produced by The BBC based on The Saxon Stories, an on-going series of Historical Fiction novels by Bernard Cornwell, starring Alexander Dreymon (American Horror Story: Coven) as Uhtred of Bebbanburg and David Dawson (Ripper Street) as Alfred the Great.
Set during the second half of the 9th century when the various kingdoms of Anglo-Saxon England are in danger of being overrun by Viking invaders from Denmark, the series follows Uhtred, the rightful ealdorman (earl) of Bebbanburg (modern Bamburgh, Northumberland). Captured as a boy and raised by Danes after his uncle usurps his birthright, Uhtred comes to identify himself as Danish but misfortune and hopes of reclaiming Bebbanburg drive him into the service of Wessex, the titular last kingdom of the Saxons. From there, the story revolves around Uhtred's conflicting loyalties between the Danes and King Alfred, the man who dares to dream of a united England that can stand up to the invaders.
The second TV series adapted from Cornwell's books after Sharpe, it premiered on BBC America on October 10, 2015 and on BBC Two on October 22. After an eight-episode run, it was renewed for a second season, which started airing on March 16, 2017. After BBC dropped out, Seasons 3, 4, and 5 were produced exclusively by Netflix, releasing on November 19, 2018, April 26, 2020, and March 9, 2022, respectively. The network is also developing a feature film, Seven Kings Must Die, which will conclude the series.
Each season adapts two novels, with the first season adapting The Last Kingdom and The Pale Horseman, the second adapting The Lords of the North and Sword Song, the third adapting The Burning Land and Death of Kings, the fourth adapting The Pagan Lord and The Empty Throne, and the final adapting Warriors of the Storm and The Flame Bearer.
---
The TV series provides examples of:
---