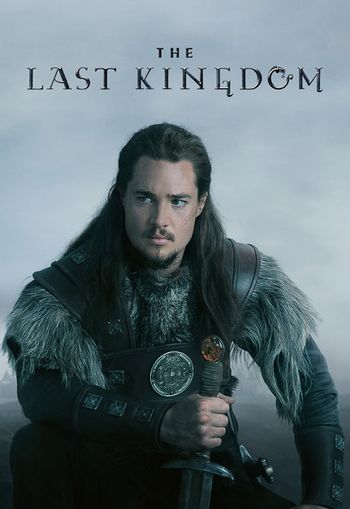 "Soon, all the kings of England will be kings of...
nothing.
"
— Ravn
The Last Kingdom is a British TV series produced by The BBC based on The Saxon Stories, an on-going series of Historical Fiction novels by Bernard Cornwell, starring Alexander Dreymon (American Horror Story: Coven) as Uhtred of Bebbanburg and David Dawson (Ripper Street) as Alfred the Great.
Set during the second half of the 9th century when the various kingdoms of Anglo-Saxon England are in danger of being overrun by Viking invaders from Denmark, the series follows Uhtred, the rightful ealdorman (earl) of Bebbanburg (modern Bamburgh, Northumberland). Captured as a boy and raised by Danes after his uncle usurps his birthright, Uhtred comes to identify himself as Danish but misfortune and hopes of reclaiming Bebbanburg drive him into the service of Wessex, the titular last kingdom of the Saxons. From there, the story revolves around Uhtred's conflicting loyalties between the Danes and King Alfred, the man who dares to dream of a united England that can stand up to the invaders.
The second TV series adapted from Cornwell's books after Sharpe, it premiered on BBC America on October 10, 2015 and on BBC Two on October 22. After an eight-episode run, it was renewed for a second season, which started airing on March 16, 2017. After BBC dropped out, Seasons 3, 4, and 5 were produced exclusively by Netflix, releasing on November 19, 2018, April 26, 2020, and March 9, 2022, respectively. A feature film called Seven Kings Must Die was released on Netflix on April 14, 2023, serving as the finale of the series.
Each season adapts two novels, with the first season adapting The Last Kingdom and The Pale Horseman, the second adapting The Lords of the North and Sword Song, the third adapting The Burning Land and Death of Kings, the fourth adapting The Pagan Lord and The Empty Throne, and the final adapting Warriors of the Storm and The Flame Bearer. Seven Kings Must Die adapts Sword of Kings and War Lord, the final two novels (the twelfth novel of the series, War of the Wolf, is ignored).
---
The TV series provides examples of:
Attack! Attack! Attack!: This mentality leads King Ælla to be drawn into a Defensive Feint Trap and defeated at the Battle of Eoforwic.
Awful Wedded Life: Aethelred is incredibly abusive towards Aethelfled.

After she returns from Beamfleot, with her kidnapper-turned-lover Erik's child in her belly

, they are cold towards each other and live apart. Later, Aethelred orders

the murder

of Aethfled.
Disc-One Final Boss: As each season adapts two books, there are a lot of these:

Season 1 has Ubba, but after

Uhtred

defeats him,

Guhtrum

takes over Ubba's men and attempts to take over Wessex. He is defeated, but not killed. He converts into Christianity and is given the whole of East Anglia.
Season 2 has Kjartan, but

Ragnar

defeats him and takes over Dunholm. Later,

Sigefrid and his brother Erik

pose problems to England, and they successfully kidnap

Aethelflaed

, but she eventually grows to love her captor

Erik

, as she treats her kindly, (certainly kinder than

Aethelred

) and also loves her. They attempt to escape from Beamfleot together, with

Erik

leaving his brother behind.

This escape attempt goes awry. Aethelflaed is saved by Uhtred and his men, but Sigefrid kills Erik. The final battle happens thereafter, as the armies of Sigefrid venture out to face the already waiting armies of Alfred and Odda. Sigefrid is killed unexpectedly by Aethelflaed, whos strikes a blade through his back

.
Season 3 has Skade, but

Uhtred

finally learns how to kill a curse, and so

drowns her in Epsiode 8

. Meanwhile,

Aethelwold

defects to the Danes in order to retake his rightful throne, and kills

Ragnar

in the process.

Brida and Uhtred

want to take revenge on him, but

Aethelwold

has already returned to Winchester, with orders to kill

Uhtred

. He isn't welcome by Alfred, and he instead sows divide between the men by spreading Malicious Slander about the royal family and Uhtred. At the final battle of the season he sides with the Danes, but after he notices

Uhtred on the battlefield

, he flees.

Uhtred

reaches up to him in a forest, and

strikes a blade through his heart

.
Season 4 has Cnut, but at the Battle Of Tettenhall, he is

killed by Brida, upon her finding out he commanded the killing of Ragnar

.

Brida

is captured by the Welsh, who later keep her as a slave, and humiliate and torture her.

Sigtryggr

and his mean rescue her, and after finding out by

Eardwulf

that

Edward

isn't present in Winchester, they march on to take it. The final battle take splace here, but since

Brida and Sigtryggr

have taken hostage members of the royal family, and

Stiorra

, people are reluctant to attack.

They strike a deal with Sigtryggr. He leaves Winchester and takes over Eoferwic. Brida leaves, although upset by the fact that the other Danes gave up so easily

.
Season 5 has

Brida

, who goes on a Roaring Rampage of Revenge after her enslavement by the Welsh, and

Uhtred's

inaction to help her. After a while, she invites

Uhtred

on a one-on-one fight. This devolves into her pleading Uhtred to kill her, with him refusing. They reconcile, but she is shot with an arrow by

Stiorra

. The true Big Bad of Season 5 turns out to be

Aethelhelm

whose machinations to put his grandson on the throne result in the Murder by Mistake of his own daughter. He later plots with the

Scottish King Constantine and Wihtgar, Lord of Bebbanburg

to openly rebel against

Edward

.

Aethelhelm

commits suicide during the Siege of Bebbanburg.

Dissimile: When explaining the Christian heaven to Ubba, Uhtred declares: "Heaven is Valhalla, lord, to the Christians, but without the feasting, fighting, and humping."
Doomed Hometown: Subverted by Bebbanburg, but played straight by Ragnar's homestead.
Screaming Warrior: Ubba positively bellows in battle.
Screw the Rules, I'm Doing What's Right!: Uhtred and his men cross into Mercia to attack Danish slavers, even though the people they're preying on aren't Alfred's subjects.

Odda the Elder: How many raiders did you kill?

Uhtred: About thirty. They'd sacked a village.

Odda the Elder: A village in Mercia.

Uhtred: Lord, we could hear the screams at night. Mercia is weak and its people have no protection from the Danes.

Uhtred also challenges Aelswith trying to getting him exiled from Wessex via Miscarriage of Justice because he refuses to abandon Wessex's people to the mercy of an approaching Dane army.

Aelswith: We are gifting you your life! You shall be grateful and you shall leave this land in peace!
---