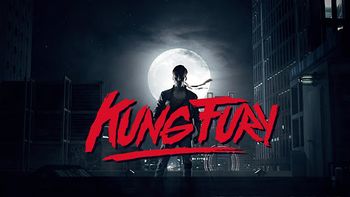 "I'm a cop, from the future!"
Kung Fury is an over-the-top action comedy Short Film written and directed by David Sandberg and funded by Kickstarter. The movie features: arcade-robots, dinosaurs, Nazis, Vikings, Norse gods, mutants and a super kung-fu cop called Kung Fury, all wrapped up in an '80s style action packed adventure. The film was released for free on May 28, 2015 on YouTube and Steam.
During an unfortunate series of events, Kung Fury (a Kung Fu Cowboy Cop) loses nearly his entire precinct to the most dangerous kung fu master criminal of all time; Adolf Hitler, a.k.a. Kung Führer. Because he was hit by lightning and bitten by a cobra at the same time, which would have killed any normal human, Kung Fury has become a kung fu master and a threat to Hitler's power. Kung Fury decides to travel back in time, to Nazi Germany, in order to kill Hitler and end the Nazi empire once and for all.
Here's its Kickstarter page
and its trailer.
It has a music video,
featuring David Hasselhoff, as well as a video game adaptation called Kung Fury: Street Rage.
Kung Fury was a part of the "Director's Fortnight"
section of the 2015 Cannes Film Festival.
Watch it here.
For Russians, Dmitry "Goblin" Puchkov did a voiceover translation of the film, Gavrilov-style
. It is available here
and officially endorsed by the authors. Warning: features appropriate Russian swearing.
In the 29th May 2016 Kickstarter update,
a photograph of the Kung Fury II script was shown. Nearly two years later, Michael Fassbender and Arnold Schwarzenegger were cast for the film. While filming on the sequel wrapped in 2019, it is, as of this writing, stuck in post-production, due to a lawsuit over one of the film's investors having failed to pay their part of the budget. In May 2021, a 2022 release date was announced.
---
This film provides examples of:
---