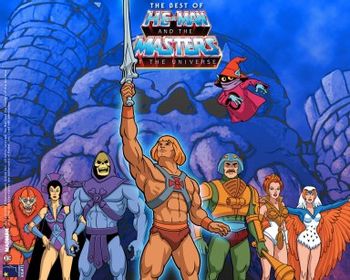 "I am Adam, Prince of Eternia, and defender of the secrets of Castle Grayskull. This is Cringer, my 'fearless' friend. Fabulous secret powers were revealed to me, the day I held aloft my magic sword and said, 'By the power of Grayskull!' I have the power!"
This first Animated Series for the Masters of the Universe franchise changed the face of children's television when it debuted in 1983. Filmation produced the show for daily syndication in conjunction with a pre-existing line of Mattel toys and action figures. Its huge success led to dozens of others Merchandise-Driven cartoons in The '80s. It is now being rerun on RTV on Saturday mornings and MeTV on Sunday mornings.
Existing in a world that has futuristic elements alongside sword, legend and lore, the series focuses on Adam, the crown prince of Eternia, who as described in the opening monologue, has the Sword of Power. He can use it to turn into his super-strong, (nigh) invincible, heavily-abbed alter-ego, He-Man. This Transformation Sequence also turned Adam's cowardly talking pet tiger Cringer into the brave and fearsome Battle Cat. Additionally, the Sword of Power was an indestructible Absurdly Sharp Blade that could cut through pretty much anything, an awesomeness made slightly redundant by the fact that He-Man's punch could break anything too.
His primary foe was the evil Skeletor, a skeleton-faced warlord who was part Magic Knight, part cackling lunatic. With the help of a motley crew of heroes, including wise veteran Man-At-Arms, Lady of War Teela, and the bumbling comic relief sorcerer Orko, He-Man battles the forces of Skeletor and other evil enemies.
Of note is that Paul Dini was a member of the writing staff (as was J. Michael Straczynski), and Bruce Timm did layouts; both would later go on to be main figures in Tiny Toon Adventures and Batman: The Animated Series. (Also of note: Haim Saban and Shuki Levy were involved in the original production of the show as well,note Namely, with the show's music, although they are best remembered for their work with a certain other company. also going on to make Power Rangers).
The show left syndication and was shown on the USA Network, which back then was known for being the "used car" network for its reliance on reruns.
There are about three further animated adaptations of the franchise, first two of which were short-lived, the third is currently in limbo. Masters of the Universe: Revelation was designed to be a direct continuation of the show, only with more modern sensibilities.
She-Ra: Princess of Power was a Spin-Off, although it wasn't quite as successful. But it did get a reboot in the form of She-Ra and the Princesses of Power, which was far better received.
---
This cartoon contains examples of:
---