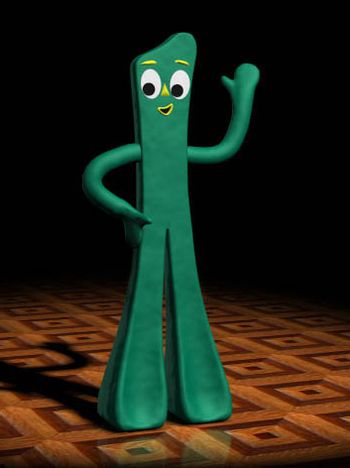 Art Clokey produced this series of clay animated shorts for NBC in The '50s after screening his student film Gumbasia for 20th Century Fox. Clokey also performed some of the character voices.
Gumby himself was portrayed as a young boy capable of changing his shape at will. He also could walk into books and participate in the stories therein. His friends included Pokey, a red horse; Prickle, a "prickly" yellow dragon (except for the episodes where he self-identified as a dinosaur); and Goo, a blue female character who rather resembles a small sea lion with a blond wig (Word of God said she's a "gooey blue mermaid"). Gumby's foes, the Blockheads, never spoke.
The character debuted in 1956, as a segment of Howdy Doody. He was successful enough to receive his own spin-off show. The original Gumby shorts aired on NBC in 1957. After the series' network run ended, Clokey bought back the rights to his characters and produced new Gumby episodes for syndication in The '60s and The '80s. A Gumby direct-to-video movie was released circa 1995.
Gumby's 1980s resurgence in popularity was most likely attributable to a series of sketches on Saturday Night Live depicting Gumby (played by Eddie Murphy) and Pokey (played by Joe Piscopo) as actually being old-time Jewish vaudeville stars themselves playing parts. These sketches birthed the Catchphrase "I'm Gumby, dammit!"
Bizarrely, Gumby was turned into the mascot for a pizza chain
catering to college towns. They name a fair amount of stuff after characters in the series (e.g., Pokey Sticks), and the green, stretchy one himself appears on their boxes.
In 2015, the Jim Henson Company made a deal with Clokey's estate to produce a new Gumby series. No news has been forthcoming, though a leak in mid-2019 of several screenshots revealed the series was well into production. Further details leaked on 4chan on April 22, 2020 revealed several details, such as the series being named The New Adventures of Gumby and Friends, and that production had moved to Seth Green's Stoopid Buddy Stoodios, the same studio that produces Robot Chicken. The mid-2019 leak stated the series would premiere in June 2020, but the Coronavirus Disease 2019 Pandemic has most likely shifted this timeline.
---
This series provides examples of:
---
The 1995 movie provides examples of:
---