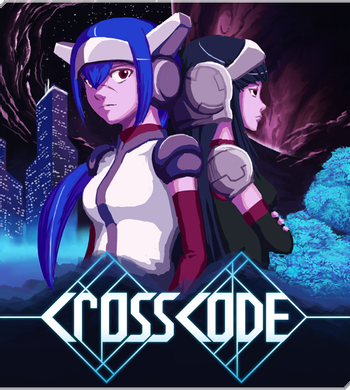 CrossCode
is a 2018 action RPG developed by RadicalFishGames, and inspired by the likes of The Legend of Zelda and Alundra. Originally released on PC, the game was ported to consoles in 2020.
A futuristic Massively Multiplayer Online Roleplaying Game called CrossWorlds is a revolutionary MMO. Its gameplay is literally physical, set in a planetary environment on the moon Shadoon, with players and game elements being "instant-matter" constructs. Some indeterminate time before the story begins, a young woman named Shizuka is attempting to rescue her brother Satoshi from some shady group who is trying to get him to work on the game against his will. When Shizuka reaches Satoshi, he finishes the program right before he collapses into her arms, begging her to escape the whole mess before he dies, much to her shock and grief.
In the present, the avatar of a young woman named Lea materializes onto a cargo ship heading for CrossWorlds. Lea has lost her memories, and a few people helping her are trying to fix that. They think the answer lies somewhere in CrossWorlds. However, there is a slight problem: Lea's voice synchronization module is malfunctioning, rendering her functionally mute. Also, there's some strange, floating player who seems to be really, really interested in her for some reason...
The game itself was successfully funded through crowdfunding after getting some attention for its surprisingly polished prototype demo
, and was released in full on September 20, 2018 after seven years in development. The DLC expansion "A New Home"
was released on February 26, 2021.
---
Tropes present in this game:
---