Rose Quartz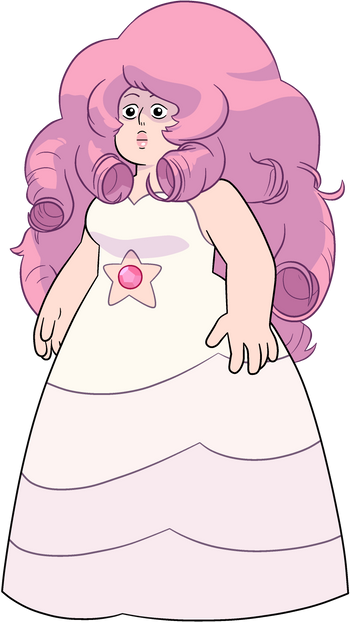 "Isn't it remarkable, Steven? This world is full of so many possibilities. Each living thing has an entirely unique experience: the sights they see, the sounds they hear, the lives they live are so complicated... and so simple! I can't wait for you to join them."
Rose Quartz was the founder and previous leader of the Crystal Gems. She found Amethyst and brought her into the group. About sixteen years before the series began, she met and fell in love with Greg Universe. She became pregnant with Steven, but since the holder of the magic gem can only be one person, Rose, as Greg puts it, "gave up her physical form to bring Steven into the world". Although she could fight as well as any Gem, she was full of love and compassion for every living thing she ever encountered.
---
open/close all folders
A-C
D-H
Dark and Troubled Past: She led the Crystal Gems in a long and violent war, and by the end of it all, most of her followers were either dead, corrupted, or insane. Discussed in this conversation:

It's expanded a bit in "Earthlings"; according to Jasper she did something to Pink Diamond. At first we don't know what, but Jasper hates her for it, even after thousands of years. We find out what in "Back to the Moon": Rose Quartz shattered Pink Diamond. And then "A Single Pale Rose" shows

she actually was Pink Diamond, which really makes her life look like a mess in hindsight.

Dark Secret: She killed Pink Diamond. Many Homeworld gems knew, and Crystal Gems that fought in the war with her, but she kept this from Amethyst, and Garnet and Pearl kept it from Steven. Actually, her real dark secret is that she was Pink Diamond herself. Pearl shapeshifted into Rose to help the real Rose fake her own death.
Deceased Parents Are the Best: If she can be considered truly "dead" is a somewhat philosophical question, but she's not able to directly be there for Steven regardless. It turns out to be deconstructed harshly while still played straight as the show goes on; Rose was The Ace and an All-Loving Hero with a 100% Adoration Rating... but she wasn't as perfect the Crystal Gems made her out to be. She had flaws, her own Character Arc and her loss is far more than the window-dressing for Steven's story. Bereavement doesn't magically disappear immediately, and no inherited legacy (however awesome) can replace a dead parent.

Especially deconstructed in regards to Steven. She genuinely possessed all of the positive traits that those who knew her remember but that only puts more pressure on Steven to live up to her legacy and causes him to have several doubts about himself and his relation to the Gems.
Finally the trope is subverted as of "Steven Floats": the pressure Steven feels, and the emotional scars he sees that Rose left in both the Crystal Gems and his dad, make him unable to summon happy thoughts when thinking about her, instead having complicated thoughts.
Another aspect of this is when an Awful Truth about her comes to light, she's no longer there to be able to explain to Steven why she did what she did or her side of the story.
This gets deconstructed even more after

it's revealed she was actually Pink Diamond

, as there is increased focus on how Rose's actions affected those around her, and how little she actually thought about the consequences

such as her forcing Pearl under an unbreakable order to keep it a secret, the effects faking her death had on the other Diamonds, her casual abandonment of Spinel

, and the fact that she never really had a long term plan for any of this in regards to Steven. By the events of the Movie, Steven reveals that he actually believes she was capable of such actions.

Deader Than Dead: The Diamonds' powers can resurrect organic lifeforms recently killed by injuries and even long-shattered gems. Rose's Death of Personality on giving birth to Steven is the only thing we know they cannot reverse at all.
Death by Childbirth: Rose Quartz "gave up her physical form to bring Steven into the world", as Greg puts it. It turns out that she became half of Steven, since she and Steven can't both exist at the same time.
Death of Personality: A Gem's gemstone is the physical basis of their existence, and Rose's remains unaltered in Steven's body, but she has not existed as the same person since it became part of Steven. This is completely irreversible, regardless of what happens to Steven's organic half. Even the gemstone by itself is no longer Rose, it's just a fragment of Steven.
Defector from Decadence: Led the other Crystal Gems in splitting away from the Homeworld Gems after the Homeworld Gems planned to do something that would have hurt the Earth. Turns out she is Pink Diamond, and thus an even bigger example.
Didn't Think This Through:

One of Rose's biggest flaws, and one that causes problems for others long after her death: While an effective leader and strategist, most of her plans were temporary solutions at best such as bubbling Bismuth after coming to blows or making Pearl

swear to never reveal her true identity even after the War had ended.

As such, her actions come off as selfish, and deeply hurt those who cared about her.
Despite much foreshadowing and red herrings regarding Rose's apparent machinations, she repeatedly displays an inability to plan beyond the short term that consistently comes back to bite her.

She faked her own shattering as Pink Diamond, thinking it would make Homeworld leave Earth alone, and instead got almost every Gem on the planet corrupted as reprisal. She abandoned Spinel in Pink's garden just to get Spinel out of her hair, not thinking of the toll the centuries of isolation would take on her. She bubbled Bismuth to bury the knowledge of the Breaking Point, hiding her away so the issue wouldn't be breached again. And immediately prior to the series, she gives up her physical form to make Steven, seeing it only as creating a child, not considering the grief she would leave her family with.

Did You Just Punch Out Cthulhu?: "Back to the Moon" confirms that Rose Quartz shattered Pink Diamond. "A Single Pale Rose" confirms

that she didn't. She IS Pink Diamond in disguise. She faked her own death.

Does Not Like Shoes: She wears a floor-length gown, so it's not immediately apparent, but "Story for Steven" shows that she goes barefoot.
The Dreaded: It's obvious that her rebellion truly terrified Homeworld, even before she shattered Pink Diamond.
Dude Magnet: "We Need to Talk", "Mr. Greg" and "Your Mother and Mine" imply that she had relationships with several other men before Greg.
Earthy Barefoot Character: She walked around barefoot and was a Friend to All Living Things.
Easily Forgiven: "Now We're Only Falling Apart" shows that not only does Ruby, unlike Sapphire, take the news of her being Pink Diamond well, but feels okay after talking it over for a couple of hours with Greg. In "The Question", Greg relates to her because, as he says, "I never told her I used to be Gregory DeMayo." Amethyst hasn't really gotten over Rose lying to everyone, but refuses to dump "another thousand-year-old complex" on Steven, a fourteen-year-old child. Even Bismuth, though she was shocked that the rebellion was a "sham", at least understood now why Rose bubbled her over the Breaking Point.
Eternal Love: Rose has had multiple human lovers she outlived (and Greg, who outlived her), but through it all she and Pearl have held a mutual love since the rebellion first started six millennia ago.
Evil All Along: Subverted. She is actually Pink Diamond, but Pink Diamond became her because she'd already had a Heel Realization and decided to save Earth and give it to the Crystal Gems and humanity.
Fake Ultimate Hero: Played With. She was actually Pink Diamond, but at that point she genuinely did want to save Earth's organic life and give it to the Crystal Gems and humanity. So she wasn't who she said she was, but she was still heroic. Sapphire in particular does NOT take this revelation well.
Fatal Flaw:

Due to Rose being dead, this only shows up in medias res. While Rose was genuinely good-natured, she had troubles dealing with consequences of her actions and could only come up with short-term solutions at best. In the present, her son has to try and clean up the mess she left behind when she just disappeared to give birth to him; something even he eventually wants to call her out on.
Rose also wasn't good at understanding others' feelings and trusting them fully. Her Innocently Insensitive nature and tendency to hide the truth away ended up seriously hurting those close to her such as Greg, Pearl, Bismuth, and

Sapphire

.
She also had a tendency to leave difficult problems unsolved or run away from them rather than solve them, many of which had disastrous consequences.

As Pink Diamond, instead of rebelling openly, she faked her own death to become Rose permanently, believing that her fellow Diamonds didn't care about her, but hoping that "Rose" being powerful enough to "shatter a Diamond" would scare them away from Earth. Turns out, they did care about her, and were so enraged by her "death" that they unleashed a massive corruption wave across Earth that corrupted nearly all the remaining Crystal Gems.

While she loved Pearl, she didn't openly address Pearl's over-dependence on her or the nature of their relationship, apparently not noticing that Pearl was jealous of her relationship with Greg and figuring she could have them both. After Rose's death, Pearl has no idea what to do without her and still bitterly resents Greg for "taking her away".

When she and Bismuth fought over the issue of shattering enemy Gems, she ended up poofing Bismuth and sealing her bubbled gem away for thousands of years in a secret location, so secret that not even the remaining Crystal Gems knew what had happened to her. She would have stayed in there forever if Steven hadn't accidentally freed her, and when she is freed, she's heartbroken when she realizes that Rose sealed her away and didn't even tell her friends where she was, believing she meant nothing to Rose, who she would have given her life for.

Flower Motifs: As befitting someone named Rose. Most evident with her Laser Light Cannon, which blooms into a flower to fire, then fires a flower-shaped beam which then blooms into the shape of Rose herself. This was passed onto Steven, as the design on his shield is the same as the rose design on the bottom of the cannon.
Fluffy Tamer: Apparently, Rose saw beauty in everything and cared for things that most others would find gross or unattractive. In "Lars and the Cool Kids", it's revealed that she tended a garden of some nasty-looking sentient moss. In "Monster Buddies", after Steven has some success taming a centipeetle, the Gems reveal that she also attempted to tame the monsters they came across. In "Buddy's Book", we see that Rose had a pack of lions as companions in the desert some time during the founding of Beach City. By Gem Standards she also felt this way about Humans...
Foil: To her son, Steven. Both are friendly, charismatic Quartz Gems who try to see the best in everyone, serve as an emotional support to the other Crystal Gems, have an Interspecies Romance with an insecure human, and have the same powers. However, as more secrets are revealed about Rose, it turns that unlike Steven who is a Badass Pacifist, Rose was a deconstruction of Martial Pacifist with her actions eventually bringing trouble for her son. Also, while Rose had trouble handling people's feelings and had an (initial) paternalistic attitude towards humans, Steven is surprisingly emotionally mature for his age and even when he's Innocently Insensitive, he will (mostly) know when he stepped out of line and apologize; plus, he doesn't see humans as inferior species since he did grow up with them. Additionally, Steven Cannot Tell a Lie, yet Rose has kept a lie for millennia (and even then she never intended for the truth to be known). Also, Steven has never doubted the Gems' love for him, whereas Rose, who was Pink Diamond, believed the Diamonds never cared for her at all; and on that note, Steven even forgave the other Diamonds themselves, something Rose would clearly never do.
Foreshadowing:

There's a huge number of hints towards her and Pink being the same being, like how she has so many different Gem powers, her sword seemingly shattering Pink despite being unable to shatter any Gems, Pearl being so loyal to her, implying to Greg in flashbacks she's been to Homeworld despite others saying she was born on Earth, being the only character other than Pink with a pink-colored gem, and so on.

Former Teen Rebel: As Pink Diamond, at least in her "earlier" years.
Freudian Excuse:

Her opinions on humanity before meeting Greg, while seeming somewhat condescending by human standards, are a product of her environment, who as a whole view organic life as pests to be exterminated at best. She's actually remarkably kind towards organics by Gem standards, trying to turn away an impulsive Greg who she thinks is abandoning his dreams.

Her fellow Diamonds gave her very little emotional attention at all and apparently ignored what she wanted when she did see them, to the point she genuinely believed they didn't give a darn about her, but also were rather forceful that she needed to act like a proper Diamond and put on a proper appearance for her subjects. Her problems with empathy and difficulty letting others see the unsavory parts of herself make a lot more sense with that in mind...

Friend to All Living Things: Rose loved every living being and saw the beauty in all things, no matter how "gross" or undesirable others might view them.
From Zero to Hero: As Bismuth stated, Rose was "just another Quartz soldier, made right here in the dirt". And Rose eventually became a Rebel Leader who killed Pink Diamond. Later subverted — Rose Quartz was Pink Diamond all along, and her origin story as told to everyone else was a lie, though you could say that Rose was originally just a fake identity created by Pink Diamond so she can have fun and explore the Earth, but later became... something more.
Genki Girl: In "Now We're Only Falling Apart", she is overjoyed to see the newly formed Amethysts while disguised as one, the beauty of the newly-formed planet Earth, and is elated when she sees gem fusions, which inspires her and Pearl to unsuccessfully attempt fusion.
Girls Like Musicians: In addition to falling in love with the musically-talented Greg Universe, one telling of her origin story shows an image of her falling in love with a dancing tribal from a very ancient civilization.
Girly Bruiser: She wore a long, frilly white dress at all times, sported pink Rapunzel Hair in Regal Ringlets, lived in a room made entirely of pink clouds, and loved flowers, animals, and humans so completely as to put a Disney princess to shame. She was also the leader of a bloody rebellion against her home planet and goes into battle with a pink shield and matching pink sword, having been made to be a warrior.
Godzilla Threshold: According to Garnet, she shattered Pink Diamond because it was the only way to free the Earth from her. When she was Pink Diamond, she tried and failed to get the other Diamonds to abandon Earth every other way she could think of, including outright telling them she didn't want to kill off life on Earth. She chose to fake her own shattering because she took Blue Diamond's words to mean that the only way that Earth could survive was if she removed herself from the equation.
Going Native: She grew enamoured with Earth and all of its little wonders and eventually led a civil war against Homeworld for its independence.
Gone Horribly Wrong:

Quartz Gems are made to be warriors for Homeworld. Rose turned against Homeworld, and appears to be the least combative Quartz ever produced: her main weapon is a defensive shield (though she had Bismuth make her a sword), she had healing tears, and hated killing in general: she would poof but never break Gems,

which serves as an early clue that she didn't actually shatter Pink Diamond

.

She's actually Pink Diamond and faked her death under the belief that the other Diamonds don't give a darn about her and if she "died", Earth would be left alone and forgotten by the Diamonds for the humans and Crystal Gems to live in peace. Unfortunately for everyone, she completely underestimated how much the others cared for her and this utterly backfired.

Good Bad Girl: Rose Quartz is an All-Loving Hero and Friend to All Living Things, but allegedly had various human lovers over the course of her years on Earth, and acts very flirtatious towards the people she loves.

For example, this quote to Greg:

Rose: You're really cute, and I'd love to play with you.

Another example is her fusion dance with Pearl.
However, the implications of the trope are explored. While she does care a lot about her loved ones, her relationship with Greg stood out from the rest because Greg realized they both rushed into the relationship. Both had the spark but didn't know each other that well and Rose didn't really see Greg as his own individual person until he brought it up and revealed her own insecurities and lack of knowledge in it. However, this talk helped move forward their relationship (symbolized how she called him by the first name for the first time) and both made the steps to have a relationship as equals. It's this Character Development prompted by Greg that explains why he became the one for her, which contrasts him to Pearl. Pearl did not mind much of Rose's escapades because she would outlive them. However, her putting Rose on a pedestal because of her own problems and her own lack of understanding of intimacy is why she couldn't become Rose's one as opposed to Greg.

Good Costume Switch: She used to wear a standard quartz warrior uniform when she served Pink Diamond, but when she started the rebellion, she changed into the white dress she's been wearing since. Even bigger one, as she used to be Pink Diamond and Rose Quartz as a whole actually is a Good Costume Switch for Pink Diamond.
Good Parents: While Rose never actually got a chance to interact with Steven, she made it a point to leave a video that emphasized how much she loved him, and how she'll continue to love him after she is a part of him and no longer her own entity. By all accounts, she wanted him to live his life and enjoy it with no greater plan beyond that.

As "Storm in the Room" shows, despite his doubts about her, he imagines that she would have been a good, loving parent who supported him and didn't want him to deal with her problems like he has.

Good Powers, Bad People: Played With. Rose Quartz was well-known for her healing powers. And from the perspective of Homeworld, she was the worst criminal in Gemkind's history, a revolutionary and eco-terrorist who committed high treason and regicide.

If only they knew...

Greater-Scope Paragon: The Crystal Gems still follow her mission and became the people they are because of her influence, on top of being Steven's mother, but she's been dead for over a decade.
Green Thumb: Rose has an affinity for plants, as demonstrated by the moss in "Lars and the Cool Kids" and the brambles that defend her fountain in "An Indirect Kiss". "Watermelon Steven" confirms that she had the power to grow and command plant life. Though in truth, this seems to just be a specific application of a broader Biomanipulation ability.
Healing Hands: Rose's tears have immense healing potential, strong enough to even mend a cracked gem.
The Heart: She was the emotional core of the Crystal Gems. Without her, they struggle for guidance and are usually fighting amongst each other (more like Amethyst and Pearl fight, while Garnet and Steven try to keep things together).
Heart Is an Awesome Power: Her deep sympathy and real love for every living creature is what empowered the healing properties of her tears.
Heroic Sacrifice: Although Rose knew that she'd have to pass her gem to Steven upon his birth and sacrifice all of her physical presence, she still chose to shapeshift herself a womb so she and Greg could have him. Deconstructed; Greg and the Gems grieve Rose, while Steven regrets that he can never meet her. There's also the fact that, without her around, the Crystal Gems have no leader, and

Steven nearly gets killed due to being mistaken for her, multiple times

.
Heroic Self-Deprecation: While she didn't regret starting the rebellion to save Earth and leaving Homeworld behind, it is clear she feels heavily burdened by her mistakes and believes she is not deserving of love. She tries to push away potential lovers out of fear that they'll sacrifice their dreams and goals, but she's reluctantly willing to support their decisions to be with her. Whenever she realizes she's hurt someone, she's genuinely distraught by her ignorance and desperately tries to make amends and compromises but still unable to open up about herself out of fear of disappointing them further. The way she feels not good enough for Homeworld or anyone on Earth, she ultimately believes herself to have changed for the worse and makes her decision to have Steven under the false belief that her loved ones would be better off without her.

If the ending credits song, "Love Like You", is from her perspective (as theorized by fans), she may have held her loved ones in higher regard than herself, despite everything that she'd accomplished.

I always thought I might be bad

Now I'm sure that it's true

Because I think you're so good

And I'm nothing like you

Look at you go, I just adore you

I wish that I knew

What makes you think I'm so special...

Heroines Prefer Swords: While her shield seems to have been her actual Gem weapon that she could conjure at any time, she also wielded a rose-themed sword forged by Bismuth and considered her finest creation. It's also designed to be devastating to Gems' BODIES but not able to accidentally destroy their gem.
Hippie Parents: The show's creator has specifically described Rose as a "hippie parent" toward Amethyst, leaving Amethyst ignorant of what Homeworld made her for, and how she differed from most Amethysts, so she wouldn't feel any kind of limitations about what she could be. Despite not being there to raise Steven, Rose had the same attitude for him, wanting him to be whatever he wanted to be. This backfired to a degree, as both are left feeling like they don't have any purpose at all.
Humanity Is Infectious: Rose loved humans very much and wanted to be just like them, but could not quite fully grasp how emotionally complex they are. She wanted to share in human culture and even be a human herself, partly leading her to have Steven.
Humans Are Special:

According to her tape in "Lion 3: Straight to Video", she held this view. Though "We Need to Talk" revealed that she had a very condescending view about humans, regarding them at maximum as pet animals in comparison to Gems, and it was her interaction with Greg what taught her to see and value humans in a more respectful way. Of course by Gem standards, viewing organic life as anything more than pests to be ignored at best is a gigantic improvement.
She's also amazed by, and seemingly a little envious of, how humans are able to change, grow, and find their place in the world, while Gems are Born as an Adult, made to fit predetermined roles as cogs in the Diamond Authority's machine.

Humans Through Alien Eyes: Rose admits to Greg in "Greg the Babysitter" that it took her a long time for her to realize human adults and human infants were the same species and still doesn't have a good understanding of human infants. This is because from her viewpoint, humans have Bizarre Alien Reproduction as Gems literally don't have an infant stage. She's also completely amazed by humanity's ability to change and grow, as it's something Gems simply don't do.
Hypocrite: She loved humans, but according to Greg she didn't even know how to take him seriously until he called her out for being insensitive about his desire to have a serious relationship for her, and she didn't know that babies needed a lot of care and watching. Bismuth took issue with how Rose wanted the Crystal Gems to be free and choose their own path, but wasn't willing to fight dirty for them when Homeworld had no such qualms. Steven calls out a hologram version of Rose in the Room for her Double Standard with how she poofed Bismuth and hid her away for wanting to shatter Homeworld Gems, while he assumes she probably used Bismuth's Breaking Point to shatter Pink Diamond.

The last point at least was a lie that Rose perpetuated; Pink Diamond faked her death to assume the Rose Quartz identity permanently, ordering Pearl to never tell anyone.
I-N
O-R
S
T-W
---