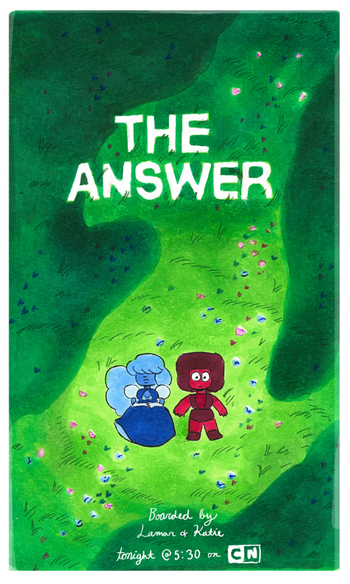 We open with Steven, curled up asleep in the bed of a pickup truck in the barn. A mattress, pillow and blanket have been placed to turn the truck bed into a real bed. Garnet appears at Steven's bedside and calls to him to wake him up. It's midnight, and that makes it his birthday!
Steven happily asks if Garnet will keep her promise to tell him that she's really the fusion of Ruby and Sapphire. Garnet reminds him he already knows that, which he admits he already does. Garnet, all smiles, tells him that he doesn't know the story of how Ruby and Sapphire met. Steven's eyes light up at the prospect of a new story, which Garnet narrates. It all began over five thousand seven hundred and fifty years ago...
Flashing back, we see as Garnet describes it all, that Sapphire was sent to Earth for her powerful ability to see the future. Blue Diamond was her commander, and wanted to know if the rebellion's attack would impact Homeworld's plans for Earth. Three little Ruby gems, all alike but with their gems in different locations, were sent along to protect Sapphire and be her bodyguards. They bantered cheerfully back and forth about what they would do to any rebels who attempted to harm Sapphire. The first said she would punch them in their face. The second said she would punch them all over their bodies. The third said they would just fuse, become stronger, and destroy them utterly. She then bumped into Sapphire in her energetic gesticulating, and fumbled an apology. Sapphire simply smiled, because she had known it would happen.
Called before her diamond, Sapphire dispassionately told Blue Diamond that while the attack would cause the destruction of seven gems' physical forms, including her own, the rebellion would be crushed, ending it. Blue Diamond thanked Sapphire for her report. Sapphire, accepting that she would be returned to gem form and re-form back on Homeworld, told her leader she would see her then.
Right then, the rebels- Rose Quartz and Pearl- attacked. Pearl made short work of several Quartz gems, and the three Rubies fused into one giant Ruby in order to fight. They didn't last long against Rose Quartz. Rubies One and Two were poofed outright, but the third Ruby, the one who had the earlier, awkward exchange with Sapphire, managed to survive. Sapphire, being the passive fatalist she was, was willing to accept being poofed. But the sole remaining Ruby refused to let it end like that. As Pearl approached Sapphire and prepared to poof her, Ruby gave a mighty leap, sweeping Sapphire up into her arms. As the two tumbled out of the way in each others' arms, they Fused.
The reactions of all the homeworld gems were not positive, to say the least. Cross-gem fusion, even on accident (as Ruby and Sapphire had just done), was incredibly taboo. Rose, on the other hand, found it absolutely fascinating, and used the distraction to escape. The new, confused and bewildered fusion, separated back into Sapphire and Ruby. Sapphire was stunned. Her prediction, unlike all others before it, had been wrong. Ruby had changed the future. How? Not only that, but Ruby had prevented the destruction of her physical form — saved her! Ruby, for her part, was all stumbling apology. She hadn't meant to fuse, or even known it was going to happen until it had happened.
Blue Diamond, on the other hand, was enraged, and raised a hand in furious declaration:
Blue Diamond: How dare you fuse with a member of my court?! You will be broken for this!
Sapphire, horrified to hear that Ruby would be executed for something that was essentially an accident and, from Sapphire's point of view, a happy one, fled with Ruby.
Ruby flew into an immediate panic, horrified that she had taken Sapphire from her court, away from her Diamond, let alone that she, Ruby, a lowly soldier, had dared to fuse with an elite noblegem such as Sapphire. Sapphire had no problem with her escape, but was still reeling from the realization that the future wasn't immutable. She was frozen — literally— with indecision. Ruby's fight or flight reaction could not permit fighting, so she picked up Sapphire and ran until she found a safe place for the two of them to shelter. Ruby worried and fretted that she'd caused Sapphire a terrible inconvenience by stranding her down on Earth rather than facing her fate, but Sapphire never complained.
Now safe for the moment, the two of them finally got to discuss what it felt like to fuse. For Ruby, it had never felt like that. She had never fused with anyone other than other Ruby gems, so it had always felt like being Ruby — but bigger. For Sapphire, who had never fused at all, it was something entirely new. Ruby was amazed at having a third eye. Sapphire, a cyclops, was amazed at ever having more than one. Over time, the two began to awkwardly get to know each other, trust each other, and their feelings began to grow. Eventually they decided, together, that they wanted to try to fuse again — intentionally. Once they did it again, successfully, their newly fused body took a wrong step and tumbled downhill, landing at the feet of...
Garnet, narrating: Rose Quartz, the leader of the rebellion and her terrifying renegade Pearl.
The pair greeted them warily but Rose brushed off any concerns of them needing to fear her and Pearl. Rose immediately insisted their fusion was more interesting and asked them what they felt like.
Past Garnet: Lost. Scared. And happy...
But full of questions! She asked why Ruby was able to change fate. And why Sapphire was willing to sacrifice for Ruby. And why was she, the new fusion, so sure she'd rather stay this way than do anything else?
Past Garnet: What am I?
Rose stopped her right there. It was enough doubts.
Rose Quartz: Don't you ever doubt this: You already are the answer.
As the flashback ends, Steven looks up eagerly and curiously into Garnet's smiling face.
Steven: What was it? The answer?
Garnet: Love.
Steven: Woooow! I knew it!
Garnet: So did I.
And we Iris Out with little hearts popping!
---
Tropes:
---