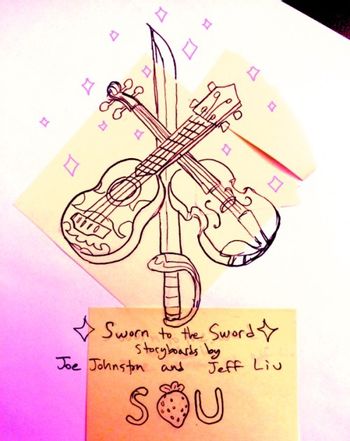 Original airdate: June 15th, 2015
Production code: 1031-060
---
Steven and Connie are having a mini picnic and literal Jam session up on the Temple hand where the laundry is. As they finish playing their ukulele and violin respectively, Steven goes to have a biscuit with jam. Before he can have a bite, seagulls divebomb them, but Connie draws the bow of her violin and swings it like a sword, driving them off!
Seeing this, Steven suggests that Connie is practically a swordfighter already, and tells her that she should train with Pearl. Pearl is not a fan of the idea at first, but Connie's impassioned speech about wanting to be there for Steven (and also wanting to help protect her home planet) touches her deeply and brings her around. She takes Connie for her first warp to the sky arena, where one of the first battles for Earth took place. Delighted by the warp, Connie listens to Pearl describe the concept of knighthood. After Pearl says Connie will make a great knight due to being brave, selfless and loyal, the training begins. Connie throws herself into listening to Pearl's commands, and learning to fight against the holo-Pearl constructs, as Pearl teaches in song.
♫ You'd do it for him
and you would do it again... ♫
As time passes and Connie shows amazing improvement and skill, Steven sees something unsettling in the way Pearl is training Connie; that in order to protect and defend Steven, she must be willing to consider herself nothing in comparison, and sacrifice everything for Steven — absolutely everything. Steven tries to talk to Connie about his feelings about this, but Pearl takes Connie off for more training, leaving Steven behind.
When Garnet and Amethyst emerge from the temple, Steven tells them that he's a little worried about Pearl's training methods. Garnet (who isn't surprised) explains that Pearl's knightly devotion for Rose Quartz became all-consuming; during the war, she threw herself between Rose and danger constantly (sometimes needlessly) with no regard for her own safety, getting destroyed constantly in the process. Steven, realizing Connie can't regenerate from a gem and the likelihood she could die in the process of protecting him, rushes to the arena, where Pearl is training Connie. Pearl summons multiple holo-Pearls, and creates a fog to test Connie's skill. Steven runs into the fog looking for her.
Steven encounters a holo-Pearl in the fog, and it views him as an unregistered opponent and is about to attack him until Connie defeats her from behind. She asks Steven his reason for being on the training grounds, and insists she must protect him. She has completely bought into Pearl's teachings, but Steven is having none of it.
Steven: If you're the one protecting me, then who's the one protecting you?!
Steven shakes her out of it by saying he wants to fight with her as a team- not have her fight for him- and offers his hand. A holo-Pearl attacks and the pair easily fend her off and defeat her. Connie realizes that fighting together is easier. As the youthful pair begin fighting the holo-Pearls together, they prove to be pretty much poetry in motion — moving instinctually together, sword and shield. The real Pearl appears and chides Steven that Connie must face her alone. Steven and Connie declare themselves a team, and that they will fight together.
Pearl refuses to accept this, insisting Steven is too important to be on the battlefield at all. Steven insists he's not. Pearl says he is, and when Steven denies it again more strongly, Pearl snaps:
Pearl:
Why won't you just let me do this for you,
Rose?!
Realizing her emotions have run away with her again, Pearl drops the sword, declaring the lesson over for the day, and goes to sit alone. Steven and Connie join her, Steven apologizing for ruining the training, but saying he was freaked out by the "I am nothing" message she was teaching. Connie asks Pearl if Rose made her feel like nothing.
Pearl: Rose made me feel like I was everything.
Acquiescing to the children's wishes, Pearl says their devotion to each other will make them both great knights, and that Steven has catching up to do since Connie is nearly an expert. The episode ends with Pearl looking forward to more complicated training grounds for them.
---
Tropes:
---